Sanmae, Horsham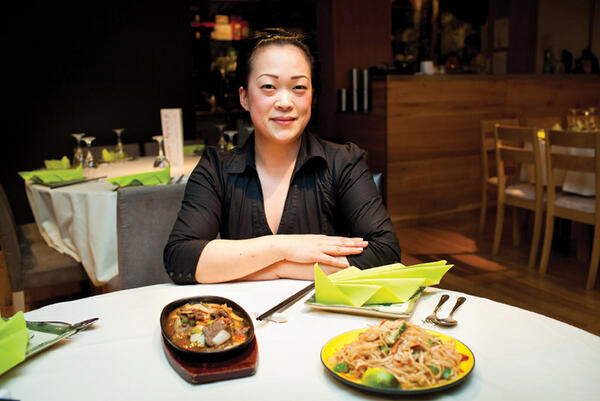 People of Horsham, we stand accused of lacking adventure and playing it too safe when it comes to dining out. The evidence is overwhelming. We love to go out in groups for a curry, yet tend to
disappoint by ordering three Kormas, two Tikka Masala and a Jalfrezi. We're equally conservative when it comes to Chinese food. Will it be the Sweet and Sour or Chow Mein?
At Sanmae in Springfield Road, Horsham, there is a dish called Unagi Rice, which is Japanese grilled eel on rice served with a sweet sauce. It's a popular dish in many cities, yet has not been ordered by a single customer in Horsham!
Melissa Li, manager of Sanmae, said: "There's so much choice on the menu here but I'm amazed that people are not willing to try new flavours. I thought if you were a new restaurant people would be more willing to explore the menu, but they still go for sweet and sour.
"I don't blame people for going for the same thing but I would encourage people to be a tad more adventurous! People do play it too safe. You'll be surprised by how many people try new things and love it. You're not going to miss your sweet and sour chicken for just one time! We don't expect people to try five new dishes, but it is good to try one new dish each time."
You may have already noted Melissa's surname and suspected a family connection with Mr Li's, the Chinese restaurant just a few doors along from Sanmae which has been run by Melissa's parents for more than 25 years. Melissa's upbringing meant she always had a passion for food and catering, but it was a brave decision by Melissa, as a single mother, to independently launch her own restaurant in September 2009.
The site had been vacant for more than six years since the closure of a cycle shop and required major renovation. It took two years between Melissa committing to the location and Sanmae opening, during which time East Street had suddenly established itself as Horsham's number one area for restaurants.
Melissa said: "I have found it difficult being at this end of town. East Street was not popular when I bought this place and there was no talk of anything new. "All these new restaurants, no matter what they serve, have an effect. There is a new Indian just around the corner, Ask is opening soon and there could be more. It's nice that we have a good selection of restaurants on Springfield Road but I do feel we are at a disadvantage here."
Sanmae decribes its menu as a "fusion of Asian flavours". There are dishes from China, Thailand, Malaysia, Vietnam, a couple of Japanese dishes and Mongolian crispy lamb too. Melissa said: "I've tried to pick the best flavours and include some of the more popular flavours as well. We've changed the menu a little, and cut a lot of dishes that were not so popular.
"I think some of the tastes we offered before were a little too acquired and there was perhaps too much choice and variety in the cuisine. There were a lot of Asian herbs and spices that are popular in Vietnam or Thailand, but are really quite pungent. Some people simply smell it and decide it is not for them.
"If I could I would like to introduce Korean food here. When we first started we were going to go for a big Japanese theme but decided against that, purely as we didn't know if there was a market for it here in Horsham. It is a similar scenario for Korean food. I liked the idea of Asian fusion and offering dishes from across Asia. There are nights when you eat out and fancy a little bit of a mix and I wanted to cater for that."
For our meal review, we popped along to Sanmae on a Friday night, and found the place fairly busy with several couples and one large group. Firstly, we were struck by how clean and tidy the restaurant looked – tables were neatly arranged and the staff were chatty and welcoming. It's not perfection – one of the walls is decorated with flower shapes cut out from card.
It's a quirky touch and was no doubt a time-consuming exercise, but it doesn't look great when the glue wears off. We were then amazed by the size of the menu. There are nearly fifty main dishes, as well as thirteen chef specials and four curries (each served with either seafood , beef, scallops, king prawns, beef chicken, roast duck, Char Sui pork or Tofu), sixteen Vegetarian options and a lengthy list of rice and noodle dishes.
There are twenty five starter options, as well as six side salads and seven soups. Living up to the Asian Fusion billing, there is something for everybody, with dishes from Steam Sui Mai (steams pork and prawn dumplings) to Deep Fried Crab Claws. We opted for spiced ribs tossed with lemongrass and chillies (£5.50), sesame prawn toast (£3.90), Pandang chicken in leaf (£5.50) and deep fried shredded squid served with a sweet chilli dip (£5.50).
The spiced ribs (four ribs) in particular were delicious, with plenty of meat and a tangy sauce. The prawn toast was light and fluffy with a soft golden topping, and the crispy leaf gave the marinated chicken a good flavour. No complaints about the squid either (thin strips rather than chunky, crispy cuts) although you may want to request extra chilli dip if you like to drown your seafood.
Looking around, the food was delivered to other diners promptly, as it was to our table, with our main courses arriving as soon as the starters had been taken away. In some way defining the un-adventurous diner, we chose crispy chicken with Thai sauce (£7.80), crispy lamb served with honey and lemon sauce (£8.50) and roast duck with honey black pepper sauce (£8.80).
The best of the dishes was the roast duck off the chef's specials, nicely served on a sizzling hot plate, with a beautifully tangy sauce. The duck was neatly sliced, and tender, not dry and stringy as is often the case with Chinese restaurants. We're told that the Thai flambé sauce with
Cointreau is also well worth sampling from the hot plate options.
There was plenty of crispy chicken served, and the sauce was sweet and moreish, with the only slight let down being the lamb dish. We found the lamb stringy and lacking much substance, and the sauce too sweet and gloopy. We shared a large bowl of ginger rice, which was excellently flavoured with a light soya sauce.
You don't get too many Chinese or Oriental restaurants that are renowned for their dessert menu, and Sanmae is no different. But they do at least make their puddings to order, and the popular deep fried ice cream certainly makes for an entertaining talking point. It comes in a range of flavours including Bailey's Liqueur and Amaretto Crunch. The batter is light and soft rather than thick and crispy and it is really quite enjoyable. You may prefer to play it safe though and opt for one of Sanmae's newly introduced range of herbal teas, which include tropical fruit, natural mint and an organic green tea.
Next time we visit Sanmae, we'd like to take Melissa's advice and be more adventurous with our choices, perhaps limiting ourselves to the chef's specials. It seems rather a pointless experience to visit the restaurant and only choose the same tried and tested Chinese dishes, especially when the head chef is from Malaysia and there is such a variety of flavours available. Why not try the grilled Salmon fillet with Tipanyaki sauce? Or if you are a vegetarian, steer clear of the mixed vegetables and go for the sweet potato, butternut squash, red pepper and sweet miso.
Sanmae certainly has all the potential to become one of Horsham's most popular restaurants, but for that to happen it requires customers to be as enthusiastic about Asian food as the chefs. The staff are friendly, there is a warmth to the place and a determination to succeed, so a little adventure with the food could reap rewards.
So, who's going to try that grilled eel first?