The Foresters Arms, Horsham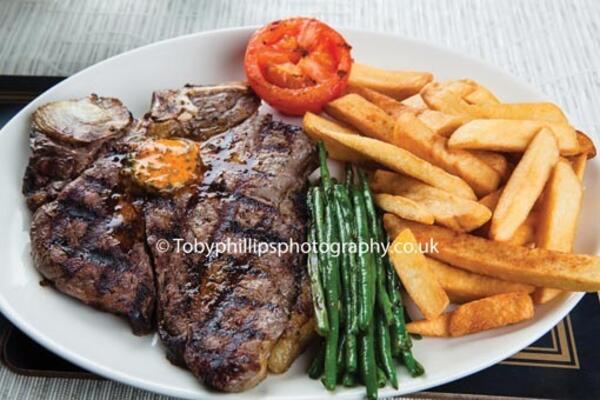 I had been told that The Foresters Arms was well worth a visit, but there was an initial reluctance on my part to investigate. For me, The Foresters has never demanded anything more than a passing curiosity, like an antique shop that has had the same chair in the window for twenty years and yet still manages to stay in business.
It was a pub that was sometimes jokingly mentioned as a possible starting point for a pub crawl in the days before parenthood, but more often than not, we thought better of it and opted to start a little closer to town.
When I think of The Foresters, I still associate it with a teacher of mine at Forest School, who would often pop there for a pint at the end of the school day. Seventeen years after I left Forest, that same long-retired teacher was sat at the bar as I arrived for this review.
The Foresters is a very attractive looking pub. Unless you know it's there, you could easily miss it as you negotiate your way through the parked cars along St Leonard's Road. With its white picket fence and hanging
baskets, it looks more like a cottage than a public house.
What you don't see from the front is the very attractive rear garden, with 16 wooden round tables and floral decorations. And its appearance is not The Foresters Arms' only asset – it is building up a reputation for good food and as a vibrant yet friendly pub.
The pub's landlord is Colin James, but he entrusts the day-to-day running of The Foresters to Marsha Lewis and chef Nick Williams, who have worked together for many years…in Tel Aviv of all places. Nick said: "Marsha worked in an Irish bar and I used to shoot pool there. After that, we both worked together at Mike's Place, which is a big American Diner in Tel Aviv where I was the head chef.
"Mike's Place was next to the American Embassy and was actually blown up in 2003 in a terrorist attack which killed three people. After Mike's Place I ran all of the Little Prague restaurants in Israel. It's a Czech bar and we both worked there for several years."
Marsha was the first to join the pub, arriving last summer, and gradually took on a greater role. Her mother and step-father had a pub in Tel Aviv in the late 1970s and Marsha ran her own pub in Fort Lauderdale, Florida in the 1990s, so she had experience to call on.
Marsha realised that the pub would need to offer good food in order to attract new customers. She said: "For a while people were not sure what was going on with the food as the kitchen was not open every night. I heard
that Nick was coming to the UK so I called him as we work well together and have a good laugh.
"He had a bit of a trial period this April and it went well, and now Colin lets us get on with it. Nick runs the kitchen on an independent basis so he is very much his own boss and that was just what he was looking for."
Whilst Nick runs the kitchen, Marsha runs the pub, with cocktails, a 'diner's club' with special offers, and live music on the last Saturday of each month helping to attract a younger crowd. She said: "You don't want to tread on too many toes as there are people that have been coming here for a drink for more years than I've been
alive. But I'm trying to add a little more flavour and variety, so people are not walking in to a pub with no vibe.
"I think the pub is getting better and better, and we are noticing a lot of new customers. It's a diverse mix – you get people aged 18 to 84 - but there has never been any trouble here. Everyone gets on with what they're doing and there's a really good dynamic."
When it came to the food, Nick sticks primarily to what he knows best. He spent eight years travelling in Asia, during which he learned a lot about curries. Therefore, he has a curry night every Wednesday, with a jungle curry from northern Thailand proving particularly popular recently.
There are also several Mexican dishes, which Nick perfected whilst working at Mike's Place. Nick didn't feel that anybody was doing nachos properly in the Horsham area, so he thought he would. Nick said: "This is a real local pub, with a lot of regulars, so I had to think about that when deciding the menu. I have got the classics, and I brought a few of my own things in without being too extravagant and keeping the food at reasonable prices.
"This is the kind of food I like to eat myself. I don't like all the fancy stuff. I like comfort food and enjoy cooking it. The feedback has been very good. It's simple, fresh and reasonably priced."
We settled down in a small dining area with nice, clean tables out of view of the bar, and for starters picked fried calamari with lime alioli dip (£5.25) and deep fried brie in panko breadcrumbs with fruit compote. The calamari carried good flavour with thyme, rosemary and sweet paprika seasoning, and the home-made dip was full of zest.The brie had a golden breadcrumb coating and the beautiful fruits of the forest compote was an enjoyable complement to the soft, warm cheese centre.
Other starters include home-made chicken liver and pistachio pate with caramelised red onion confit and toasted ciabatta bread (£5.75) and warm goat's cheese salad with chargrilled red peppers and garlic croutons in walnut vinaigrette (£4.95). Nick also keeps the soup vegetarian too, to provide an alternative to the vegetarian risotto (£7.95) and the market salad (£6.95). Some of the vegetables Nick uses come from the Bennetts Field allotments, which is just over the back of the pub. Rhubarb crumble was on the menu for a while as one of the women at the allotments brought in a bin liner full of it!
However, feeling carnivorous, we avoided the vegetarian choices and selected the T bone steak (14-16oz) with garlic and paprika butter, pan-fried green beans and chips (£12.95) and pork escalope with a spiced orange
and pineapple sauce with green beans and potato puree (£9.95). As Nick promised, this was good, honest, frill-free food at its finest. The steak was well cooked, as you would expect from a chef who has had experience of an American diner, and was not too fatty or chewy. It was very well presented and at £12.95 represents excellent value.
The pork escalope had been marinaded in crushed coriander, garlic and ginger and packed a light punch, and the fruity sauce brought good colour and intriguing flavour. Other options on the main course menu include pan fried liver and smoked bacon in a red wine sauce (£8.95) and beer battered cod fillet with chips, peas and tartare sauce (£7.95). There is also a home-made pie of the day, freshly prepared by Nick, on the specials board (£8.95).
There are also a few treats on the desserts menu. The cheesecake (£3.95) is made by Louise, who lives a few doors down from the pub on St Leonard's Road. Nick said: "She sells cheesecake to a few people, and I tried one and thought it was very nice so I now offer it on the menu."
We had to sample it ourselves, and hats off to Louise, and we also tried Nick's crème brûlée. Nick has made it in a variety of flavours – lemon, cherry, raspberry and passion fruit to name but four – and it's a popular choice at the standard dessert price of £3.95.
Other choices include a sticky toffee pudding (£3.95) and the fruit crumble. The Foresters also offers a number of Mexican dishes including delicious nachos that may well be the best in town. Ciabatta sandwiches are available for £3.75 and there is a nice children's menu too. Meals include cod fish cake, scampi, chicken goujons, and sausage, egg and chips.
The Foresters has the feel of a village pub, yet is located right on the edge of Horsham town. As Marsha mentioned, it is a warm and welcoming pub that attracts people across the age spectrum. Its food now places
the pub as one of the best in town for an informal evening out, and when combined with its enclosed garden makes The Foresters a place we would recommend for families to spend an afternoon eating and drinking.