Review: Wisborough, Wisborough Green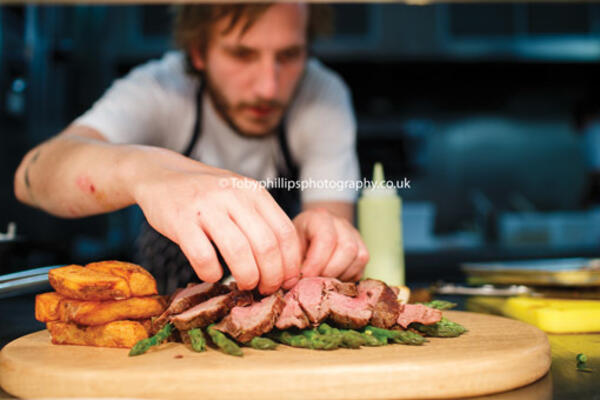 Published on 4th June 2015
I'm not a wine buff. When it comes to local ales, I can list all the breweries and their finest tipples, and can even appreciate and understand their diversity. But I do not have that ability when it comes to wine.
I couldn't say with great confidence anything definitive about wine at all, in terms of the flavour and characteristics of various wine growing regions. I have the same mental block with classical music. A concerto that I have heard a thousand times before could be played and I'd struggle to name the composer. Then I can turn on Heart FM and triumphantly declare 'Please Don't Go by KWS! I haven't heard this since 1992!'
Perhaps my palette doesn't yet appreciate the subtle complexities of a good wine, in the same way that my hearing is not genuinely tuned in to the genius of Bach.
With an interest in wine that is vague at best, I was not as excited by The Wisborough as others clearly are.
I am not the target audience. However, for a good number of people and wine lovers in particular, The Wisborough may well be the pub they've long dreamed of.
It is a pub full of stories...
It is a pub where the barman has a collection of classic cars; where the portrait of The Queen is not an open print but a special edition signed by acclaimed portrait artist Christian Furr; where meat matures in a large hanging room for a month before finding its way to the plate; where those with muddy boots, tweed jackets and a smokin' rifle may be invited to join a select club giving them access to a cellar stocked with unbelievable wines.
When Toby and I asked for a bottle of wine to share for our 'Silly Shot' on Page Five, we were handed a bottle of Vega Sicilia & Gaja.
With a value of several thousand pounds, we didn't pop the cork of course, instead filling our glasses with a more affordable drop of Bad Boy, a Bordeaux 'garage wine' supplied exclusively to The Wisborough.
It is a pub that feels like a collection of short stories and ideas all collated by man who has been able to realise them all and create what is, quite simply, a fine pub.
That man is Paul Gidley...
Paul, previously landlord at The White Horse in Chilgrove, lived in a shepherd's hut on the site of the pub, formerly The Bat and Ball, for four months as extensive renovations took place. The pub reopened on 1 May. Word had spread to the extent that 700 people turned up, with 100 booking for dinner the next day.
Paul said: "I was looking for a site where I could create something new. I knew that the perfect British pub didn't exist in the way that I wanted it to, and by that I mean a pub with a central courtyard, a good sized hanging room and land surrounding the entire pub to make it a truly green and open space.
"I came across The Bat and Ball, looked through part of the building and there was a line of rusty old caravans. But I saw a vision of what the courtyard could look like, and the idea grew from there. All I had to do was seek planning permission for the work to be done, whilst keeping the 15th century rooms at the very heart of the building."
Badger ales remain on draft...
Paul has bought a "very long lease" on the Hall and Woodhouse pub, and was responsible for the improvements, which include the new courtyard.
But when it comes to the wine, Paul brings his own knowledge and unrivalled contacts, which he has used to establish The Grape Foundation.
He said: "I've been involved in wine for a long time through owning restaurants, bars and hotels. Two years ago, along with my wife Johanna who was then the publisher of World of Fine Wine, we decided we should give a little back.
"We have lived comfortable lives and we felt we hadn't done enough in giving back, so that is what we tried to do. We knew that our relationships in the food and wine industry were our strongest assets, so we established The Grape Foundation.
"The concept was to bring us together as a community in a way that other industries do, but the wine industry hasn't before, to raise money for children's charities. We contacted various wine makers, and I pushed and pushed a bit more and gradually they came aboard, including the Primum Familiae Vini (PFV) which is an international association of some of the world's leading winemakers.
"Today, every notable and some not so well-known but brilliant wineries work with The Grape Foundation and I predict we'll have raised close to £250,000 in our first two years."
The foundation generates most of its money for good causes (see the website for details) by auctioning wines, but many are also available to buy in the cellar of The Wisborough's exclusive room.
It's called the 1655 Club...
So called as it was initially believed that the room designated for its members dated back to 1655. But as it turned out, the room may be 70 years older than that!
There's no menu or wine list for members, who are given keys to the cellar, and food orders are taken directly from the hanging room. Payments are on an 'honesty basis'. Currently, members can select wines including Cheval Blanc, La Tache, Chateau La Tour, Sassicia and Mouton Rothschild, with most available in half magnum, magnum and double magnums.
So, wine lovers have plenty to be excited about.
There is just as much attention paid to the food...
Paul has brought in Daniel Monroe as his head chef, describing the experienced 29-year- old as the 'epitome of calm and care.'
Daniel enjoyed a three-year apprenticeship at Nuffield Priory in Redhill. The idea of a fresh opportunity at The Wisborough appealed, and a mutual appreciation for the cooking of Tom Kerridge helped Daniel and Paul bond.
Daniel can take advantage of a vegetable garden at the rear of the pub, and amongst his team is a trained butcher, enabling them to make the most of the hanging room.
Paul said: "The hanging room gives us the ability to select the best pieces of meat available every day. Johanna and I have an interest in a smallholding, enabling us to bring in the very best beef, pork and lamb. It means we can offer the best of British meat and the best of French wine, which isn't a bad combination!
"The meat is taken to the abattoir and then brought directly to the hanging room, where it is hung for 30 days and delivered perfectly to the plate. We also know a local legend who is licensed to shoot game and he supplies us with venison.
"People kept telling us that 'nobody is hanging meat properly anymore' so it is my absolute intention to get that right. We are receiving some very kind comments about the food already, but to be honest we don't even think we've really begun. It takes time to put your processes in place and we have been here 30 days.
"It has been quite a nerve-wracking period. You wonder if your meat is going to hang in the room as well as you hope, and we been very fortunate in that it has. Now we are aiming for 100% happiness in every dish. If our approach earns us a rosette one day, then of course we will appreciate that, but that is not our concern at this time and we feel we are going to get better with time."
There's a range of bar snacks...
These include the Woolton, chicken, lamb, game and steak pies for £7 - £9, and a British cured meat medley for two or three to share for £20. A selection of sandwiches on home-made bread, served with salad and chips, cost £8.
The three of us (we were joined by Toby's wife, who has already booked a table to return) enjoyed starters from the main menu as we wallowed in the elevated glory (one we'll surely never enjoy again!) of the 1665 Club.
The club room has just one solid oak table, next to the cellar with at least one wine commanding a potential six figure price tag. There is also a smattering of comfy chairs around an Inglenook fireplace. A bottle of 1985 Dom Perignon sits alongside one chair, in the same way that other pubs might display a copy of Horse and Hound or even AAH!
Our shared starter platter included Chilli and Ginger Selsey Crab Tian, Sussex squab Wellington and a nicely judged ham hock. The Crab Tian (£7.50) was delicious, with a pleasing fresh texture and defined flavour, and was refreshingly complemented with a chilled cucumber and green pepper soup.
Usually after eating pigeon, I wish I'd played it safe and remind myself that there is a reason why it's a much-
maligned bird. However, the Sussex squab Wellington was excellent, with the plump gaminess of the pigeon going down a treat with the well-balanced pastry with port and redcurrant reduction sauce.
Mains include Grilled Shetland Isle Langoustine, Fillet of Thyme Roasted Welsh Black (£23.50), or Pan Seared Fillet of Halibut (£18.90). However, as we were in the 1665 Club, we felt obliged to play by the rules. So rather than selecting from the menu, we left it to Paul to choose for us.
He brought out some choice cuts of beef, direct from the hanging room, on top of a bed of Byworth asparagus and seared English scallops with a sweet onion puree, and some chunky potato soldiers.
Honestly, it is at this stage of the review that I normally turn to an online Thesaurus to find alternative words to 'succulent' and 'mouth-watering'. We've used those terms a lot, as we've enjoyed fantastic meals at many lovely pubs and restaurants in four years of meal reviews.
This time, I'll simply say that in terms of the quality of produce, it was as good as any meat we've experienced outside of the Michelin-starred restaurants. The platter was colourful, well-cooked and each element consistently of a high quality.
The three of us couldn't find fault with it at all, and the same can be said for our three desserts, with the soft, light sticky pudding stealing the show.
I was trying to find fault...
Many of Paul's concepts and ideas – an exclusive club with special privileges for shooting parties, ludicrously priced bottles of vintage wine – is in contrast to what I personally like from a pub.
But you have to be appreciative when someone with an higher level of ambition wants to do something grand and is successful in realising that vision. The Wisborough is a brilliant pub.