WeFiFo: A Social Revolution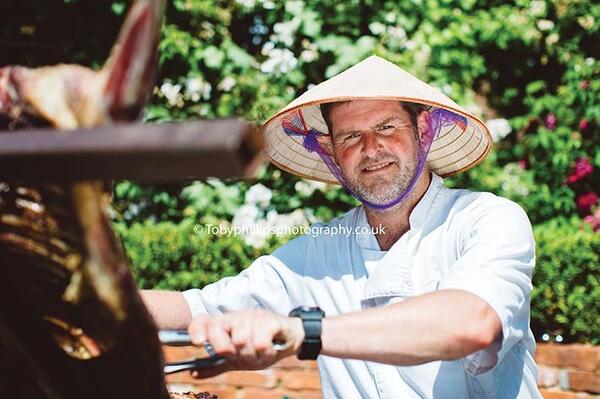 Published 1st July 2017
In 2016, Seni Glaister and Jon Stefani took a break from successful careers in publishing to launch a social eating revolution.Described by The Guardian as a 'real life Come Dine with Me' and by The Daily Telegraph as 'Airbnb for restaurants', WeFiFo mission is to encourage home cooking and greater community interaction.
AAH attended a WeFiFo event at the couple's idyllic home on the outskirts of Horsham, held to demonstrate just one of the ways that its events can bring together people with a shared passion.
After sampling barbecued chicken cooked Argentinian style and a slice of sumptuous Neapolitan inspired pizza, we sat down with WeFiFo founder Seni to find out more about the business and how it has quickly attracted national and global interest.
What is WeFiFo?
"WeFiFo is short for We Find Food. from the outset, we had ambitions to be global and wanted a name that would travel well and allow us to be playful with marketing. WeFiFo is a platform for amateur cooks, professional chefs, supper clubs and pop-up restaurants to connect with an audience. That may be people who wish to meet and feed their neighbours, or professional chefs looking to do something other than working in a restaurant.
What inspired the idea?
I travel extensively with my family and all around the world we have been invited into people's homes to eat. It is the most wonderful way of getting to know the people and culture. However, we are not so good at doing that here. In Italy, you will regularly see communal tables with four generations of a family eating together. It's incredibly healthy, in terms of physical and mental health. Then you come back to the UK and everybody retreats!
Are we more reclusive?
There are many people living and eating in isolation and we're trying to do something about that. It is not just the elderly; there is an epidemic of loneliness amongst people aged 18 to 24. Because of technology, people can order food online and it arrives at the door. They eat alone without connecting with anyone. Our mission is to have people sharing communal tables and talking, as food is a great way to break down barriers. I know it's a cliché, but your neighbours are merely strangers that you have not met yet.
Who is your target market?
The market is everybody, as we all love to eat or cook. We have people hosting Sunday roast dinners for £5 and if somebody wants to cook spaghetti Bolognese in their flat, we welcome them with open arms. We encourage anyone who loves to cook for others to share their skill, perhaps make a little money and make new friends.
There are also opportunities for professional chefs?
Most chefs work crazy hours that don't allow for any kind of social life. WeFiFo can offer something different for chefs who may not have theinclination or desire to open their own restaurant, but have the skills. We offer a great platform for them to connect with an audience.
How does it work in terms of pricing?
We have a structure in place. Every person hosting a WeFiFo meal enters as a 'Novice' and after a certain amount of meals, depending on reviews, they can be promoted to 'Home Cook' and eventually 'Home Chef.' All our events are listed on the website along with a location and the price for the meal. If the event is run by a Novice, guests set their expectations realistically. We have already seen people progress from Novice to Home Chef, which has given them a huge amount of confidence and self-esteem. We also have a 'Professional' level for events run top chefs. Already, we've seen acclaimed chefs and several Masterchef winners working with us as they're excited by the concept. These events cost more but the food is always worth it. We've been quitesurprised by how quickly word has spread and we now have a global reach, with events popping up all over the world.
Do guests review the meal?
There is a review process, but we encourage people to provide positive feedback, particularly with meals hosted by amateur cooks who may only be charging a small amount. Our hosts are all trying to build a reputation, so constructive criticism is welcome. There is a negativity about TV shows like Come Dine with Me, with people downgraded for what they didn't do. We didn't want to replicate that formula as our network is much more supportive and in fact our most evangelical hosts help mentor new amateur cooks.
Can anyone get involved?
Yes; WeFiFo is very much a website-driven business and people can view events and book online. Naturally, there are trust issues as our hosts are opening their home to strangers. So every host can accept or decline a guest. They can view their profile to make sure that they are comfortable inviting them into their home and the guest is not supplied with a final address until they've been accepted. The host is always in control. With some events, like the event we're hosting today, young families are encouraged. Taking children out to eat can be difficult because the cost can restrict your choices. You might want to dine out together but don't necessarily want to find the cheapest restaurant. We encourage families at WeFiFo and some hosts even offer free food to children attending with adults.
Could people not just organise such events themselves?
There are some advantages to working with WeFiFo. We provide insurance, food preparation training, guidance on gaining a food hygiene rating and our mentors offer all kinds of advice, so there are pillars of reassurance. People who are nervous about organising a meal can join our community and benefit from a wide network of cooks and chefs. Another key advantage is that we provide one place for everyone to find the events they would like to attend. Another reason why people might come to us, and one that is harder to quantify, is that people feel they are part of a great social revolution.
What is the aim of today's event?
We are hosting this event to showcase what we can do and ultimately, we are practicing what we preach! We don't base out business solely around people who have large courtyards for entertaining. However, this does provide us with the space to invite several chefs and to demonstrate the principles of the business.
Which chefs have you invited to cook here today?
Michael Hanson is here from The Hearth, which is my favourite pizza restaurant in the south and perhaps in the UK. Mike uses locally-grown heritage flour that allows him to create a lovely Neapolitan sourdough. He uses some of the profits to support charities helping people living on the breadline, so we are very proud to be associated with him. We also welcome Michael Keen, who is cooking a whole lamb on an Argentinian 'Asado' cross over a fire pit. Other food features include a charcoal rotisserie with barbecue chicken cooked four ways and a hut for S'mores and dipping chocolate!
CHEF FOCUS: JON STEFANI
"Seni and I worked in publishing and a healthy slice of our work was centre on food. This has given us the opportunity to work with and become good friends with leading chefs. It was a risk for us both to commit to WeFiFo, but we have great belief in this idea. There is an epidemic of loneliness and isolation in this country and we can fix this if we feed our neighbours!
WeFiFo events don't necessarily need to be fancy; there has been events hosted on beaches, in parks and even on a barge! As well as meals hosted by amateur cooks, some involve supper clubs or professional chefs. One upcoming event in Horsham features 2010 Masterchef winner Dhruv Baker, as well as local brewery Dark Star. However, if someone just wants to cook a good chilli con carne for a few pounds per head, then we have tha option.So many people do things like bake cakes for the office and are secretly desperate to feed more mouths out of a 'love to cook.'
Those are the people we'd love to involve and in WeFiFoThe business is still growing. I won't pretend that you can visit our website and find hundreds of events near you, but I hope that we'll reach that point as I believe this concept works."
CHEF FOCUS: MICHAEL HANSON
"The Hearth is based in Lewes, but I also have a mobile pizzerias that allows me to attend various events, including the Brighton Festival. I also run a Community Interest Company called Bread for Life, which was established in 2016. We grow our own grain in the South Downs and it's popular with restaurants, particularly in London.
We donate a percentage of the profits to help those living on the bread line around the world. We've contributed to Hand in Hand for Syria, refugee community kitchens in London and Calais, and local projects, including SoupAid in Lewes. We've been lucky enough to have had our efforts recognised with awards and recommendations in several books, the BBC Good Food Magazine and Sunday Times Dish Magazine.
This WeFiFo event is something different for me. It's fantastic to see people trying new ideas. Whilst this is only my first event with them, it seems a good way for people to enjoy food in a sociable way.
CHEF FOCUS: MIKE KEEN
"I'm involved in various food projects including food schools and I oversee the menu at the Cult Café on Ipswich's Waterfront. This is my first WeFiFo event. When I met Jon Stefani, he was looking for a fourth cooking element for this event, and when I told him about my set-up he insisted that I join in!It's a very interesting idea and it's creating something new in the food market.
My set-up is also a little unusual. People have traditionally tended to have a hog roast at weddings or functions, but are now being more adventurous and looking at alternatives. I built an Argentinian style cross for cooking meat over a fire pit. I can hang chickens on it, or alternatively cook a whole lamb. It's striking from a visual perspective and provides a novelty factor at an event. Also, the meat is delicious!"
For details about upcoming events and meals, including July's Horsham event with chef Dhruv Baker, visit the WeFiFo website at www.wefifo.com

INTERVIEWS: BEN MORRIS
PICTURES: TOBY PHILLIPS