Wabi, East Street, Horsham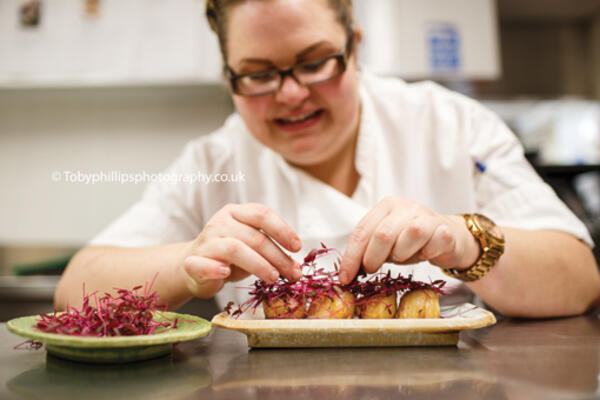 Published on 6th November 2015
Wabi is not the best restaurant in Horsham. Neither is it the biggest, the busiest, or the most historic. Yet whether or not you've actually sat down and tried to pronounce one of its dishes, Wabi is the most discussed restaurant in Horsham. And everyone has an opinion.
It's been a rollercoaster five years for the restaurant. Wabi waltzed into town with much fanfare, with renowned chef Scott Hallsworth leading the kitchen. Ambitious owners set the prices high and talked of scaling great heights in Japanese cuisine. Then came the public backlash. "This isn't London!" we cried, as a myth of tiny
portions and £500 bills became the common perception.
The owners' dreams suddenly appeared more like delusions of grandeur.
The original partners opened a second Wabi in London, led by Scott, who throughout his time in Horsham had only ever produced exceptional food. In the city, things quickly turned sour. As administrators stepped in, partners blamed each other for the failure.
Meanwhile in Horsham, in stepped bold and enterprising new owners, Paul and Verity Craig. Already owners of their own sound and lighting equipment company and a bar (Bohemia in Brighton), the Craigs had eaten at Wabi and enjoyed their meal so much that they were prepared to take it on in Wabi's hour of need. They had barely begun implementing changes when a fire destroyed Wabi in May 2014.
"We'll be back!" said the Craigs. "Not bloody likely!" thought many of us, especially when news emerged that the insurance company were refusing to pay out (18 months on, this matter is still in the hands of lawyers). Ill-informed we may have been, but we all had an opinion on that too, didn't we?
But indeed, back they came, and thanks to an extensive cocktail menu Wabi is the place to been seen on a Friday and Saturday night - at least for those with plenty of disposable income.
Business is booming, but it is theatrical ice-cooled cocktails that are pulling in the punters and not so much Japanese dishes. Is it a restaurant, or is it a bar? Well, Wabi wants to be both and hopes to convince more people that dining out can be an affordable and enjoyable experience.
The new general manager is Pedro Martins. Pedro will be familiar to many as the former manager of Bill's at the Old Town Hall in Market Square, and perhaps for his occasional column in the West Sussex County Times.
His articles tend to be based on his love for Horsham. Honestly, they'll print anything!
We sat down with him to discuss Wabi's turbulent past and exciting future, led by a new menu launched in November.
Pedro, what has been the impact of last year's fire?
"It was a horrible time for the owners because they had only bought the business six months previously. Paul and Verity could have decided to let the business go, but they managed to re-open just three months later. Not many people know that they paid employees during that period and that many of them, including Nero Gilissen who was general manager at the time, helped rebuild the restaurant. I was not here then, but we do see ourselves as a family and perhaps that bond is stronger (because of the fire)."
What are your goals for Wabi?
"For all of the previous hard work, changes still need to be made. I know Horsham well, having worked at Bill's for three years, and I want to help Wabi's perception change from where it was five years ago - an expensive restaurant where only the wealthy could eat - to a restaurant that is accessible and affordable for everyone. We have changed the menu and lowered the prices to help people afford a good night out."
Does that mean the ingredients Wabi sources are cheaper?
"I have worked in many restaurants and I have not seen ingredients of such quality before. We also use local producers when we can, including New Street Butchers. We have not compromised on quality but we have compromised on price, as we need to adjust to the reality of where we are. On our new lunch menu, we have ribs and rice for only £9, which is amazing value. We now have better pricing and having worked with several chains I know how vital that is."
Has there been a lack of understanding as to what Wabi offers?
"We have been in Horsham for five years, yet still not everyone knows what Wabi is about. I have people asking if we only sell sushi. Certainly, the menu has changed since it opened in 2010. I would not say we have run away from Japanese food, but we do want to offer a menu with general appeal. I would say we are not an authentic Japanese restaurant, rather a contemporary Japanese restaurant that plays with flavours in new and exciting ways."
Have some people been apprehensive about trying Japanese food?
"Yes, I think so. We understand that people don't naturally know what Okonomiyaki is, which is why we use pictures on our menu. You might still have questions about it, but at least you can see that it is friendly and edible! We created the Wabi Bites menu so that people can have nibbles with a cocktail. This helps to introduce people to new dishes. If you see other people enjoying a Tempura or lamb chops, the dishes become less intimidating. We see many couples enjoying sushi with their cocktails now, which didn't used to happen. Most importantly, people don't have to worry about the food; we will be more than happy to talk to you about every dish."
In becoming more accessible, has Wabi lost some of its edge?
"No, because so many dishes and our drinks too provide a bit of theatre. We only have to make one of our dry ice cocktails and everybody wants one! People come here for an experience and we offer that with the food, the drinks, and of course the way the restaurant is laid out."
Who is the head chef now?
"We have a very young head chef, Cordelia Friday. She worked under the previous head chef, who is still here but has stepped down. Cordelia has not been to Japan but she is prepared to play with flavour and texture and comes up with exciting dishes. So we have things like the beef fillet tataki maki, which might sound silly to the Japanese, but in Horsham it will be well received as it is of high quality."
Are the new owners 'hands on?'
"They are heavily involved, although they trust the team here to manage the place, which is fantastic considering all that has happened. We have meetings every week with Paul and Verity, with Cordelia preparing new dishes for us to test and discuss. Nero is still an important part of the management team as he has tremendous knowledge of working in Japanese restaurants, and he is present at the meetings. So we are always coming up with new ideas. There is a lot of work still to be done, and I'd certainly like to see us become a more integral part of the community, but we are making big steps."
Is Wabi more of a place to be seen on a Friday night, rather than a place to eat?
"The business has adapted to try and offer something that Horsham didn't have. If you wanted cocktails, you had to go to Brighton or London. Wabi has grabbed an opportunity, and we are still able to offer food as well. We are strictly over 21's on Fridays and Saturdays and the place is very busy. The bar is doing very well, but my dream is to have upstairs full of people eating at the weekend. Already, all of the booths upstairs will be occupied at the weekend and people are spread out to the tables and even spilling over to downstairs."
Can Wabi look forward to a period of stability?
"Certainly, the business is evolving and we are still trying to find out exactly what we want to offer. We have learnt from the past what is the wrong way, and now we need to find the right way. "
That's all from Pedro, so it's back to us to summarise our experience. Firstly, it's important to note that the town's
attitude to Wabi has changed dramatically. Generally speaking, Horsham folk don't like hotshots coming in with grandiose ambitions. We possibly quite enjoyed taking them down a peg or two and lapped up subsequent dramas.
Now though, after years on the ropes, Wabi is still standing, still swinging. And we all love a fighter! Now, the will is for Wabi, against all the odds, to be a success. You can sense that cause for optimism, but that is primarily driven by Wabi's status as a social hub for Horsham's high fliers. On the food side, it still feels like a restaurant in transition.
Certainly, the dishes are not quite of the very high quality on offer when Wabi first opened. But do they offer better value for money now? Most definitely.
The standard of service and presentation is still high, and people can now fill themselves up on a small selection of dishes that won't break the bank. A good number of those dishes offer great theatre, providing talking points that you cannot find elsewhere in town.
We'd suggest that Wabi is yet to find a firm footing, but after five testing years, it's looking more settled than ever.
But it's Wabi. Anything could happen.
BEEF FILLET TATAKI MAKI: Theatrical Thrill. It might not be the done thing to pair beef fillet with sushi rice, but we loved it. The delicate strands of tataki beef were delicious and a potent ponzu added more life to an appealing dish. Served on a wooden board, the dish is perfect for parties, thanks to its dramatic use of dry ice.
SEARED SCALLOPS: Good combination. I'm not a particular fan of scallops - I prefer foods with a
little more natural flavour - although I did enjoy Wabi's offering thanks to the topping of edamame (beans) and wasabi espuma (foam). It provided a sharp little hook and added much needed colour.
CHICKEN TEMPURA: Noodle Nuisance. We're informed that this is a good seller, because it is 'a fun dish to share.' It may be filled with kimchee pickle, red onion, green chili, cucumber pickle and edible flowers, but we thought it a dull, unsatisfying splodge of dry noodles.
MISO ROASTED BLACK COD: Bold Invention. The fresh, succulent cod (marinated for 48 hours in a miso dressing) sears away at the lightest touch. It was well complemented by a delivilishly rich hijiki seaweed with the lime cutting through the sharp sweetness.
TEA SMOKED LAMB CHOPS: A costly pleasure. The chops were tender and thanks to a strong tea- smoked aroma tasted wonderful. At almost £5 a chop, they are expensive, as the chops are theatrically served on a bamboo leaf and accompanied by a sweet (aubergine) mash and Korean miso sauce.
VENISON FILLET TATAKI A delight. The thin slices of venison were tender and juicy rather than gamey and rich. The dish felt balanced with dehydrated garlic chips, spring onion and a tangy, sweet ponzu sauce.
SCALLOP MAKI: A refreshing treat. The shiso mayonnaise gives the sushi rice and smooth scallop a delightfully cool, refreshing taste. The hand-rolled pieces are then coated with Tobiko (flying fish roe) giving the dish great colour and a bit of theatre too. It might look a small dish, but there's a lot going on! Filling and enjoyable.
To book a table visit Wabi at 38 East Street, Horsham, call 01403 788140 or email reservations@wabi.co.uk
You can view the menu online at www.wabi.co.uk