Review: Restaurant Tristan in Horsham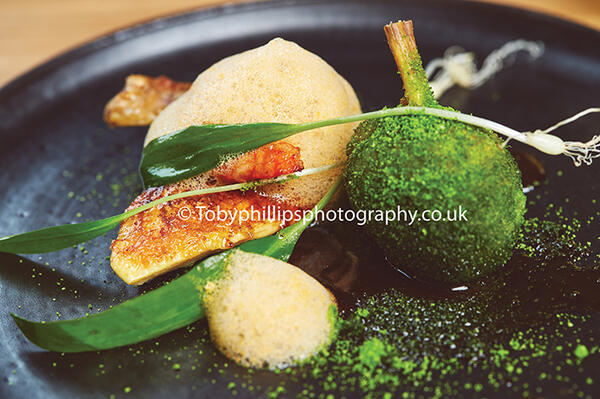 During the last year or so, regular readers may have noticed that Toby's better half, Maria, has been joining us on meal reviews. Initially, this came about as Maria had (only half jokingly) remarked that she wasn't seeing enough of her husband.
"Then come along to the meal reviews!" was Toby's response.
There is a positive side effect, in that Maria knows more about food than either me or Toby. Now, when it comes to us individually describing our dishes into my voice recorder, she groans in embarrassment when we say "succulent," "mouth-watering" or "feast for the senses." It's been a while since that last one had an outing in AAH!
Maria's additional knowledge is particularly welcome when we visit the finer restaurants of the district, most notably our two Michelin starred restaurants. Matt Gillan at The Pass at South Lodge has one star, and Tristan Mason has earned one at Restaurant Tristan on Stan's Way, just off East Street.
BEYOND CRITICISM?
In truth, the dishes created by either chef surpasses any critical analysis that I can give. Perhaps a national food critic well versed in Michelin-star level dining can better distinguish the very good from the exquisite. But honestly, I can't.
As if to emphasise that point, as I skim through Tristan's new menu, I confess there are a few ingredients that I know little or even nothing about.
What exactly is 'quince?' Is 'morel' a type of eel? Is 'sorrel' the leaf you grab to heal nettle stings?
Thanks to a bit of Google research, I later discovered that quince is a cooked fruit, morel is a honeycomb-like edible mushroom, and sorrel is a garden herb that looks vaguely similar to broad dock leaves, that can help soothe stings, but has different qualities!
Whilst I may not be qualified to intricately describe the flavours in Tristan's dishes, I can tell you that I love his restaurant. The reason for this is that I don't feel obliged to know about every ingredient on the menu, as there is nothing pompous about Restaurant Tristan.
For example, our waiter - with a basket in hand, asked us which bread we would like; sourdough, walnut, sun dried tomato or double eggs benedict flavour? "I'd love some egg bread!" I declared, not realising that the waiter was jokingly referencing Toby's regular breakfast order of double eggs.
SIMPLE THINGS
At the evening's end, I spoke to Tristan, who seemed keen to gather a bit of feedback on his new Spring menu, as we were amongst the first to try it.
Rather than trying – and probably failing – to impress with cuisine-based jargon, I admitted that I didn't really know what I was talking about when it came to fanciful food. But, I added, I thought that the dishes were generally simpler than they used to be and were all the better for it.
As it turned out, that was just the feedback Tristan had been looking for. "The dishes are moving towards being less complicated," said Tristan.
" I think in simplifying them, there is more focus on the main ingredient. Rather than creating beautiful bits and pieces all around the dish, I am looking to do a little less and make sure that everything is absolutely bang on. Maybe having a break for those two months did help me reflect on each dish and adopt a simpler approach."
FIRE DRAMA
That break was forced – if you hadn't heard – by a dramatic fire that made front page headlines of the local newspaper.
An electrical fault in the downstairs bar area triggered a fire in the early hours of Christmas Eve. Whilst the fire itself did not causes extensive structural damage, the effects of the smoke would force the restaurant to close for nearly two months.
Tristan said: "We had a phone call at 4:30am from the fire brigade, as a neighbour had called them. A fire had burned an area around the sink at the downstairs bar. Fortunately, it had not spread because of the water that was around, but this small fire had been slowly burning plastic and glass in this isolated spot for a couple of hours.
"This caused heavy smoke damage, particularly upstairs in the kitchen.
"When I arrived, I initially thought it was going to be all right. There was a lot of water and the fire hoses had sprayed the ash everywhere, but we thought we might only need to close for a day or two. In the end, it was two months! It wasn't until the smoke cleared that we could see it needed extensive restoration, from top to bottom.
MANUAL LABOUR
"We had to replace the oak floor, the beams needed sandblasting and the stainless steel worktops in the kitchen looked as though they had been submerged in the ocean for 10 years.
"We didn't really need that over Christmas to be honest, but we were fortunate in that we were insured, otherwise that would have been the end of the business."
Tristan and his wife Candy had to wait until the fire forensics team had completed their investigation (an accidental electrical fire caused the blaze) before they could get back on track. Tristan said: "It wasn't until the New Year that we really got to work, so all we could do was try and relax and have a good Christmas.
"It was strange to me, as I do work long hours, and the fire forced me to take time off. "Still, I did project manage everything in terms of the restoration as I was worried that our momentum would slow down if we were closed for too long.
"Fortunately, we have great support and our regular customers came back in that respect, we hit the ground running. Nonetheless, I was nervous going back because I hadn't been cooking for a while. So on the Saturday before we opened, I made every dish, just to make sure I still had it!"
STILL POPULAR
It's now been a month since Restaurant Tristan reopened, and its proving as popular as ever. Perhaps this can be attributed to its successful recipe of fine food at affordable prices.
Three courses on the Select Menu cost just £25, with four courses for £30. The new four course Spring Menu costs £45, although those with a bigger appetite (and deep pockets) can enjoy an eight course Tasting Menu for £80.
BIG BREAKFAST
It might be Michelin-star, three AA rosette winning food, but there is nothing pompous about Restaurant Tristan. This informal approach serves it well on a street that has become a hub for diners.
The downstairs café/bar area continues to grow thanks to Candy's home-made cakes, and it's not just the AAH photographer who regularly enjoys Tristan's breakfast.
Breakfast includes home smoked salmon and scrambled eggs (£8) and eggs benedict (£8), and word is slowly spreading!
"The breakfast does well, but still not that many people know about it," said Tristan. "We offer classics like eggs benedict and wild mushrooms with poached eggs and everything is made to order. In all honesty, I don't know if breakfast falls under the Michelin Star system, so they may be along to test our scrambled egg!
"But we always focus on quality. So we make sure that the hollandaise is lovely, the eggs are perfectly poached and that everything is seasoned right.I do feel more relaxed than I used to, but the star is always at the back of my mind so I make sure every dish that leaves the kitchen is right."
DIVINE DINING
This was our third meal review at Restaurant Tristan in five years, and this was my favourite yet. I couldn't definitively say that the food was better this time; it's just that, as someone who is still excited by a Harvester salad cart (unlimited pineapple slices and as many bread rolls as you like!) I appreciate Tristan's move to simpler dishes with fewer ingredients.
The food was divine – my stone bass was incredible and the raspberry soufflé was the most sublime pudding I can remember eating.
However, having opted for the four course Spring menu on its first day, I did leave a tiny bit hungry for the first time. The portions are delicate judged and we're talking small amounts, but even with a lovely amuse-bouche (mackerel with violet potato) I needed maybe 5-10% more.
A minor gripe from a wholly enjoyable experience.
Nothing outlandish has been done in terms of the new décor, with wonderful hanging lights the most striking difference, and the chef himself seems more at ease, which in turn is seeming to radiate a more relaxed, warmer restaurant.
It's just pleasant. The sort of place you might eat breakfast.
THE FOOD
Fois gras/fermented red cabbage/spiced quince (Select Menu - 4 courses £30) A sublime yet subtle dish, with the sweet savoury taste of the quince fruit, tangy red cabbage and silky goose liver combining beautifully (Picture on P40)
Scallop with cauliflower and pine (Spring Menu - 4 courses £45) An interesting, simple blend, brilliantly executed, with a soft, beautifully tender scallop enhanced by mellow cauliflower puree. I wasn't too sure what to do with the pine, but it sure looked pretty!
Squab Pigeon, Pickled Onion, Cacao (Spring Menu) The dark meat of the squab (young domestic) pigeon was rich and moist, cooked very rare. It made for an interesting mix of flavours with a pretty burst of colour.
Turbot, Turnip and Lardo (Spring Menu 2nd Dish) This dish has vibrant colour, thanks to the deliciously moreish, brittle turnip greens which almost stole the show from the subtle, mild taste of fresh turbot. That's a flatfish, if you didn't know!
Suckling Pig/Squid/Spring Greens (Spring Menu 3rd Dish) Toby's pig was delicious, with the meat light and tender. One of the busier plates, but the brittle greens and thin curls of squid added to a lovely dish.
Poussin/King Prawn/Wild Garlic (Select Menu 3rd Dish) Perhaps the most beautiful looking plate of the night. The delicate, succulent flavour of the chicken was enlivened by a gorgeous garlic coating. The prawn was a little bonus!
Smoked Stone Bass/Beetroot/Creme Fraiche (Spring Menu 3rd Dish) The stone bass was just delicious, although it was a shame there wasn't a bit more of it. This dish had several different types of beetroot to give it a striking appearance.
Rhubarb Souffle Pineapple/Truffle/The souffle was just out of this world, but all of the desserts we sampled were absolutely superb!
You can view full menus and more information at www.restauranttristan.co.uk
This article was published on 4th April 2016