The Camellia at South Lodge Hotel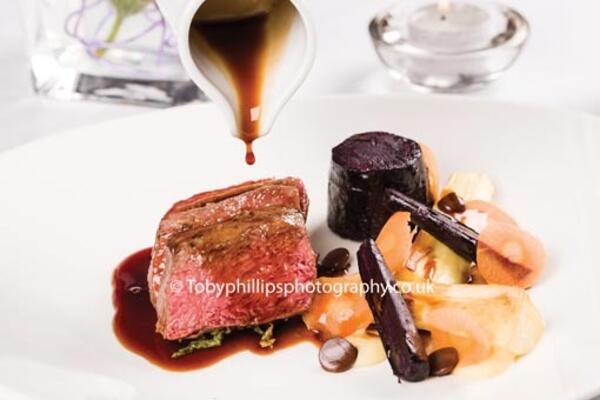 Review: December 2013
For all its strengths, South Lodge Hotel's in house restaurant has been living in the shadow of its more celebrated sibling.
The Camellia could be likened to John Rooney, who is living a life millions of footballers could only dream of as a professional at League Two side Bury. But his brother Wayne often steals his thunder. Or Dave Franco, who no doubt was hugely excited about telling his family about his role in the US sitcom Scrubs, until his brother James announced his Academy Award nomination.
In recent years, The Camellia has had to accept the fact that, for all its elegance, it's just not The Pass – the colourful, innovative, contemporary, Michelin-star scooping restaurant across the lobby at the five star Lower Beeding hotel.
But all of that may have just changed...
Steven Edwards, head chef at The Camellia, triumphed in the BBC's popular MasterChef: The Professionals programme and the publicity he has attracted has led to a barrage of bookings. It is The Camellia's turn in the spotlight, and it's enjoying the attention. There's a new energy in the kitchen and the service staff are clearly
revelling in the congratulatory spirit.
Steven's young team of chefs seem ready to take on the challenge of creating his menu. With the MasterChef champion's media obligations, it's a chance for others to shine too and they are eager to impress. Yet the youthful vibrancy of the kitchen is a total contradiction of the restaurant itself, which is as contemporary as a Downton Abbey tea party.
In terms of decor, the focus is on the exquisite as oppose to the eccentric, typified by lavishly framed mirrors which, were you to talk to them, might just tell you who is the fairest in the land.
The Camellia was only refurbished four years ago after an ill-fated period as a brasserie. The restaurant had been awarded three AA rosettes under Matt Gillan. But as Matt was swept away by The Pass, as too were the table cloths. The brasserie was not to the liking of the hotel's guests, and it has been a long road for Steven to revive The Camellia's reputation.
He said: "I was speaking to Lewis (Hamblett, Executive Chef at South Lodge) after my daughter was born three years ago, as I thought my journey at The Pass was coming to an end. I was looking at other jobs and Lewis asked me 'Why don't you come over to The Camellia?' We started looking at ways to change the restaurant, as there was negativity towards it, but we didn't want to duplicate anything Matt was creating at The Pass.
"It's been a difficult journey for me as I wasn't coming in here where Matt had left off. He left on a high, then it dipped, and we've been trying to bring it back up to that high level. Matt has been a real inspiration to me. I'm his boy! He took me from being the chef-de-partie to being the sous chef at The Pass, and he was very supportive when I came over to The Camellia.
"I know he is genuinely happy for me for winning MasterChef and he is always there when I need to talk about food. I always ask Matt and Lewis to try any new dishes and it's great to have their expertise to call on.
"It was a worry when I first went over as I had a style which suited The Pass. But I think I have found my own style now."
It is a style that has reaped him great reward of late. As filming for the BBC finished back in July, Steven had plenty of time to prepare for the probable increase in demand following the final. So he has put in place a MasterChef Menu so that diners can enjoy the three course meal that won him the title.
It was enough to impress Michel Roux Jr and Monica Galetti, not to mention dessert fiend Gregg Wallace. But would the dishes sit as well in the more traditional setting of an old manor house?
he MasterChef Menu costs £40 and begins with and begins with Anjou pigeon breast with roasted baby beetroot, caramelised feta dice, apple compote, watercress and a beetroot vinaigrette. The pigeon was excellent, with a tender, soothing gamey texture that worked perfectly with the intense flavour of the vinaigrette.
For main course, we were presented with Steven's much-praised Stone Bass. The chef would later speak to us at length about the ongoing challenge of sourcing the seafood that meets the high standards he wants to set.
He primarily uses a Newhaven-based company, and has been known to return fish that he feels does not represents the catch of the day!
But the pan-fried bass on offer was excellent, richly enhanced by a bed of tomato and parmesan orzo, which also added some great colour to the plate. However, it is the pureed poached and blackened Kohlrabi with lime foam that steals the show. The immaculate arrangement was impressive enough, but the lime (coupled with the mild, slightly sweet taste of the Kohlrabi vegetable) made it far more than an attractive sideshow.
The menu's dessert is a honey cake topped with honeycomb, with poached peaches, peach compote, roast peach puree, yoghurt espuma, a pistachio crumb and thyme syrup. It is a dish that requires fine technique, and since Michel Roux Jr couldn't find fault with, it'll surprise no-one that we couldn't either.
10) with yoghurt and blackberries were all pulled together with a liberal dose of a wonderful lime sauce. In a less formal setting, it would have you licking your plate like a hungry spaniel. Other À la carte desserts include the secretively titled Coconut (£9.50), Chocolate (£10) and Treacle (£9.50).
Our À la carte starter was Scallops (£14) with garlic puree, edamame beans, fresh chestnut, and pancetta.
It was efficient and elegant, if perhaps a touch on the conservative side in terms of flavours. But once again the whole dish was well balanced and perfectly cooked.
For our À la carte main, we chose the Venison (28 pounds) with purple carrot, parsnip, pickled carrot, savoy cabbage, smoked bacon and chocolate. As a whole it was an intense, strong dish but at its heart were three divine cuts of top quality meat, sourced from South Downs Venison and Game.
Again, it was cooked to perfection, and if ever the flavour combinations seemed all consuming, you could always dip into the small dollops of rich chocolate to add a little excitement to the palette!
The MasterChef Menu will be running until the end of March, and there are also a couple of other dishes Steven made whilst on the programme on the menu, including Duck and Broccoli (£24). Throughout the evening, the service was swift, always informative and, whilst never becoming what you would call informal, pleasant and friendly.
Intentional or not, there does seem to have been a lightening of the mood at the hotel. You do not feel that someone is making a snap judgement on your financial status based on your outfit, as perhaps you may have been at a five star hotel not too many years ago. On our previous visit Toby, the AAH photographer, was concerned as he had arrived in denim. He had envisaged a snooty concierge drop-kicking him and his boot-cut Wranglers out of the back door. This time around, Toby didn't think twice about donning his pantaloons de Nimes!
Our overall impression is that The Camellia is a better restaurant now than what it was during our previous visit in 2011. Steven's MasterChef win has inevitably energised the team, but all the signs suggest that this is not a brief boost of nitrous oxide that will fleetingly turn a midfield runner into a race winner.
You can sense a healthy co-operative amongst all the chefs, both senior and junior. It is also encouraging to hear Steven talk of his desire to expand his network of local producers. He said: "I think I'm always going to be quite conservative with the flavour combinations and my style of food, but I try and push for technique and go for something different.
"That is why it is important for me to find good suppliers, such as South Downs Venison and Game. You may pay a little more but the quality can be so much better. We want to get the best and we are fortunate that producers want their food on our menu now, because of what Matt has achieved at The Pass and now hopefully with me too.
"MasterChef has changed the dynamic of the restaurant. The Camellia is the 'in house' restaurant, but half the diners coming in now are new diners. They are coming especially to eat here, rather than being guests of the hotel who need a place to eat. In that way, we are more like The Pass, in that we are actually attracting people to the hotel, as the TV show has changed the expectations of our clientele.
"I think there has been a big change in what we are doing and now I want to maintain that rate of progress.
"I don't want to put too much pressure on myself or my team. I just want to move forward at the right speed and I believe we are doing that. We try and make each dish as good as it can be, and we won't worry about any awards or certificates. It's up to the diners to decide if we are getting better or not."
To book a table call 01403 891711