Review: Cabin in Faygate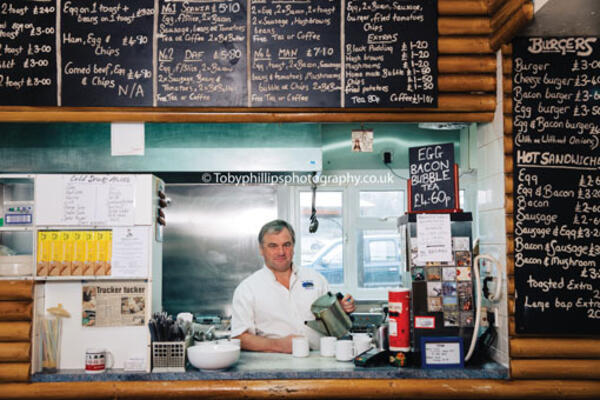 Published 2nd April 2015.
These are tough times for a truck stop, even if you happen to be one of the best in the country. In March, The Cabin on the side of the A264 in Faygate, won the 'Best Food' award at the Truck Stop of the Year Awards, run by national newspaper Truckstop News.
Yet changes in driving laws, road layout and increased competition from pubs and tea shops have all conspired against The Cabin over the years.
Mark Webber, who spent 10 years as a lorry driver for PJ Brown before taking over The Cabin, said: "The local tip was just up the road here for many years, and the Brown's lorries used the site up the road too, so there used to be dozens of lorries and dust carts here every day.
"It was also better for business when the A264 was a single road, before the dual carriageway. The roundabout was put in the wrong space from our perspective, as we moved from being on the crossroads to being on just one side, and quite a distance from the next roundabout.
"There are not many places like ours anymore, for many reasons. Some drivers don't pay for overnight parking. They tend to use a lay-by. In days of old, you would have to queue to get in here. Now lorries have tachographs and of course the price of diesel has gone up, so companies will wait until a lorry is full before they send it out and will have two drivers so they can just keep going.
"A lot of the garden centres such as Squires at Cheal's have expanded and built cafes within the business, and industrial parks have their own burger vans too. Even the new development up the road at Kilnwood Vale has its own cafe for workers, so all of these things have gone against us.
"Despite that, we've been able to keep our prices down, keep going, and give people a really good breakfast or dinner. We cook in front of the customers, which I always liked to see at truck stops when I was on the road. I think people appreciate that.
"Now, our food has been recognised by Truckstop News, in a competition judged by customers. We are up against big, modern truck stops with rest rooms, and we're just a small family-run business. But the service is great here, we use good ingredients and I think that's what has seen us win the award."
A Family Firm
The Cabin has been in the family for over 80 years. It was Jean's parents, Bill and Vi Simmons, who started The Cabin in 1932.
Jean, who is still at work at 4.30am to start food preparation and put the fire on every morning, recalls: "They didn't have a lot of money, with just half a dozen cups serving tea and coffee. They made a couple of cakes too, but the first customer they ever had apparently asked for a cheese sandwich!
"My mum ran up to the local grocer's, opened an account and bought bread, milk and cheese and that was how The Cabin started. It was very small, so people sat outside as it was just a little shed really, but we started cooking bacon sandwiches and gradually it became quite busy as we were right on the Faygate crossroads."
Jean took over along with husband Jim Webber in 1957, running The Cabin until 1973. They created a proper café with a kitchen and offered home-cooked meals. It was so busy that the cafe was open seven days a week.
In 1973, The Cabin was leased out, and over the next 25 years three tenants continued to keep the café afloat. The first of these tenants built The Cabin that we see now, but in the end it fell into disrepair. It was Joan's son, Mark, who stepped in to take over in 1999.
Mark said: "I was working as a lorry driver for Brown's and used the cafe regularly, and I grew up here too. We lived in a mobile home behind the car park! When the third tenant left, we sat down as a family to see if anybody wanted to take it on. I thought I would give it a go.
"It was in a bad state and needed a new kitchen fitted, so we hired a catering van and set up in the car park for a few months until we were able to refit the facilities. It took a few months for us to find our feet but we've been going ever since.
"Today, we offer overnight parking for £19 and for that you have a meal with vegetables, free tea and coffee, and we have trustworthy overnight parkers.
"The lorry drivers will come in here, put the TV on, keep the fire going, and lock up the end of the night. Most of them have been coming in for years, so they all look after each other - they are like a family. The regulars all know where to park so they don't hold each other up in the morning."
Lumberjack's Snax
What keeps the lorry drivers coming back, other than the fast and friendly service, is the food. The breakfasts are all named after types of lorry, ranging from the £5.10 Scania (two bacon, egg, sausage, beans or tomatoes, fried bread, bread and butter, tea or coffee) to the £7.10 Man (egg, toast, two bacon, sausage, beans, tomatoes, mushrooms, bubble and squeak or chips, tea or coffee).
In between you'll find the DAF and the Twin Axle, with a selection of Lumberjack's Snax including beans on toast (£2.40) and cheese on toast (£3). The Lumberjack's Grills include two bacon, egg and chips for only £4.60.
The Cabin also serves burgers from only £3 and hot sandwiches from £2.60, with main dinners including cottage pie, grilled chicken breast, steak and kidney pudding, chicken leek and bacon pie and gammon steak.
My own mode of transport, a Renault Traffic, is hardly king of the convoy, but having forsaken breakfast, I felt I had the appetite for the No.4 Man.
We settled down on blue plastic chairs, built for practicality rather than comfort, and chatted to Mark about his collection of classic motorcycles as he put a few more logs in the fire.
A couple of lorry drivers came in as we chatted, and noticing Jean and Mark were busy, one made himself a coffee and sat down with a newspaper. It turns out he's been visiting The Cabin for years - the main reason being the great food!
Fresh Produce
I have to say, having expected some greasy plate of trucker's grub that you might see in a 'choke 'n' puke' diner in a 1970's Burt Reynolds film, I was pleasantly surprised.
The mushrooms were fresh, the bubble and squeak was well-filled and the sausage and bacon were both of good quality. The best part of the meal was the large egg, which as you can see from the picture was about as good as you will see anywhere.
I later found out that Jean has cooked more than a million in her life, so it ought to be too. At such a price, with free hot drinks too, it was terrific value for money. I did leave a couple of mushrooms, as I worked at a mushroom farm as a teenager and it's taking a long time to reintroduce the flavour to my palate! That aside, I finished the meal.
Toby was also impressed with his steak and kidney pie, which cost less than £7. The vegetables were fresh and the hand-made mash was appreciated too. The pie was well-filled with good butcher's meat with a crisp, thick pastry. Certainly, there are pubs in the area offering no better for almost double the price.
Mark said: "We bring the vegetables in fresh every day, and we make our own mash potato and bubble and squeak. We use the butcher at Handcross for a lot of our meat, and Penfold Farm in Hurstpierpoint for bacon and sausages. All of the pies are brought in by a small producer, so it's all good quality.
"We get through 90 dozen eggs each week, probably 100lb of bacon and 800 sausages too. One thing that people particularly like is the sausage, which really is excellent. People do notice the little things on the plate, such as the large eggs that we use. We also use tinned tomatoes from Italy and not Spain, and one lorry driver comes to us especially for that reason!
"Because of the prices we charge, we can't bring in the real top end ingredients, but we do make a great plate, and mum has cooked over a million eggs in her time, so she knows what she's doing! Also key to a good truck stop meal is a fast turnaround, and that's something we do very well."
Having always seen The Cabin as a truck stop, I've never felt compelled to stop there, even in my delivery van, as let's be honest it doesn't look like much from a passer-by's perspective.
I wouldn't take the wife there for a Valentine's meal (actually, I might, but I wouldn't necessarily recommend that you do) but if you're on the road and need some good food and quickly, I can't think of anywhere better. This is fast food as it should be!
Words: BM
Pictures: TP