The Greets Inn, Warnham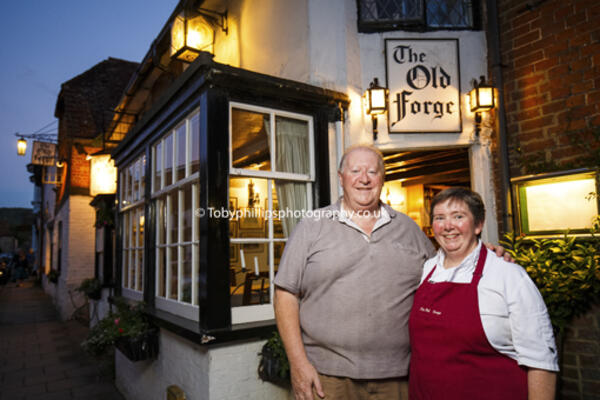 Published on 2nd July 2015
Dining out at The Old Forge brought back memories of my childhood, when I would visit my grandparents for Sunday lunch. The grown-ups would tilt their heads to avoid old oak beams, we'd all cram around the table, eat off placemats depicting a John Constable painting and pass round the gravy.
If I ate my greens, I might get a slice of Nanny's homemade flapjack, which has never officially won a 'World's Best Flapjack' award, but only because she's never entered.
The Old Forge is a little like that. Located in a charming 15th century cottage, there are no Constable place mats, but the numerous cricketing images and memorabilia help paint a similar scene.
As well as two small dining areas, the Old Forge has a delicatessen selling local fruit, vegetables, jams and conserves, honey, and even flapjack. Knitted tea cosies are sold alongside teas and coffee beans from around the world. Whilst I didn't witness such a scene, I can imagine that regulars pop in, take what they need and bellow through to the kitchen 'I've just left the money on the table. I'm 20p short but I'll sort it out next time!'
The Old Forge doesn't feel so much like a restaurant, as a cottage serving food. You feel like a guest rather than a customer. That is because you are in a family home...
Family Forge
The Old Forge has been owned by Clive and Cathy Roberts since 1988. They live upstairs, and on the night of our visit – much like any other night – they are working together in the kitchen, as they have done for 25 years.
Clive said: "Previously, I was a chef at Ockenden Manor in Cuckfield, and Cathy was a chef at Gravetye Manor in East Grinstead.
"We were looking for a place of our own and it took us about 18 months to find what we were looking for, because it had to be a home as well as a restaurant. That combination of a decent restaurant and good living quarters is almost impossible to find. We looked at places with great restaurants but tiny bedrooms, and lovely homes with terrible kitchens!
"When we came here, the previous owners had been trading as a restaurant for a year. We fell in love with it, as it had a decent-sized kitchen with four bedrooms upstairs. It just felt right."
For many years, The Old Forge was one of a healthy number of good restaurants in Storrington. At the top of the chain was Manley's restaurant, which gained a Michelin star under head chef Karl Loderer. Thanks to their collective efforts, Storrington became renowned as a place to eat out.
This enabled Clive and Cathy to expand in 1994 by buying the premises next door and reuniting the original Old Forge building.
Clive said: "Originally, we could cater for about 20 people at best, and we didn't have a bar area so people would come in and have to sit straight down at a table. With the extra space, we could offer diners a more refined experience. We became a proper restaurant, rather than customers feeling like they were entering somebody's living room.
"Now we can accommodate large parties when we need too. For over a decade, we've hosted the beneficiaries of Sussex County Cricket Club, who we sponsor, during the Arundel Festival of Cricket."
The Delicatessen
Now, this additional space is primarily used as a deli and local produce shop. Cathy said: "We use two rooms as restaurant space and the room at the entrance is used for casual dining. People come in for local produce too. We sell jams and conserves by the likes of Auntie Val's - based just around the corner. We have 25
Sussex cheeses, hams, charcuterie too and that side of the business does very well.
"We also have a passion for wine and run a wholesale wine business. Our first wine list, 26 years ago, had a Chilean wine and an English wine, which was unusual for the time. Today, we have a selection of Wiston Estate wines. Gradually, people expressed an interest so we started to sell bottled wines at The Old Forge.
"We've even organised several tours to wine growing regions in countries including Chile, Argentina, Australia, New Zealand and South Africa. This is good for us, as you visit restaurants and taste new food and all of these influences rub off on you. It always has to be a creative process and you never stop discovering new flavours."
Evolving Menu
Whilst Clive and Cathy enjoy the odd excursion, they still enjoy running The Old Forge and sharing cooking duties. They change the menu regularly to keep it seasonal and keep the regulars satisfied.
Clive said: "This makes it interesting for customers and interesting for us. I can't imagine being in a place where you're cooking the same dishes every day for a year. The menu constantly evolves. A few years ago, we would never have used enoki mushrooms or micro herbs. But ingredients develop and can become trendy.
"But the skill is finding sensible ingredients. You see some dishes where flavours have been thrown together on the plate. We always start off with the main ingredient and think 'How can we enhance it without spoiling the flavour?' "It's a matter of trying to balance the dish and enhance it without overpowering it.
"Running The Old Forge has been a way of life for us for 20 years but it never feels like a job. We almost feel we're making a living from our hobby!"
Eating Quietly
For our review, we settled down into what is just about the main section of the restaurant – there is a second part with three tables, but our room had four! Several other tables were occupied, and we felt the need to keep our voices down. In some restaurants, you can speak with carefree abandon, but The Old Forge evokes the same wary tones you might convey when walking into a room where everyone else is watching the last five minutes of a feature length episode of Columbo.
Having been warned that service can be a little slow – due to the fact that it's a family –run restaurant and everything is cooked fresh – we were surprised that we didn't have to wait too long for our starters.
I chose Parmesan roasted asparagus with Bayonne ham, Toby chose a duck dish and his wife, Maria – who has started to join us on meal reviews as it's the best chance she has of spending time with her husband - opted for potted crab. The nicely-balanced crab had a pleasant, delicately sweet taste and was well complemented by pickled samphire and sour dough rye crispbread, neatly presented on a square slate.
There was not a great deal to say about my asparagus starter, as it was simply slices of ham alongside asparagus. Well what did I expect? It only confirmed what I already knew – that I love the air dried salty taste of Bayonne ham, but still prefer Parma ham!
Toby claimed the pick of the starters with his terrine of duck rillettes, confit and cured breast. The terrine had a lovely texture, surrounding delicious breast meat in the middle, and complemented by a flavoursome salad of pickled cucumbers, ginger, lemon grass and bean sprouts.
Terrific Beef
There was only a small selection of main courses to choose from, so between us we plumped for guinea fowl, beef and cod. Toby's breast of guinea fowl was nicely cooked and presented, with the chorizo and potato bake making for a refreshing change and proving a "great match for the delicious sauté of yellow oyster mushrooms and spinach."
The only complaint Toby had was that his potato was a "little underdone." Maria thoroughly enjoyed her fillet of beef, so tender there was no need to call for a steak knife. Again, there had been thought given to the sideshows, with small roasted datterini and sun blush tomatoes starring alongside Twineham Grange potato gnocchi and crispy onions.
Maria said that the gnocchi was beautiful and not 'heavy' as it often can be and the blend of tomatoes was delightful in what was a "very well balanced meal."
Perhaps the potato gnocchi was a more exciting complement to the steak than the coriander hummus was to my fillet of cod. Whilst the fresh fish was tasty, there's good reason why we go 'down the chippy' on a Friday night.
Lack of potato fries aside, it was a pleasant dish with fine beans, a dollop of yoghurt and ground pomegranate molasses adding a pleasing burst of flavour. Was I satisfied? Yes. Was I pining for chips and mushy peas? Yes.
You can take the boy out of Roffey...
Liquorice Surprise
There was some excitement at dessert, as we were presented with a liquorice brulée with chocolate and liquorice parfait, a new experience for all three of us. We had noted that a table of four more elderly diners - who evidently were at least occasional visitors - had all chosen it, so it seemed an obvious choice.
Even from someone who does not enjoy liquorice as a sweet, it was delicious, with a more subtle flavour making it pleasant not just for a novel first spoonful, but right to the end.
We also selected a good strawberries dish, with the berries set in a Muscat jelly with crushed meringue and strawberry fool. The only complaint was a slight lack of meringue. The hazelnut cheesecake with apricot glaze and honey roasted apricots was also a lovingly presented dish, although those who like a biscuit base to a cheesecake will feel a twinge of disappointment.
The Old Forge also offers a platter with a selection of the desserts, as well as a selection of cheeses and dessert wines, including a sherry and a port.
A Safe Choice?
We all agreed after the meal that we had been pleasantly surprised by the food. We'd wrongly predicted a safe and traditional take of old English dishes, like a plated version of Bargain Hunt, in that you know what you're going to get, you'll have a nice enough time and in all likelihood walk away just about breaking even.
But we underestimated The Old Forge. After the meal, we spoke to Cathy and Clive about their menu, ethos, and that lovely brûlée.
Clive said: "We like to use local suppliers wherever possible, and keep everything fresh here. Cathy makes fresh quiches six mornings a week! When it comes to the service, we keep it informal. It should be friendly but not over the top as we want people to feel comfortable. It is like eating a nice meal round your Grandma's house in that we have created an atmosphere where they can relax."
We liked the setting and the service, and we were pleased with the food too. Our only concern was the pricing of the menu. Clive and Cathy, it would appear, are not fussy people, and they've demonstrated this with pricing.
Dishes are not individually priced. Instead, you pay £28 for two courses and £35 for three courses, with tea or coffee or tea with home-made petit four costing £3.
As Clive says, it saves "messing around.'
Whilst I agree with the sentiment, I would go away feeling a little short changed if I chose a minted pea soup starter, cod fillet main and ice cream. With such a pricing structure, it must be very hard not to pick the beef fillet, simply from the perspective of value for money.
Still, The Old Forge makes for an enjoyable evening, with good, fresh and surprisingly inventive dishes cooked in a homely setting by a warm and welcoming couple.
For more information visit www.oldforge.co.uk or call the restaurant on 01903 743402