The New Curry Centre in Horsham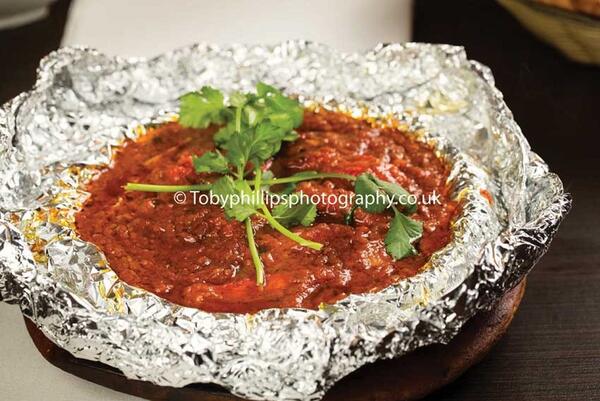 The vast majority of the time, it's not the end of the world if I don't give an overwhelmingly positive review of a local pub or restaurant. In most instances, I don't have to go back.
There are enough restaurants for me to avoid the wrath of a fuming chef wielding a frying pan, and with a new eatery opening on East Street every thirty-eight minutes on average, long may that continue. But that's not the case when it comes to the New Curry Centre.
They sponsor my eight-year-old son's football team, Horsham Ambassadors. Just last week, the whole team, with parents and coaches, descended on the restaurant to take hold of a curry centre-sponsored kit. They even
provided jackets, which is something I never remember having! Seeing as the team manager feels about curry the way Romeo felt about Juliet, it's only a matter of time before we all return…
So to prevent any steaming hot spices inadvertently finding their way into my chicken korma, I was praying for fine food and slick service. I need not have worried, as that's essentially what the New Curry Centre, in London Road, Horsham, is famous for. For decades now, it has been so consistently good that it is perhaps the most obvious choice for anyone organising a family meal, after-work outing or birthday celebration.
The Curry Centre was the first Indian restaurant in Horsham when it was opened back in 1968, by 'Charlie' Choudhury (as he was affectionately known). Mr Choudhury had come over from Bangladesh with his family, and would run the business for 28 years. But since 1998 the restaurant has been owned by his cousin, Rana Zaman.
Rana said: "Back then, the restaurant had only 28 covers, but it always had a good name. I used to help him sometimes, as he is my cousin. I lived in London for a few years from 1995, and I would come here for a week, or a month, whenever he needed me, as Mr Choudhary liked to go back to Bangladesh when he could. I was brought up in London so coming here was different for me.
"Gradually I came to know the town and suddenly in 1997 Mr Choudhary decided that he wanted to stop working as he was very tired, and he asked if I would take it on. I wasn't sure about coming to a small town like Horsham, and I had married in 1998 as well so I had to speak to my wife. Horsham had other established restaurants like Rajkumar by that time too, so I wondered if it was worth the risk.
"But then my cousin was not very well and I came here to look after the restaurant for nine months. During this time, I came to like Horsham and decided I would settle here. I've been here for 14 years and people still come in and say 'Where's Charlie?'
Realising that 28 covers was not enough, Rana replaced the garden so he could offer 48 covers and re-named the restaurant as the New Curry Centre. He also introduced Nepalese dishes alongside Indian dishes, and
recruited a chef from Nepal. Rana still travels extensively in India and Bangladesh to pick up new recipes and flavours. In the past, several restaurants have benefitted from this, as Rana has also managed restaurants in
London, Devon, Berkshire, Haldi in Southwater and the nearby Darchini. But gradually, over the years, he has sold on the other businesses or passed management onto others.
"I have calmed down with my ambitions over the years," said Rana. "I like the town, I like the people, and my children are happy here. I love working here and everyone knows me, so I'm enjoying the work.
"I like to introduce new dishes though. The menu is so big, because we go to Nepal, Bangladesh and India to try different food and bring the dishes back here. That is why some dishes we have here cannot be found anywhere else in town.
"India is a big country and in every town or village you will find different flavours and spices. I test them and pass the ones I like on to the chefs here. We've found things like the cashew nut roll, which was inspired by an Indian chef in Malaysia, and the agni murg is another of our unique dishes. It is so easy to find the right ingredients, as food is the main trade for Indians who are living in this country. It is big business. I just need to write down the ingredients and I will find it here somewhere!"
Since 1968, diners have become much more adventurous in terms of curry selections. The days of 'four kormas, three chicken tikkas and a vindaloo for the birthday boy' have long gone, and the menu reflects that. Most meals at the New Curry Centre will start with papadum, with a delicious and striking red tamarind sauce vying with the beautifully-textured mango chutney for top billing.
On the starters menu, you'll find duck tikka marinated in special herbs (£3.85), Nepali chicken (£3.60) and Murgi momo, which is diced chicken in medium spices wrapped with whole meal chapatti (£4.05). However, enticed by the huge variety of the main menu, we skipped most of the starters to save more space in the engine room.
On Rana's recommendation, we did plump for the cashew nut roll, which is hashed potatoes and vegetables rolled in cashew nuts, fried until golden and topped with peanuts and a creamy sauce. It was a beautiful and filling dish, with a slightly sweet sauce making it a great one to share.
There are options for those who want to stick to dishes they recognise from the supermarket shelf, but a more daring selection will more often than not reap rewards. We went for two tandoori dishes, the Nepali chicken (£7.15) and tandoori duck (£8.55). The duck, grilled over charcoal in a clay oven, was particularly good, with flavoursome meat and subtle spices complementing rather than detracting from the duck flavour.
The gurkha ki shaan (£8.95), a hot dish with Nepalian fresh herbs provided tender meat and smooth flavour, with a lovely little spicy kick. It offers a great option for those who want to sample the slightly spicier flavours but wants to do it in small steps! The sauce was also very good for soaking up the superb mushroom rice (£3.25).
The tangrai piaza - grilled chicken, cooked with onion, green pepper and yoghurt (£7.15) - was simply excellent. Presented on a stick perched precariously over a gloriously seasoned sauce, it tastes as good as it looks. But stealing the show was the agni murg (£8.95). If you find yourself amongst friends who take the well-trodden path of biryani, you can claim the main talking point by selecting this wonderful, garlic-flavoured chicken dish, which is presented as a flaming dish.
When the fire burns out, you're left with a generous amount of chicken bathing in a stunning combination of flavours. Coupled with a rice dish, it's an enticing option.
Of course, as well as the standard of the food, the exceptional service has always made the New Curry Centre a popular venue, and today was no different. Looking around the restaurant, nobody is kept waiting, and you seldom see anyone clock-watching. That remains a focus for the manager.
Rana said: "People like it because it's always buzzing and lively. Some say 'this looks like our home!' People like an atmosphere, but as well as that we've always served on time.
"We do takeaways but we don't do delivery. I know what our strengths are and I don't want to do delivery as it will impact the restaurant. We want people to sit down and enjoy their food on time."
"o popular is the New Curry Centre, they've even been able to have great success with an Indian Elvis night. Whilst some venues struggle to make an impact with live music nights, Indian Elvis has been a sell-out ten times! They've also cracked the family market with the Sunday Lunch Banquet (£8.95 for adults and £5.95). It means that Rana has few plans for change, although he does hope to expand in the future. He does, however, hope people will try out new dishes.
"People have become more adventurous with their choices," he said. "But I would urge people to try new dishes. If you tell us what you like we will find good new dishes for you."
By continually focusing on the simple things – good service and good food – the New Curry Centre has been one of the most notable restaurant success stories of Horsham's History. And even today, it sets the standard for all the others to surpass.The New Curry Centre may have been with us for as long as Hey Jude, but it's still got plenty of kick. Which is a relief for me, and my for my son's football team.
For details on the New Curry Centre visit www.thenewcurrycentre.co.uk