Lovely Surroundings at Hayward's at Hurtwood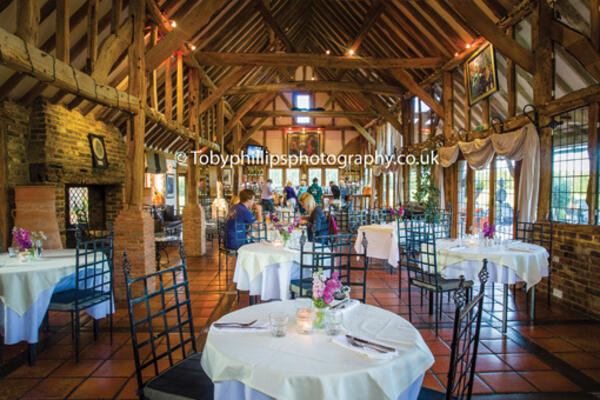 Later this month, there will be a remarkable event combining classic cars and rock music.
Host Vic Reeves will welcome to the stage the likes of Roger Daltrey and Pete Townshend (The Who) Mick Hucknall (Simply Red) Jeff Beck (The Yardbirds) Mike Rutherford (Genesis) Rick Wills (Foreigner) and Procul Harum. And, strangely, Damon Hill (Williams Renault).
It's a line-up that would make many local lovers of classic rock turn a whiter shade of pale. Yet this event is being held just 7.8 miles from Horsham town, on the Horsham Road close to Ewhurst.
The event is organised by Kenney Jones, best known as the drummer with The Small Faces and – following Keith Moon's death – The Who. Now, as the owner of Hurtwood Park Polo Club, he organises the Rock 'n' Horsepower event in aid of Prostate Cancer UK.
With several thousand people expected to descend upon the venue, the event will be the first true test of how far Hurtwood Park's restaurant has come since a new management team came in four months ago. It's fair to say that, in recent years, the restaurant has not been making great waves beyond the boundary of the polo pitch, failing to entice discerning diners from Horsham, Cranleigh or Guildford to the leafy lanes of Ewhurst.
Now named Haywards at Hurtwood, there is a focus on creating a restaurant with general appeal, beyond being an alternative to Pimm's and Ploughman's for the polo crowd.
The task of turning the restaurant into a standalone success falls to Richard Hayward and Caroline Webber. Both have extensive experience in the industry. Richard has worked at numerous pubs and restaurants including the White Horse Inn at Ewhurst Green and The George and Dragon at Lamberhurst, before he joined Caroline at The Green Man in Partridge Green.
Having worked there for many years, they decided to move to Hurtwood Park after meeting with Kenney. They have been joined by Adam Janman, who spent three years working under Nick Illes at The Green Man and had reached a stage where he wanted to make his own mark.
They navigated their way through the pothole-ridden driveway and opened the doors to Haywards at Hurtwood for the first time on 1st February. And then...not a great deal happened!
Richard said: "Before we came here, there wasn't a restaurant here on a daily basis, and the venue wasn't renowned for its food, shall we say. It's traditionally been a venue for weddings, parties and social occasions. We will run the weddings, functions and banqueting side of the business, but we want to establish ourselves as a good restaurant too. We are, in essence, starting with a clean slate and it is down to us to carve out a reputation of our own.
"What we are trying to do is let people know we are here and that this is a restaurant that anyone can come to. We have good food, good service, and we have the most beautiful surroundings in the Surrey Hills. It's a fantastic place to watch the sun go down. Guests can sit outside on the terrace, watch the chukkas several days of the week and throughout the weekend, and it's a different experience."
Caroline added: "There has always been a grey area as people see notices on the gate and details of polo matches and are unsure what to do. They think 'Can I go in? Is a private club? Do I need to be a member to eat there? You don't need to be a member; we're open to everyone.
"It is perceived to be a long way from Horsham, but it isn't. It's less than the distance from Horsham to Cowfold. We are not on anyone's doorstep, so it is hard to spread the word, but gradually we are seeing people coming here from the towns.
"Every week is better than the one before, and we are full for Sunday lunch. We also get great support from the polo club."
Undeniably, it is hard to beat in terms of setting, and the immaculate building itself is a beautiful converted barn in which exposed oak beams battle for your attention with paintings depicting the owner's former bands. With its narrow design and open plan format, there only needs to be a handful of people at the bar (where you can enjoy a pint of Hurtwood-branded ale courtesy of the Long Man Brewery) for the noise to echo around the room and create a sociable atmosphere.
On a busy day of chukkas, with numerous horse boxes lined up on the grass with riders and spectators drinking on the terrace, Haywards at Hurtwood must surely be a unique experience.
But what about the food?
Adam has, to a certain extent, stuck to what he knows, by serving good produce in a neat, fancy-free way.
There's a strong focus on traditional English dishes with breast of chicken, sea bream fillet, pork belly and sirloin steak all on the menu, a hint of French cuisine with Magret duck breast, and a nod to old haunts perhaps with a curry dish, and fish and chips.
There's not a great deal for vegetarian diners to get excited about. A spinach and ricotta cannelloni, and a leaf and fruit salad sit alone at a table marked 'token effort.'
7.95) served in a garlic and chilli oil. Unusually, Toby and I had different views on this dish. I found it quite uninspiring, failing to register a notable kick in the chilli sauce or any great moisture in the seafood. Toby disagreed, liking the subtle flavours and appreciated the well-seared prawn.
We also tried the pork and duck liver terrine (£6.95). Served with pickled blueberries, beetroot relish, cornichons and crusty bread, it was a nicely textured and flavoursome starter. Main courses options (all of which are served with either a chef's selection of vegetables or salad, and a choice of potato) were expanded by an appealing specials board, which included salmon en croute (£16.95) and lobster linguine (£21.95)
13.95) in which the chef demonstrates a developing flair for freestyle presentation with a pleasant dish, served with a lovely homemade apple and apricot crumble and a cider enhanced jus. Whilst not the most hearty of portions, the pork belly was served with fresh and lightly seasoned vegetables, dauphinoise
potato and a delicious stick of crackling.
I opted for the duck breast (£14.95), and whilst I could have done with more richness in my Cointreau-infused orange sauce and plenty more of it too, the duck was lovely, with the meat carrying a tender, rich flavour, highlighting the quality of the meat.
21.95). The prime fillet was served on a crouton and accompanied by a port infused jus.Different meal, but the same result; wonderful flavours through the meat, with a rather measly ration of sauce. The potatoes and vegetables, which are plentiful, ensure that you will not leave with a stomach that is grumbling because it is (a) unfilled or (b) feeling short changed. But perhaps there are occasions when a well-balanced dish is being sacrificed for nice presentation.
5.95) and the tarte au citron with sauce Anglais (£5.95). There's no need to be pretentious when it comes to naming the dish, as the lemon tart with English cream was wonderful. The mousse too was faultless, with quirky presentation.
All in all, it was a pleasant meal, and you can't help but be impressed by the effort that the entire team is putting in. As a likeable bunch, you hope that they enjoy success at Hurtwood Park. There is a little way to go in terms of the menu, although we felt that the chef demonstrates enough potential to suggest he can fine-tune and develop his skills as time goes by.
Also, considering the setting of the venue and its presentation, you don't feel like you are paying over the odds for your brief alliance with rock nobility!
The biggest problem Richard, Caroline and the team face is in persuading the masses to jump that perception of a class hurdle. Making people visit and feel comfortable at a restaurant that is part of a polo club could be difficult, simply because of the preconceptions many of us have. But there's nothing snobbish about Haywards at Hurtwood and the experience is well worth the trip.
The venue is occasionally booked for weddings and functions, so please do visit the social media pages, call 01483 272828 or visit https://www.hurtwoodparkpolo.co.uk