Review:Giggling Squid in Horsham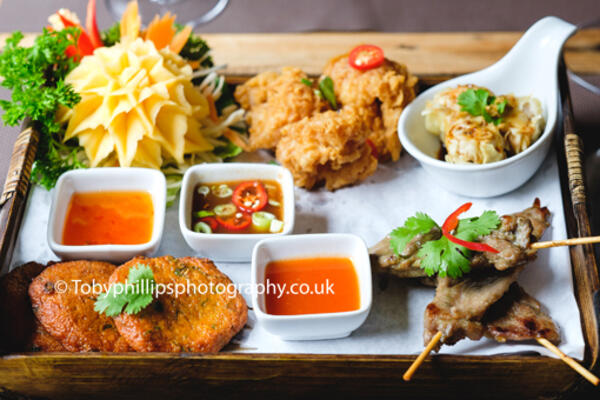 Published 3rd July 2014
I'm not a fan of shabby chic. Things bearing the tag are too often a contrived attempt at disguising poor quality as a false quirkiness. But I find myself fascinated by a wall display at Giggling Squid that could undeniably be
labelled as shabby chic.
Small fragments of driftwood – almost 200 pieces - have been arranged into a display a shade over a foot wide and perhaps five foot high. Each piece has been individually stuck to the wall and despite the variety of sizes there are minimal gaps between each fragment.
It must have taken hours to put together, and what is impressive is that there are at least ten of these displays in the restaurant. It may be shabby, but it's an indication that those behind Horsham's newest restaurant are devoted to creating the right environment.
They are also presumably keen beach combers, as driftwood is also used to create frames for a scattering of shell-based decorations, and even the ceiling light has a ring of timber around it. I later found out that the owners themselves scoured Rottingdean beach for the fragments and wondered if they also have, as a consequence of their numerous seaside visits, a notable collection of shark teeth, or perhaps bottles with messages inside..
Giggling Squid is owned by Pranee Laurillard, who was born and raised in the Nong Khai region of Thailand, in a village next to the Mekong on the border with Laos. Her parents had fled civil war in Vietnam and established a business in Thailand, where Pranee developed a love of the country's cuisine.
She said: "Vietnamese flavours are quite subtle, but Thai food has stronger flavours like lime, lemongrass and chilli. Also, all of the regions have different food, so there are many different tastes across Thailand. Thai people have a real passion for food. Food is everywhere – you walk out of your front door and people are selling it on the street."
However, when Pranee came to England in 1996, she came to study marketing rather than cuisine. Half way through her studies at Bournemouth University, an economic crash in Thailand meant that her supportive parents were forced to withdraw funding, leaving Pranee to leave education and seek employment.
Pranee said: "It was a terrible year, but I went to work as a waitress at a Thai restaurant in Brighton. I love Brighton as it is such a fast-paced city, and I experienced working in this amazing setting. At that time, there were not many Thai restaurants in Brighton, and so it was always busy. I thought 'This is a very good business to be in' and for the first time considered the idea of opening my own restaurant.
"It was a few years later, when I married, that I was finally able to do it. My husband was reluctant and said 'You must be mad, the market is so competitive and there are so many regulations'. But I convinced him, and we opened our first restaurant in The Lanes in Brighton.
"We called it Mai Ped Ped Ped, and it is just in a small, charming building. We wanted to create a Thai restaurant that was affordable and not a place for special occasions but for everyday life. I didn't want it to be grand or stuffy, so we decorated the restaurant in a way that would make it feel calm, warm and relaxing.
You see Thai restaurants with gold Buddha statues and ornate gold leaves, but that is not my kind of thing, as I'm easy going. Instead, we have baskets, old wood and things made from bamboo, so perhaps we portray the more humble side of Thailand."
The first restaurant opened in 2001, and some seven years later the second restaurant opened in Hove. Having seen people in Brighton struggle with the name of the restaurant, Pranee and husband Andy tried to think of something catchier. Their third son was given the nickname Little Squid, and when he couldn't stop giggling he provided the inspiration for a successful chain of Thai restaurants.
For Giggling Squid has become a chain, with Horsham being the ninth opening...
we do not want to be in big cities like London. It feels like a neighbourhood town, but the population is big enough for us to be busy every day and small enough for people to get to know us quite quickly.
"East Street has become the hub for restaurants, and that is good as it pulls people in and provides good choice. It also presents a challenge as we have to keep the standard high. So far, the feedback has been amazing. We opened nearly four months ago, and we've surpassed our expectations. Lunch times are very popular, and there is nothing that we don't sell on the menu.
"Giggling Squid serves solely Thai food, but we cover all the different regions. We have dishes such as papaya salad from the north east, Massaman curry from the south and many dishes from central Thailand."
With many different restaurants to manage, Pranee does not cook at the restaurant, instead employing experienced Thai chefs at each restaurant whilst she looks after the operational aspects of business. She has
certainly been wise in picking a location to enter the Horsham market. There are now so many restaurants on East Street that it feels like they're collectively bullying restaurants that are unfortunate enough to be anywhere else. Using their strength in numbers, the East Street brigade seem to be increasingly isolating the others, taking their dinner money and stealing all their friends!
Being in such a competitive environment can have its disadvantages too of course, but there is an opportunity for Giggling Squid to be an immediate success. Whilst there are two Japanese restaurants on the street (and one of them is closed due to a recent fire) there is nowhere serving Thai cuisine.
The nearest competitor would be River Kwai in Market Square. So can Giggling Squid utilise the opportunity?
Starters include chicken satay (£6.25), Thai-steamed mussels (£6.50) and roast duck on baby leaf canapés (£5.75).
19.95) with pork strips grilled on skewers, salt and pepper squid, Thai fish cakes, pork dumplings and prawn crackers. The savoury steamed dumplings had a good weight and consistency and came with a pleasant light soy and rice vinegar. The salt and pepper squid was also very nice, perhaps a touch heavy on batter and light on garnish, but the cephalopod itself was fresh and tasty.
The fish cakes were soft and pleasant enough, if lacking much in the way of excitement, whilst the hand-cut pork strips grilled on skewers were a touch on the chewy side. Three varied dips did help bring a couple of the less inspiring elements of the platter to life.
5.95). There's not a great deal to this traditional Thai street food (Som Tam) but the Giggling Squid version has a lovely aroma and great potency.It is also presented in a humble wooden Thai cup, providing a talking point and going some way to justifying a price tag a touch on the costly side for what is,essentially, bean sprouts and spring onion in a cup.
There's a substantial choice of main courses, including 'locally landed fish', curries and stir fry dishes. We were
recommended the crying beef (£14.95), consisting of grilled sirloin with spicy dipping sauce. This dish, originating from the north east of Thailand, is usually presented slightly burned in-keeping with Thai style, but ours was presented a little leaner, as we asked for it on a steaming plate, in all honesty with photographs in mind.
Whilst there was plenty of it, we found the meat to be of an average quality, with a lack of flavour that was only marginally compensated by a nice, spicy dip. Also disappointing was the rack of lamb (£14.95). Three slow marinated lamb cutlets were served with a spicy sauce made with Thai herbs, green corns, grachai and chi fah chilli.
Whilst it may have been a colourful dish, it tasted oily, with too many flavours lost in the mix. More importantly, Toby and I agreed that the meat was considerably undercooked.
2.95). The curry had lovely texture and colour, with an initial taste of mild garnish in the sauce followed by a pleasant kick. The full prawns, of which there were plenty, tasted fresh and firm too.
For anyone who has ever been to Thailand travelling on a backpacker's budget, eating cheap food and haggling with Tuk-Tuk drivers, it is nice to see street food meals being authentically recreated at Giggling Squid. With a touch of nostalgia, we also sampled the prawn pad Thai (£8.95) and found it a pleasingly frill-free tribute to a Thai favourite.
Throughout the meal the service was friendly and pleasant, if not always attentive. For example, without prompting the waiter took the time to explain how we should authentically prepare our Pad Thai, before walking away without noticing we had no cutlery and our glasses were empty. However, the enthusiasm and the desire to please were there in spades.
The fact that the restaurant was bustling on a Monday lunch time suggests that Horsham has been desperate for a dining experience that combines those natural bedfellows of Thai food and driftwood frames.
Giggling Squid has quirky vibrancy and appealing deals – particularly its good value lunch time tapas sets.
However, whilst appreciating Pranee's desire to recreate real Thai cuisine, in my view some of Giggling Squid's dishes tasted like street food at restaurant prices.