Review: The Garden at Cisswood House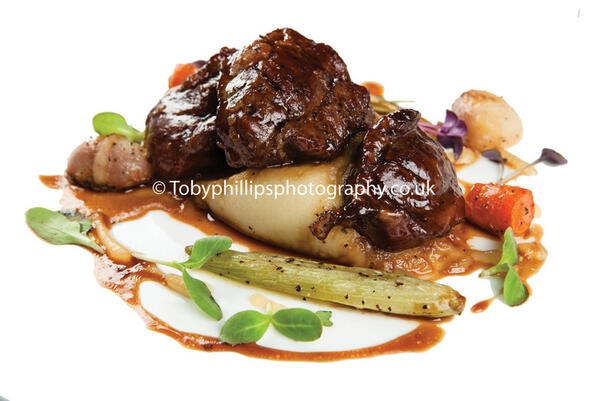 'People want a lot more for their money these days and expectations have changed', says Gary Hall, the food and beverage manager at Cisswood House Hotel.
He's right, of course. When it comes to food, the bar has been raised considerably over the last decade, but prices have not risen accordingly. On the hotel side, the surge in discount websites has ensured that many hotels have far tighter profit margins.
But Cisswood House has still been able to invest in recent years. The hotel – built in 1928 - recently underwent extensive refurbishment, and even now the health and leisure facilities are being improved. After a period when the hotel seemed to be continuously changing hands, the current owner appears to be intent on raising the standard.
One of the ways this is being done is through changes in the kitchen. The restaurant at Cisswood House, which few people remember is actually called The Garden, has a new head chef, Mark Cheeseman. Mark has introduced an entirely new menu since starting at Cisswood House in June 2011, using mostly locally-sourced produce.
Gary said: "Mark brings with him plenty of experience and he is here to try and bring the standard of food up. We want to be known as being better than the restaurants in Horsham town centre, and have a reputation for putting together a good, honest locally-sourced menu. The quality of food here has definitely improved since Mark arrived. The presentation is better and the quality all round is noticeable. Perhaps we used to focus a bit more on the banqueting side, but now the restaurant offers a more relaxed dining experience.
"There are a lot of good pubs around here and before Mark came along The Garden might not have had much of a 'name'. Because of that, it is difficult to get into people's consideration and for us to put across the message
that we are here, we do good food, so come and see us! I think the aim eventually is to go for some awards, but first we need to get people through the door for them to try us and form their own opinion."
One area which Mark has paid particular attention to is the vegetarian menu. There is nothing that an adventurous vegetarian will not have seen many times before, but at least there is choice. Main courses include aubergine and roasted red redder pepper timbale, asparagus with sun-dried tomato and wild mushroom and spinach lasagne. A main meal costs £15.95, two courses at £21.95 and three courses for £27.95.
This price might be competitive enough to ensure that most hotel guests will resist the lure of The Pass at South Lodge or The Crabtree pub (both within a mile of Cisswood House) but is it enough to attract non-hotel visitors?We approached our review with that question in mind.
For starters I chose the hickory smoked beef carpaccio with rocket puree, caper berries and parmesan foam. The parmesan foam offered a nice alternative to lemon or oil flavoured beef. Toby opted for a simple but satisfying soft poached duck egg on toasted brioche, with pea shoots and bacon jam.
The chef is evidently a stickler for presentation, even if his efforts are somewhat diluted by the plain décor of the restaurant. Whilst clinical and efficient, it does lack the character and charm of the hotel's exterior. Other starter options include beetroot and coriander cured salmon with goat's cheese cream, and seared scallops with asparagus panna cotta, tomato and sea salt.
My choice of main course was the charred south coast mackerel with cannelloni of smoked risotto and crab. The cannelloni was a fine complement to the fish, not only in terms of flavour, but also in helping to ensure that the size of the mackerel was not an issue.The crab risotto was well textured and not excessively flavoured to allow that lovely charred mackerel taste to linger.
Toby much enjoyed the slow roasted pig cheeks placed on top of garlic mash with apple puree and roast baby vegetables. The whole dish carried strong flavour and was again almost poetically presented. f those dishes fails to stimulate your appetite, other mains include the pan fried breast of duck with beetroot mash, roast rack of lamb, and ballantine chicken.
Side orders, incidentally, include buttered asparagus, fennel, runner beans and leeks, wilted baby spinach, creamed potatoes, chips and new potatoes, and cost £2 each.The dessert menu is a treat. The chocolate cup is filled with a white chocolate sorbet and black cherries of Jurassic proportions. The only slight disappointment is the accompanying chocolate ganache, which could perhaps benefit from being either creamier or (at the other end of the scale) darker, as oppose to its current rather flavourless form.
No tiny imperfections for Toby though, who looked like a five-year-old in an ice-cream parlour as he made swift work of his pretty summer pudding with vanilla yoghurt and lime sorbet. Throughout the meal we found the staff friendly and helpful, and whilst Mark Cheeseman's menu may be fairly conservative, the food served is of a very good standard. Inevitably the whole dining experience feels – well, like eating at a hotel! If The Garden is happy to go on providing predominantly for staying guests, then that is all well and good.
But if it hopes to appeal to the masses, draw them away from East Street in Horsham and stop them from reaching South Lodge Hotel's restaurants, it'll perhaps need a more unique selling point.