Carmela Restaurant, Horsham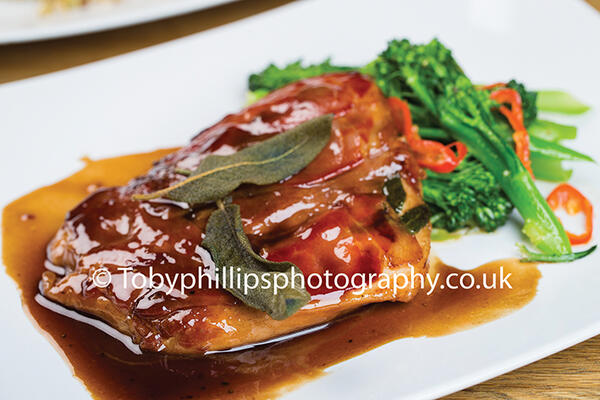 Publsihed on 3rd January 2017
It's been almost four years since AAH last visited Carmela for a meal review, although photographer Toby Phillips is something of a regular.
In the intervening years, not a huge amount has changed at the restaurant, located in a beautiful 16th century renovated house on the corner of Denne Road and East Street.
Unlike some Italian chain restaurants in the town with a high staff turnover, visitors are still met by the same familiar faces. Rossella Raciti greets us with a warm 'Bonjourno' before brother Francesco, the proprietor, strolls over with a 'Ciao Ben' in an accent that makes my monosyllabic name seem inadequate.
A short time later, mama Carmela (who works at the family deli in the Carfax) arrives with Rossella's youngest child.The family bond within the business is only strengthened by chef Marek Kubosi, who has been at Carmela since its opening in 2010 and is now Rossella's fiancé.If anything has changed, it is Francesco.
When he was photographed for the AAH cover in April 2013, he was a fresh-faced entrepreneur in a casual shirt and jeans. Now, he looks more like the sort of Sicilian restaurant owner you'd see in a Martin Scorcese movie!
Before sitting down for our meal, we had a chat to Francesco and Rossella about food, family and the challenges of business...

Has much changed at Carmela since you opened in 2010?
Rossella: Certainly the service that we offer is much better. We are more focused on customer service and providing people with an experience. When people come in, we give them a warm welcome and we've created a new seating area for those who are waiting for a table or for friends.
Do people know it's a family-run restaurant?
Rossella: A lot of people know us as we've been in the town a long time, or they know us through the Carmela deli. People are also reading about us on Trip Advisor and finding out a bit about us, so that helps too. Perhaps because the restaurant is run by an Italian family and is independent, they have a more authentic experience.
Has much changed with the menu?
Francesco: The restaurant hasn't changed much but we are improving year after year. We still use the same fresh produce that has always been on the menu and serve our signature dishes like the Rigatoni Carmela and Carmela's zuppa di pesce. The focus is still on southern Italian food, primarily Sicilian. We have improved the quality of our pasta dishes as we use only fresh pasta and our pizza is of a much better quality.
How has the pizza improved?
Francesco: We have a far greater weight of dough now for our bases and we have improved our toppings steadily over time. We only have seven pizza varieties on the menu, but they are good quality, stone-baked pizzas.
There seems to be more variety overall on the menu?
Francesco: We have swordfish, venison and guinea fowl on our winter menu. In Italy, we call it Faraona, which sounds much better than guinea fowl! We have our own family recipe at Carmela, as the meat is wrapped in pancetta with dauphinoise potatoes. Sometimes they are not strictly Sicilian dishes so we place these on the Specials board instead. Our customers tend to be more mature so we do not see much of the younger crowd who go out for pizza and pasta. Our customers want a real taste of Italy.
You don't have a children's menu?
Rossella: We don't have a children's menu but as an Italian family we make families very welcome. Children can order any pizza or pasta and we will make a smaller portion for about half price. I have three children and I know that it can be very expensive for families to eat out, so I do what I can. We are very good at compromising our dishes so if there's an element you don't want, we are happy to change it. We also offer pasta and pizza in gluten-free options and have good vegetarian options.
Are you still in touch with modern Sicilian cuisine?
Francesco: We go over to Italy several times a year on work-related trips. Every time we go back we will visit new restaurants to see what they are doing as we like to sample different dishes and good Italian wines. Our knowledge of wines has increased a lot since we first opened.
Has the wine menu expanded?
Rossella: We are introducing different wines because our customers are asking for a wider selection. We are now working with Casa Vinicola Zonin, the largest private vine growing and winemaking company in Italy. They provide us with some of the best wines from the country. I've been out to Sicily to one of the estates and sampled the wines with some bread and cheese, and it was amazing! Customers particularly enjoy the Passimiento, a Sicilian Frappato wine. It's lovely in winter!
Do you have plans for more Carmela restaurants?
Francesco: I am happy with Carmela just being a deli and a restaurant. You see people who try to replicate a formula in different towns and find it is impossible. You cannot clone me or other members of my family so what you create will be a very different experience. We are not interested in opening another shop or restaurant elsewhere under the Carmela name. If we ever did that, it would need a name that is meaningful to the people running it. If you run a pizzeria, you can replicate the formula. But for us it would be a bad idea.
So, you are happy with the business as it is?
Francesco: We are in a good place. Business is still increasing every year and if it wasn't for all the taxes we'd be making good money!
Which brings us to our meal…

Unusually, we visited Carmela at lunch time as the evening was booked up with Christmas parties. This did compromise on atmosphere, as Carmela is a restaurant that is better when busy. But in terms of the food it was business as usual for the Raciti family, with Francesco working in the kitchen alongside Marek.
STARTERS
For a starter, we chose Capesante e zucca (£9.95) which is seared scallops on a butternut squash puree, with chorizo bites.The dish had fabulous colour and the strong flavour of the chorizo worked well with the butternut. However, the scallops were a little overcooked, making them a touch stringy.We also sampled the Frittura di pesce (£22.95) which in boring old English terminology is a seafood platter.
Rossella told us that some couples order this dish to share as a main course, and we can see why. With golden fried calamari, prawns and white fish, served with a salad and peppered mayonnaise, there was plenty to get through. The calamari was uncomplicated but delicious, with a simple, light batter coating over fresh (mostly tentacle free) squid rings with a subtle marinade. We doused half in lemon, but they tasted better with the moreish mayonnaise. At the heart of the platter were two large fillets of lovely white fish, coated in a beautifully flavoured light batter.

MAINS
Mains include signature dishes Rigatoni Carmela (a pasta dish with Sicilian sausage meat and a gongonzola sauce); Fegato ridotto (pan fried calves' liver) as well as Pescespada (chargrilled swordfish steak) and spaghetti nero (black squid ink spaghetti). However, we opted for the polo al marsala (£15.95) a dish of chicken breast topped with sage and Parma ham.
It looked fantastic with the marsala wine sauce and bright spicy market greens providing vibrancy, and it tasted great too. Chicken breast can so often be an underwhelming dish, but the sweetness of the Marsala – a fortified wine from Sicily – brought the dish to life. Showcasing the development of the menu at Carmela over the years, the £23.95 Cervo (grilled venison fillet) has become a firm favourite with regulars. While adding subtle sweetness, the chamomile let the thick chunks of venison steal the glory.
Whilst the strong taste of the tender, mildly gamey fillet might also have benefited from the marsala or a similarly sweet sauce, it was well complemented by a porcini mushroom mash potato. The moist texture of the mash negated the need for a sauce to a certain extent. Again, the dish looked delightful, and demonstrates that the chefs at Carmela are thoughtful and considerate when it comes to flavour combinations.
CONCLUSION
Carmela is proudly Sicilian and the fact that it has continued to be a success in a town with several Italian chains is testament to the Raciti family's ability to evolve with the changing demands of its clientele. The Sicilian hospitality is to be expected. But Carmela still has the ability to surprise with its menu too.
You can visit the Carmela restaurantat 3 Denne Road, Horsham,RH12 1JE or the Deliat 34 Carfax. For more details or to see the menu, visit https://carmelas.co.uk