Buenos Aires Steak House, Horsham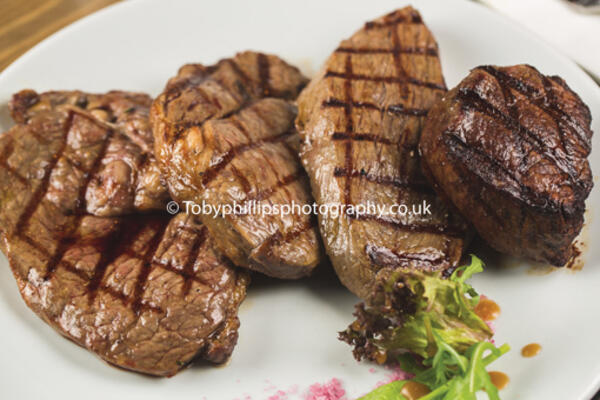 Publsihed on 2 January 2015
The Fleet Street food critics don't like coming to Horsham.You may remember that The Independent visited East Street after an ambitious Tristan Mason had the temerity to make public his desire for a Michelin star.
"I want to make it one of the best restaurants in England," said Tristan, much to the critic's disdain. He shot down the upstart's enthusiasm by declaring the food 'hit and miss'. Tristan's is now one of only three restaurants in Sussex with a star.
Next, The Guardian sent a troop to inspect pre-fire-and-subsequent-makeover Japanese restaurant Wabi, which had recently opened to much self-congratulatory fanfare in the market town.The reviewer must have been chuckling all the way back to the smoke as he anticipated his editor's gleeful response to his opinion of Wabi's tempura, which was reportedly "more battered than Ricky Hatton after a night out with Floyd Mayweather."
In Horsham, that review went down about as well as Jim Davidson and Bernard Manning at a feminist society meeting (see, local journalists can write bad puns too) and The Guardian rather dampened the cauldron of smoking hot optimism that Wabi's opening had ignited.
And now, the city has decided it's time that this little market town is put in its place once again...
Working on a rota system of broadsheet denigration, it was The Telegraph this time that assigned a critic to ignore the four Buenos Aires steak houses right on its doorstep in London, jump on a train and wearily disembark at Horsham an hour and ten minutes later, to sample the restaurant here instead.
The consequence was Matthew Norman's one and a half star (from five) review. A review that, whilst very amusing, seemed a tad unfair. "If you promise to provide a genuine Argentine experience, go a little further than the imported beef and bottles of Malbec," he writes, before suggesting that the owners could put up a picture of a disputed South Atlantic island.
Does he means the uninhabited sub-Antarctic volcanic mass known as Bouvet Island, claimed by Norway after a dispute with Great Britain in 1930? (see, local journalists can be smug too!)
So we visited the same Buenos Aires steak house, in Market Square, for the pleasure of of our own readers.
Would we find the type of Argentinian experience The Telegraph critic had so desired, but somehow did not find?
After all, it is a steak house – that's all it claims to be – with beef imported from Argentina, served alongside Malbec wine from Argentina. To top it off, the kitchen is headed by chef Mario Asegain hailing from – wouldn't you know it - Argentina. How much more Argentinian do you want? Eva Peron? Cheating footballers? Enraged villagers throwing rocks at Jeremy Clarkson driving a Porsche with a suspiciously antagonistic number plate?
Abattoir Styling
Upon walking in, you can't help but notice the supersized hanging lamps, which are so bright that light bounces off the abattoir-inspired white tiles. These in turn are livened up with a smattering of beef-inspired drawings to provide a pleasant vibrancy to this, the ninth Buenos Aires steak house in the chain.
Admittedly, I thought the era of those terrible if-restaurants-wrote-hallmark-cards clichés being stencilled on to walls had passed, but a few of them appear here, including the slightly cringe-worthy 'People Who Eat Are the Best Sort of People'. Yeah, so take that, you non-eating people with your lack of cutlery and, erm, general malnutrition.
There is a good atmosphere though, and good sturdy wooden-topped tables are neatly presented by friendly and
caring staff, all of whom are gamely sporting Santa Claus hats. Added to the 'Nice to Meat You' slogan emblazoned across their aprons, this does help put you at ease when it comes to asking about dishes you may not be familiar with.
We were served by Alma Nori Ortega, the general manager, who is supported by George Vourexakis.
George will be familiar to many people in the town as he ran his own Greek restaurant in the Carfax for many years.
Alma, who was born in Mexico and has lived in Horsham for 14 years, said: "The owner Cristian Barrionuevo came to visit Horsham and he fell in love with the town and thought it was ideal for a steak house. He saw that there was a gap in the market, as there are many restaurants but not a dedicated steak house.
"This is the ninth Buenos Aires Steak house, but I do not see it as a chain because the business is still run by the same family, and they care about their employees and customers. I feel that my team can work here with freedom.
"Both the head chef and the sous chef are from Argentina, as Cristian likes to employ chefs who know how to cook authentic food. Mario is very creative and he used to be a chef for the President of Argentina, so he has a very good background!
"I think people who have travelled to Argentina know that the country's speciality is its meat. The people love to go out and enjoy a lovely steak with a glass of Malbec wine, which everybody in Argentina knows is very good.
"Now word-of-mouth (about the restaurant) is spreading here in Horsham, and we have had people visiting us from all over Sussex.
"Since we opened five months ago, we have asked people how they feel about their experience. I believe every
business has good and bad feedback, but we always take everything into consideration and try to make the experience better for people. We have been learning and correcting any mistakes and now we are seeing people coming back three or four times a month."
Hearty Appetite
I hope these regular diners balance out their frequent visits with a healthy fitness routine, as the Argentinians tend to eat heartily...
Starter options include a solid array of common Argentinian dishes, including empanadas (£5.95), a savoury filled pastry much like our Cornish-derived treats. These were very good, with a decent meat filling and a light, crisp pastry. The provoleta Argentina (£5.95), which is provolone cheese with tomato and oregano, was firm, thin and pleasant enough, but on the unadventurous side – particularly for those who may have memories of a more runny provolone.
We were also presented with a lovely chorizo sausage (£4.95) that wasn't enhanced by its surprisingly mild salsa criolla and house salad. It was a similar story for the Morcilla, a light and moreish black pudding which disintegrated at the mere scrape of a fork, and tasted fantastic.
When it comes to main course, of course, you need not look beyond the steaks.
There are diversions – tagliatelle, beef burger, roasted chicken to name but a few - and we even tried one of them; the pork belly caramelised. The dish suggests the restaurant should avoid English classics! The pork itself was of good quality, but the potato – with a bizarre presentation inspired by a holiday camp wave pool - lacked any flavour at all, and the bland sauce screamed 'chain restaurant.'
That's only my view – Toby actually liked it – particularly the thin, crispy crackling, and he also felt the meat was complimented by the sauce. He did, however, agree with me that the dish lacked finesse.
Steak Acclaim
There are four prime steaks on offer here – the Cuadril (rump) Ancho (rib-eye) Chorizo (sirloin) and Lomo (fillet).
All are served with the choice of chips, French fries, mashed potato or house salad. You can even have all four on the Buenos Aires steak sampler (£46.95) with a 170 gram cut of each. Personally, I wouldn't recommend it, as quite frankly four half eaten rare steaks pumping blood on to the same plate quickly loses its visual appeal.
Individually, the steaks are of a good quality, with the Lomo prime fillet steak (served with a choice of sauce and fries served in a miniature bucket) bringing genuine eating pleasure. The meat was simply wonderful; soft, smooth, tender, and one of the few times we can write 'melt in the mouth' without it being for a lack of anything else to say!
However, it is the quality of the meat itself – rather than any presentational flair or additional flavouring – that
warrants praise. The meat comes from the Las Pampas region, which as the restaurant's website tells us, is a farming area ten times the size of the UK. It is, and I quote, "ideal for grazing thanks to moisture levels, a mild climate, rich soil and vast terrain" and because "Las Pampas grass is so fine."
Having tried all four cuts of beef, I would say it's worth paying the extra money for the Lomo, although it is not cheap (£23.95 for the 8oz steak) over the Chorizo (£17.25) Ancho (£16.95) and Cuadril (£14.25) even if I found them all lacking much Argentinian flair.
With that in mind, I sympathise with The Telegraph's critic; these may well be Argentinian favourites, but it feels they are watered down versions for the mass market. We really did enjoy dining out at the Buenos Aires Steak House. The service was friendly, the restaurant clean and there's a good aura.
It has enjoyed a healthy baptism in Horsham, but I believe that most of us would have a more rewarding dining
experience if the reins were loosened a little and the chefs could bring the menu to life with a touch of true South
American flavour and flair. It all seems a little too safe, a little too bland, and that isn't stereotypically Argentinian, is it?
To book a table visit https://www.barestaurant.com/venues.php#Horsham