Bill's Restaurant, Horsham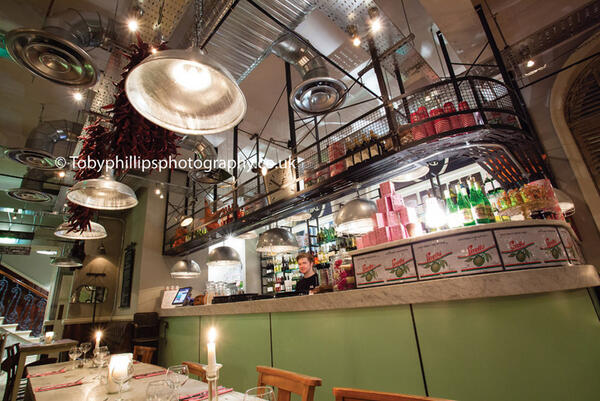 There was a sketch in the comedy show 'Harry and Paul' in which Harry Enfield ran a shop called 'I Saw You Coming'.
The shop owner would sell useless junk and torn up furniture taken from skips at vastly inflated prices to wealthy women who dabble in interior design and are always on the lookout for 'rustic' and 'authentic' items.
In all honesty, it can occasionally feel like Bill's Restaurant in Horsham has an element of that same deliberate, Shabby Chic quirkiness. There's the rustic tables, the second-hand church chairs with back slats, the large olive oil cans being used as ice buckets and string bags, which may lack convenience but make up for it by being ethically sound, for sale at just £2.40.
Those waiting for a table can sit down on two armchairs which in a previous life had presumably been coated in Pedigree Chum and dragged through a puppy farm.
Whatever your thoughts on Shabby Chic, you must take your hat off to Bill Collison. Bill started his first restaurant in Lewes a little more than a decade ago and now has 14 bearing his name. It takes some skill to create a restaurant that appeals to customers seeking a unique experience, and yet can potentially seat 200 people..
In years to come, Horsham may well be listed amongst Bill's most rewarding ventures. Opening at the Old Town Hall in Market Square was a long and no doubt exhausting road, with many well reported stumbling blocks along the way. These were mostly presented by an opposition group who wanted to retain the building for community use.
Now it is open, the people in Horsham have demonstrated their support to the idea of a restaurant occupying the town's most historic building by flocking to Bill's in their droves.
Pedro Martins, Assistant Manager at the restaurant, said: "I know that before we opened there were some people who wanted the building to be used for the public and I know there were problems. But since we opened we have
not had complaints and most people praise what we have done to the building. You can see that they have paid a lot of attention to maintaining the features of the Town Hall.
"Many people come in just to see the inside, without even buying a drink, and we show them around. Of course, lots of people were married in the Town Hall so there is a lot of emotional attachment to the building and so we show them our Wedding Room.
"And in terms of bookings, we were busy from the moment we opened. Even on Monday nights, we are full."
Clearly, Bill has created a successful recipe and over the years has added a little seasoning here and there to ensure everything is just perfect. It may be contrived, but of course that matters not a jot if people are having fun and eating good food in a warm, friendly atmosphere. Looking around, this is clearly the case here in Horsham.
The appearance of the building, whilst impressive, will not be to everybody's liking. Two large windows either side of the entrance look on to Market Place, and you enter to a small waiting area and small shop selling a range of Bill's branded produce.
These include chutney, Earl Grey tea, raspberry jam, jelly babies, freshly-pressed apple juice, lemon curd, elderflower cordial, grapefruit and lime marmalade, aprons and orange flavour buttons, as well as branded produce including Nunez de Prado olive oils and Amaretti biscuits.
Rustic shutters, hanging swarms of dried chillies and exposed ventilation shafts all contribute to the conflicting yet colourful décor, which carries character if not charm, whilst a wooden plaque of former council chairman serves as reminder of the past.
There is seating for about 100 upstairs, with a third of that number in what is known as the Wedding Room, because of course it was a Registry Office for many years. Add that to the downstairs area and the tables (in good weather) and you have about 200 diners at capacity. But as Pedro explains, it is important that everybody feels welcome and at home.
"You'll see there are some blankets near the entrance. If someone doesn't take their jacket off, we ask them if they are cold and offer them a blanket. When it was snowing recently it was cold in here as it is hard to maintain warmth in this old building. So we were handing out blankets.
"One lady was having a birthday and it was her first visit here. She told me that she was impressed because the waiter had approached her and asked if she wanted a blanket. It wasn't the food or the building that had most impressed her; it was the fact that we had gone the extra mile and she appreciated that.
"People love the fact that we provide really great food with a casual service with a quirky twist in everything we do. That's what Bill's is all about. Everything is planned by Bill. He was here a lot during the building process and he comes in regularly to direct us in terms of the visual appearance. If you see something in a certain position, it is because Bill has decided it should be there."
We settled down on a table Bill had decided should be by the window. We ordered a Bill's beer, brewed by Harvey's, which is not only one of the best breweries in Sussex but is conveniently located opposite the first Bill's store in Lewes, and read through Bill Collison's book 'Cook, Eat, Smile' which is for sale at the restaurant.
In his introduction in the book, Bill writes 'We set out to make a place that was colourful and exuberant with dishes that were really tasty, but also made you smile and gave everyone lots of ideas to take home with them.
'We put fruit on our pizzas, we added roots, sprouts and leaves that people had never seen before to our salads, and made cakes that looked so extraordinary that customers would take pictures of them before they ate them.'
Well, we would certainly be taking pictures of the food before we ate it, but would we also find it 'really tasty'?
For starters, we chose mini Cumberland sausages (£4.25), crab, salmon and chilli fishcakes (£5.95) and mezze (£9.95). The fishcakes are pan fried and served with red chicory, mixed leaves, mango salsa and lemon dressing, which unusually didn't quite provide the exotic experience it promises, as too many tightly condensed flavours cancelled each other out.
The sausages were dripping with a delicious grain mustard and honey and with five sausages almost as wide as they were long, represented good value. The mezze included fresh tomato salsa, baba ganouj, extra virgin olive oil hummus, marinated olives and mojo marinated halloumi skewers, with grilled wholemeal pitta bread. It wasn't the most immaculately or imaginatively presented dish, very much fitting with more Bill's informal style, but there
was scope to have a bit of fun by creating your own kebab.
There was plenty of the grilled Cypriot cheese to go around, and the Perello olives carried some good flavour too, with a mild spiciness and a hint of orange and oregano coming through. An extensive list of main course meals include pan-fried salmon (£10.85), piri-piri marinated half chicken (£10.95), Bill's Fish Pie (£12.95), home-made cod fish finger sandwich (£8.50), moules frites (£9.95) and Bill's macaroni cheese (£8.50).
We chose the marinated chicken skewers (£9.95), comprising skewers of chargrilled chicken, served on a sultana, coriander and lemon cous cous with tzatziki and pitta bread. We found it be a colourful dish with good
flavour and flair.
We also tried the halloumi and hummus burger (£8.95) simply as it was something we had never sampled before. Whilst it was an interesting combination, with baby gem, roasted peppers, sweet chilli and yoghurt to baulk
it out, there was not any explosion of flavours which could suggest that this all formed a natural alliance with the sesame seed bun, who was no doubt pining for his old friend, the hamburger.
However, with a simple diner-style presentation with a side of skinny fries, it was once again a talking point, like every other meal or indeed the features of the restaurant. For puddings, you can take your pick from Eton mess (£5.95), warm chocolate brownie (£5.95), blackcurrant and sour cherry sundae (£5.75), lemon meringue pie cheesecake (£5.95), raspberry and white chocolate crème brûlée (£4.95), pecan pie (£5.95), warm mini cinnamon doughnuts (£5.50) and Bill's marmalade and brown bread ice cream (£4.95)
The generously sized crème brûlée was enjoyable with a crisp golden coating and a soft, sweet centre. The Eton mess was delicious, as strawberries, cream and meringue can never fail to be, and there was certainly plenty of it. But for a restaurant that prides itself on quirkiness, perhaps Bill's is missing a trick here with its dinner-lady presentation.
At the end of the meal, we were full, satisfied that we had eaten interesting and hearty dishes, and the service had been warm and friendly throughout. There's also little danger of diners sitting in silence, as there's no end of talking points relating to the decoration, the transformation of the building, the menu and the items for sale in the shop.
But it does feel like there's more work to be done. The upstairs dining area doesn't quite benefit from the vibrancy of the lower level, and it is a building that needs to be somewhere near capacity to generate warmth and atmosphere.
Another problem is that the quirky dishes which caused such a stir when Bill set out only a few years ago are now not such a rarity. The surge of cooking shows on television has created an insatiable appetite for better food, driving standards higher at home, on the high street and in our restaurants.
You need to be a little more innovative for people to take photos of your puddings now…
For now, Bill's warrants attention. Go there, you'll have a good night and you'll enjoy your food. But it might not be too long before the tried and tested Bill's formula needs refreshing.