The Bax Castle, Near Horsham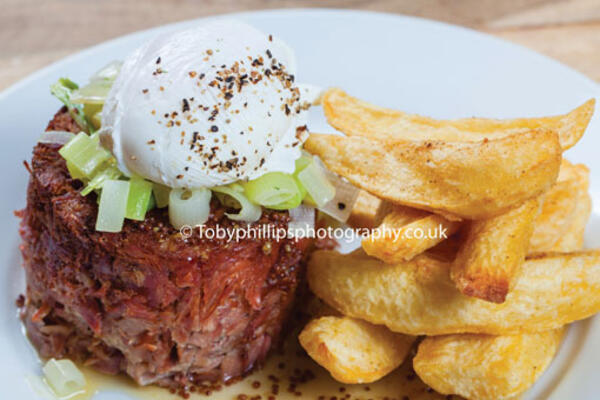 David Stevens looks clean and respectable in a freshly cleaned white shirt and trousers as he serves up two dishes he himself recommended. But just an hour earlier, he had been hard at work out in the garden, putting up fencing, trimming the hedges and putting the finishing touches to an impressive children's play area.
It's all in a day's work for the new landlord at The Bax Castle.
When David took over the pub last November, he was faced with a daunting task. It was sporting a far from appealing beige colour as the traditional white exterior had faded, much like the pub's once excellent reputation as the must-stop pub on the Downs Link.
Thanks to hard work and some good friends, he has managed to revitalise the pub and slowly but surely word-of-mouth is once again starting to work for, rather than against, The Bax Castle.
David has extensive pub experience, but running a country pub is a new experience for him. He said: "I used to run the King's Head in Roehampton, and also looked after three other pubs going right into London, all for
Enterprise pubs. But they made me redundant in 2005, so for five or six years I left the trade and worked at the airport.
"I started to get itchy feet, and I wanted a nice country pub. I was looking around for one that would be perfect for me. I looked at a couple of pubs and made an offer for one in Slaugham but the offer was knocked back. Then a friend of mine told me that The Bax Castle was empty. I came down here to have a look, and thought 'this is going to take an awful lot of work!' But I did see potential here. The garden and car park were of a good size, and the fact that it is right on the Downs Link is a big draw.
"But everything needed doing. I think the previous landlord had just wanted out, and wasn't prepared to invest money into the pub. When I came in, you couldn't see the pattern on the carpet, the bar was filthy and the whole place was just run down.I was aware that it was a pub that had lost a good reputation, but I didn't realise quite how bad it was. People were ringing up to check if it was under new ownership before they booked a table."
With the help of two friends, David spent two weeks blitzing the building. It was painted inside and out, the carpet was shampooed three times and the cellar was ripped apart so all the pipelines could be properly cleaned.
The bar was given a clean and a new fridge was installed, old oak beams were treated, the furniture was rubbed down and re-varnished and in came new sofas, stools and chairs for around the fireplace.
David said: "We went through the whole place. There was a play area at the back, but I've taken that down and put a new and improved play area in. "We fenced off the garden as parents want to know that their children are safe whilst they're eating and drinking. You can't leave the garden unless you go through the one gate. We've put new benches in there too.
"The back room was just used as an overflow for the restaurant, but It wasn't used much so it became a room essentially used for storage. So I thought I would turn it into a chill out room with some light music and comfy sofas. "That has been well received. People come in for a coffee and to use the Wi-Fi links and we're actually finding that it is particularly popular at lunch times for Christ's Hospital staff."
Fortunately, there wasn't a problem in finding a head chef. Joe Baldock was the head chef at David's local pub at the time, The Chequers in Slaugham. Joe was looking for a new challenge and David was delighted to bring him into the set-up. Two more chefs, sous chef Luke Ramsey, and Joss Chambers (another former Chequers chef) came in as the chef-de-partie.
David said: "I knew Joe was a good cook and it was important that there was somebody in the kitchen I knew and trusted. We began with a great big menu, but what we found is that people don't want to wait. Even though it is all fresh food, and nothing has gone in the microwave, people don't like the idea of going into a pub and having to wait a long time for food.
"They want the food within 20 minutes, 30 minutes at the most, from the time of ordering. So we've narrowed the menu down, just to ensure that we can keep the food fresh and keep the waiting times down to a minimum.
"We sat down a couple of times and picked meals that we think work best here, and it's mainly traditional English dishes. The feedback has been very good and I see we're going up the listings on Trip Advisor all the time."
As we settled in to the restaurant, we could see that this was still very much a work in progress. The 'chill out' area looks warm, relaxed and appealing, and the garden looks magnificent and should prove to be a massive draw for families. But there is a little work still to do. As it transpires, they are all things David is aware off and hopes to remedy soon. Despite two jet washes and a fresh coat of paint, the pub itself still doesn't gleam in brilliant white, whilst new cushioned seats in the restaurant should make for a more comfortable experience.
On the food side, you could not reasonably expect much more for your money. There are only four starters. We left out the soup of the day and the roasted beetroot, goat's cheese and pea shoots, and instead opted for the prawn and salmon cocktail with Marie Rose sauce and granary bread, as well as the duck and orange pate with red onion jam and granary toasted bread. All of the starters cost just £4.45.
The duck and orange pate was neatly presented and there was a very generous portion of pate, but the cocktail was even better, with a lovely slice of twisted salmon and fresh, soft prawns in a pleasant smooth sauce. The mains also offer very good value, even if there are only eight dishes to choose from. Only two (the fish pie and the steak burger) cost more that £10, and even then they only shade that figure. Everything is fresh and hand-made and comes from sources with good reputations, including The Salmon Shop in West Grinstead and New Street Butchers in Horsham.
Dishes include the Portobello and halloumi burger (£8.95), wholetail scampi (£9.95), chicken and mushroom pie (£9.95) and steak and ale pie (£9.95). Photographer Toby went for the beer battered channel cod with pea puree and homemade tartar sauce and pea shoots and hand cut chips (£9.95). I chose the chef's fish pie with smoked haddock, channel cod, oak smoked salmon and king prawns topped with parmesan and paprika mash and seasonal greens (£10.45). The pie was superb, with huge chunks of fish blending together with a subtle but well-flavoured mash to produce a delightfully clean and filling meal.
If the chef can maintain that standard, his pies will win him many fans. The cod too was very good, particularly with the excellent hand cut chips.
Disappointed that we hadn't ordered the posh ham, egg and chips, David brought one out for us to sample anyway. We were mighty glad he did as it was lovely. The multi-coloured cider-soaked ham hock looked very good, and we were to find as we shaved off tender chucks of ham from all sides, it had the taste to match. For less than a tenner, you couldn't ask for better.
We did try a couple of desserts too, all of which cost £4.95. They include white chocolate and Bailey's cheesecake, chocolate brownie, sticky toffee pudding, Eton mess and Downsview ice cream. Both desserts were fresh and enjoyable, particularly the cheesecake.
There is also just a small but varied selection of wines to choose from, whilst on the beer side the pub is linked in with Marston's Inns and Taverns. Therefore the pub primarily offers popular beers from its Ringwood brewery.
A lot of cyclists and dog walkers continue to come in from the Downs Link. New signs up along the Link let people know that the pub has changed hands and that horses are welcome. But the Bax Castle may need a little more than Downs Link traffic to be a success.
It is a pub located in no-man's-land on the corner of Christ's Hospital, Southwater and Barns Green. As David says, it is 'smack in the middle of everywhere but right out of the way'. But with the changes he has made
already, and with more to come, The Bax Castle is well on its way to a full recovery.
David said: "This is very personal to me. I'm here 24-7 just to make sure that everything is right. I want everybody who walks in to come back and to do that we have to offer something different."The garden is a big draw for families now and we are hoping to put some animals, perhaps pygmy goats, into a small area by the garden that we have fenced off. We are also looking at becoming a game pub in the winter with venison, rabbit and pheasant on the menu.
"A lot of people say it is a summer pub, but I think what we've done here should ensure that we have a lot to offer people throughout the year. I don't have to rely on the sun, because you can't in England."
For more details call 01403 730369 or visit www.baxcastle.co.uk