The Three Crowns, Wisborough Green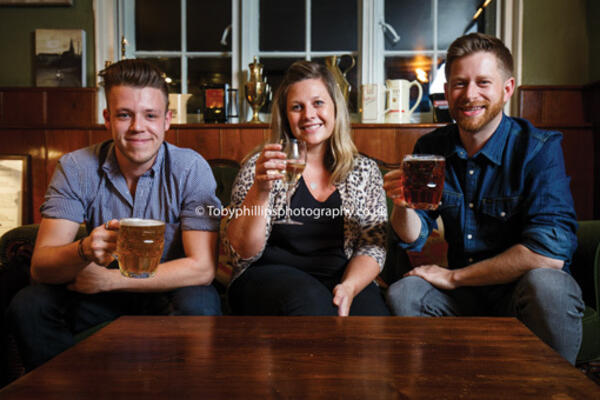 Published 6th October 2015
Food Reviewed: Butchers Board Platter; Mediterranean Vegetable Salad; Fillet Steak; Pan Fried Salmon Fillet; Lemon Tart; Sticky Toffee Pudding

If you had to describe Wisborough Green by a noise alone, it would perhaps be the unmistakable sound of a knowledgable crowd clapping a patient half century from the opening batsman at the Pavilion end. It is the most quintessential of Sussex villages.
But for one which has less than 1,500 residents (at least two thirds of whom are apparently rock stars) Wisborough Green manages to maintain a vibrant community. It has unusual claims to fame; the village makes a valid claim for being the birthplace of lawnmower racing and every year, dozens of hot air balloons gather on the green for a fundraising festival organised by residents.
But on a day-to-day basis, the village is defined by its church, sports clubs and two excellent pubs at its heart – The Cricketers and The Three Crowns.
In recent years, The Three Crowns has revitalised its fortunes under owner Tom Skinner and his growing team of family and friends. An appealing blend of classic dishes, local ales, carefully selected wine, folk music, giant tipis and the occasional tossed hay bale means that once again the pub is a hub of the community.
Tim moved to the pub in July 2011, having worked in hospitality since he started washing dishes at the age of 13 at a restaurant near his childhood home in Selsey. He later worked at Goodwood Park Hotel, Yates Wine Lodge and ran large pubs for Punch Taverns before looking for a pub of his own. "It was a time when everyone in my family was considering options for the future," said Tim.
"We discussed investing in a pub, with me running it, and focused our search in West Sussex. We were looking for a nice village pub that had a good-sized garden. We also wanted a pub where we felt we could add value and be part of local life. The Three Crowns had been on our radar and we had been to see it, but decided that it needed too much work and other people came in for a while. Then the leasehold came back on the market and the timing was perfect for us.
"The pub had many good aspects but just needed some imagination. I wanted to be free of the constraints of a brewery and decide for myself what was most important to running a successful business. So we champion local beers, select wines personally and ensure that we work with suppliers within a 20 mile radius."
The Skinners chose a pub with a lot of history. It was originally a coaching inn and horses would bathe and drink in the village pond that still sits next to the pub. Some of the inn's historic features have been maintained, including The Court Room - a private dining room for small parties and functions.
But the Skinner family have added new elements. Tim's dad has transformed the garden into a beautiful feature with hanging baskets, an alfresco dining room, pleasant terrace and a kitchen garden which grows fresh produce for the chefs. Tim's mum is also part of the furniture, initially working in the kitchen as Tim ran the pub with only a couple of part time staff. Now, that team has grown considerably - as has the events calendar.
Debbie Hayes, whose children go to school in the village, has helped organise a number of events that have contributed to the pub's growing success. Debbie said: "It is one of those villages where everyone knows everyone. People immerse themselves in community life, be it through the cricket club, the football club or the church, and we find people and clubs tend to congregate here in the pub.
"It's lovely, because it's so inclusive. We see 18-year-olds sat having a drink and talking to 80-year-olds. Fridays have become very popular, with live music from the likes of Rich Austin and Elephant in the Room and we've held several events with Beautiful World Tents. They brought along Top Hats, which are huge tipis, and we dressed them up for our 'festive feasting' Christmas parties.
"We also had a hoedown on New Year's Eve with as many people from the village as we could squeeze in. It was an amazing night with 150 people here for dinner. By the end of the night people were dancing and hay bales were going up in the air. We spent a couple of days sweeping hay up afterwards but it was worth it!
"We are expanding the idea this year with a Christmas Market in collaboration with The Sussex Snowdrop Trust as well as hosting the 'festive feasting' nights. When you put on events like that in Wisborough Green, everybody in the village comes out to support you."
Judging by the difficulty in finding a table on a Tuesday lunchtime in September during our 'recce', the village is
supportive of The Three Crown's menu as well as its vibrant social calendar.
The pub works with Berkmann Wine Cellars to offer wines by some fine independent producers. The wine list is constantly evolving - as are the ales. These include Harvey's Best and Crown Inn Glory, the pub's own ale from Downlands Brewery. Tim said: "Wine is subjective, so there is no right and wrong in terms of what you should like. Yes, there are some rules if you are matching wine with food, but we have different styles of wine that will suit different people.
"A few are a little bit offbeat, including Hungarian and Portuguese wines, an English Bacchus from the Albourne Estate. We don't assume that everybody should know about wine so our menu has easy to read tasting notes detailing grape, region and producer, and we are happy to make recommendations for each meal."
When it comes to food, the only thing that is not made in-house is the ice cream from Seriously Real in Pulborough. The pub use John Murray Butcher's in Loxwood and local suppliers for game and free range chickens.
Tim said: "Our head chef, Zoe de Ville, is very passionate about what she does. We use good English ingredients, with a few things that are a bit different. We have a lovely Thai curry, an excellent Greek salad and we change our specials twice a day. We are never going to move away from the favourites; fish pie, ham, egg and chips, burger and fish and chips. Jamie Oliver had three portions of our fish pie when his production company came to the village a couple of years ago, so it must be pretty good!"
The Naked Chef may approve, but would we find The Three Crowns pukka?
Toby and I settled into a cosy, confined spot usually reserved for six but tonight accommodating just two and some expensive camera equipment. We kept things simple with our Starters by opting for the butcher's board (£19), one of two platters to share on the menu (the other being seafood).
The butcher's selection includes honey and wholegrain sausages, terrine, chicken liver pate, pig's cheeks with piccalilli and warm bread. The delicious pig's cheeks stole the show, with a moreish crispy coating and light pork that shredded gently on the fork. The sausages had a quality consistency with a sweet honey glaze and the terrine and pate provided very different textures.
Personally, I'm not a fan of piccalilli and can't recall ever having enjoyed it, although I am increasingly seeing it on classic English menus. The Three Crowns' effort was bold in colour with a chunky texture, and Toby enjoyed it at least! There was a lot on the platter (particularly pate) and it could comfortably be spread amongst three or four people to make it particularly good value for money.
We also selected a Mediterranean vegetable salad from the specials. At £7, it would suffice as a light main course, with Parma ham and feta stuffed bell peppers. There was no sign of dryness in the delicious ham, the peppers were fresh and there were even a few of the pub's delicious olives. Tim rather confidently proclaimed them as "the best in Sussex". We'll reserve judgment on that, but they certainly add to this well balanced and colourful plate. Other starter options include Thai spiced crab croquettes (£7) and beer battered halloumi (£7) whilst there are 'nibbles' options too.
For main course, Toby went back to his old favourite – the fillet steak. The steaks come from John Murray's award-winning Loxwood butchery. There's a 6oz fillet (£23.50) and 10oz sirloin (£20.50) option, served with hand cut chips, roasted thyme tomatoes, garlic flat mushrooms, garlic flat mushrooms and topped with roasted shallot and garlic butter served, with a dressed house salad.
The steak was of a very good quality, evenly cooked and neatly presented, with a smooth texture and light butter taste. The chips were lovely and the sauce carried strong, confident flavours. I chose from the specials board again, opting for pan fried salmon fillet (£14) with new potatoes and crayfish velouté. It is a simple recipe, executed with simple panache. The fish was light and moist and was well complemented by a fine and delicate velouté.
Other options on the menu include an 8oz cheeseburger, ham, egg and chips, fish pie, smoked haddock rarebit linguine, suggesting that The Three Crowns stick very much to reliable pub classics. However, lamb koftas and Padano crusted chicken schnitzel demonstrate that the chef will offer more continental flavours for the intrepid diner.
All of these options cost between £12 and £14. Clearly, the property prices in the locality have not tempted Tim and his team to charge inflated prices, and the food represents excellent value for money.
We just about managed to make room for a fantastic lemon tart and an equally pleasing light and fluffy sticky toffee pudding with Seriously Real ice cream. Even the after dinner mint comes from the Horsham based Wimblehurst Chocolates, as if to demonstrate the commitment to local producers.
After the meal, I resisted the urge to play Chopsticks badly on the piano and instead gazed at a picture of an elephant parading through the village - another strange chapter in the history of Wisborough Green, no doubt.
I sat on a red leather sofa with a pint of Firebird A.P.A watching people of all ages come and go. To a man, and lady, they all made a point of saying 'goodbye' to Tim and his team.
Maybe there's something in the water in Wisborough Green. Or maybe it's just a really good pub.
To book a table call 0333 7007 333 (freephone)or email info@thethreecrownsinn.com or visit www.thethreecrownsinn.com