The Wood Beyond the World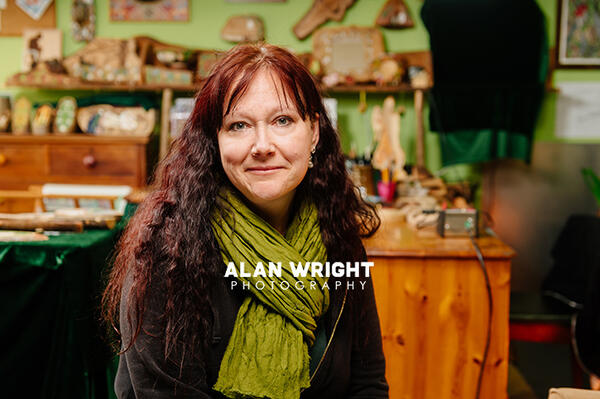 Published: 1st May 2021
With a business named after a William Morris novel, it's hardly surprisingly that English folklore features prominently in Sally Priston's artwork. Through her business, The Wood Beyond the World, Sally creates wood art and paintings inspired by nature and wildlife, often depicting myths and legends like the Green Man. Whilst her detailed paintings give a nod to the work of illustrators like Arthur Rackham or famed textile artist William Morris, Sally's wood art requires a very different skill; pyrography.

This time-consuming method involves the free-handed decoration of wood with burn marks, akin to soldering. With the pieces often enhanced with additional painting, the technique helps Sally create unique items. "There are elements of fairy tale and folklore in my work," she says. "I love the illustrations in Hans Christian Anderson's books and Morris' textiles have had a huge impact on me. The way he perceives natural forms and uses them in a rhythmic way to intertwine patterns is beautiful."

Striking Contrast
Sally established the business in 2013, once her son was settled at school and she had more time to pursue her passion. As a child, she enjoyed art and after training as an illustrator maintained her interest by running a school art club. But it was her love for the great outdoors that provided the inspiration for a full-time business.
"I'm always picking up pieces of wood with interesting textures or shapes," says Sally. "But it wasn't until I bought a pyrography kit that I found a good way of using them." "Learning the skill has been enjoyable and gradually I've improved. The technique involves burning into the wood to create patterns, like a tattoo artist. Because it leaves black marks, you're left with a striking contrast of light and dark. I often add colour too before adding a protective varnish."
"Sometimes, I decorate pieces by local wood turners, but often I work with rugged pieces that I've found in the woods or sourced elsewhere. There's a tree surgeon who works on the trading estate who occasionally leaves pieces outside my door too! I always get a feel for each piece before working on it, as the shape itself can inspire ideas."

Rural Themes
Sally's work has a natural theme, with berries, trees, leaves, toadstools and flowers representing the flora and owls, squirrels, birds, dragonflies, hare and deer the fauna. Much of her output follows the seasons, with winter represented by mistletoe, holly and ivy, before a change of colour in spring sees primroses and blossoms burst into life. Whatever the time of year, English folklore is prominent in her creations.
"My dad was Irish and my mum Scottish," says Sally. "Growing up, I heard a lot about Celtic folklore and traditions, but as I got older, I explored English heritage too, which led to me becoming a Morris dancer."
"When I was learning pyrography, I had a book of Celtic designs and initially it featured in much of my work. I love Celtic art, but ultimately felt I was imitating others and moved away from that to do my own thing. I went through a period where I painted nothing but the Green Man, but have recently begun including more animals. That's particularly the case with my paintings. The originals tend to be large, so I offer prints and cards too for those with smaller budgets. I'm working on new ideas that will feature a fallow deer herd that I often see around Lower Beeding. We also have a treasure trove of folklore tales in Horsham, such as the St Leonard's Forest serpent, which gives me plenty of local angles."
Fun of the Fair
Since 2017, Sally has worked out of a studio/shop on the Church Lane Industrial estate, opposite Kissingate Brewery in Lower Beeding. She welcomes visitors to the shop (when Covid-19 restrictions allow) and also sells online, as well as at craft fairs and events. However, the pandemic has made this difficult. "I normally exhibit at fairs throughout the year, but there hasn't been any! That's a shame, because only by interacting with customers can they understand and appreciate what I do."
"Pyrography is time consuming and a large bowl might represent three weeks' work. When people see the pieces in-person, they appreciate the time spent. You just can't see that online. They need to be seen and touched. You get the odd person who'll see a coaster that's taken me hours and say, "You can pick them up in Matalan for a pound!" But I tend to attract customers who want something handmade and original, and appreciate the skill behind it."
"It's good to have a variety of products, especially at fairs. I will see children with only a few pounds to spend, while others might be looking for something big, perhaps a table centrepiece. I was recently commissioned to make a Yule bowl decorated with winter plants, which was a major undertaking!"
"Without events and fairs, more people are searching online and I did well in the run-up to Christmas, selling tree decorations and wintry scenes.It has been tough this past year, but despite the difficulties of lockdown, I'm still passionate about crafts and have been working harder than ever."
"Art has kept me going and I feel I'm improving too. With each piece, I'll always think about what I could have done differently. But you take each experience with you, on to the next project."
Words: Ben Morris
http://www.thewoodbeyondtheworld.co.uk