Discovering art at Christ's Hospital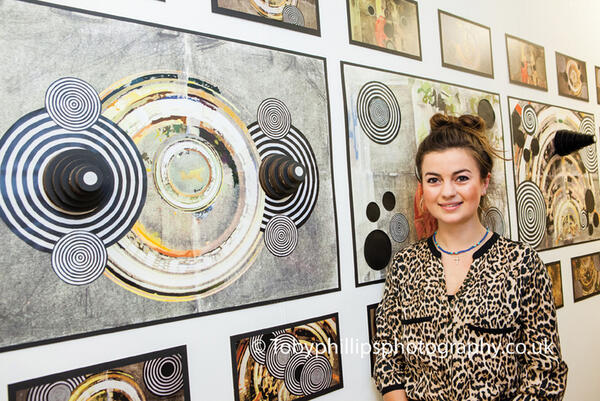 Many normally rational people have on occasion found themselves riled or frustrated by an art story in the national media. Can you remember the story about the cleaner that threw out a bag of rubbish at Tate Britain? The bag filled with discarded paper and cardboard was part of a work by Gustav Metzger, who said it demonstrated the "finite existence" of art.
But whilst such conceptual art may divide opinion and perhaps contribute to a mistrust of contemporary art amongst the masses, there is of course a wealth of talent out there. It's no longer enough to be good at drawing; in colleges and Universities across the country, art teachers are inspiring students to embrace new influences, concepts and theories in an effort to create something innovative.
Whilst many of us may not always like what we see in art galleries (or perhaps you're even so uninspired by what you've seen from our leading lights that you don't even care to look) there is no denying that it takes a great amount of skill, invention and determination to establish yourself in the art world.
At Christ's Hospital, Grecian (Upper Sixth) Art & Design students follow the Cambridge Pre-U syllabus as opposed to the conventional A' level model. The students recently displayed their work at an exhibition at the school, and a London Gallery booking follows in the autumn.
Paul Deller, Head of Art, said: "It is a highly liberating course that allows the students greater time to work in depth on their projects and the artwork on show in this end-of-course exhibition is both eclectic in its range of materials and very ambitious in its scale. To study Art at this level successfully involves a major degree of enthusiasm and commitment on the part of the student and this is reflected in the future plans of the majority of the students who plan to attend Art Foundation, Animation, Architecture, or Art History courses next year."
Rory Keddie created three striking pieces of art for the Grecian exhibition, including a face made up from a variety of materials such as smashed plates and cups that were provided by the school canteen. Another depicts a series of heads attached to string.
Rory, 18, said: "I've got three heads that are all painted in different perspectives. Three of them are faces of people I consider to be three of the wisest teachers in the school and there are two from the New College of the Humanities in London where I'm going next year. I think the teachers felt a bit strange to be featured in an art piece but it makes the exhibition a little more fun. My whole project was focused on how people think and come up with ideas and theories. I looked at the Hadron Collider and this piece was a development on that."
The students use a vast variety of ideas and concepts to create art. Minerva Saner asked her brother to fire bullets from an air pistol in order to mark positions for circular patterns on one of her dramatic creations. Minerva said: "The piece was inspired by an artist called Gabriel Orozco who often puts circles over pictures of photos he has taken. The circles in my image were placed in positions that my brother had fired at and they were turned into illusions and placed over images - one of my brother shooting a gun, and the other two are from Paris.
"I painted over them and put them in the illusions and then surrounded it with a border of variations on the theme."
Celeste McAvoy visited a Damian Hirst exhibition to inspire her project. Celeste said of one of her pieces (seen on facing page - top right): My art essay was on abjection in art – this is meant to be a juxtaposition of the violence of life and the calmness of death and it's intended to be in your face.
"The background drawings are charcoal and chalk that have gone through a photocopier to make it look grainy and on top of that are some photos of my friends that have been altered to make them look more frightening. I asked them to jump up so they could create more angular figures. You are so close to it all the time and you're not thinking about the first reaction of people at an exhibition as you see it develop from the original concept, so you consider its' overall impact."
Joseph Darko hopes to pursue a career in computer animation, and created a stop motion video for his Art project. He said: "I started off by drawing comic books and then moved into stop motion as it is a faster way of telling stories. But I had a limited budget so I couldn't do all I wanted so looked to computer animation. When you get the software you can do anything you like and bring all of your ideas and stories to life."
Whilst Joseph is looking to the future of computer animation, Namuun Enkhtur looked to history for her dramatic and intriguing project on human obsession.In one project, undoubtedly the most discussed work at the exhibition, Namuun has created seven smaller artworks – including a Crucifix made of sweets – to portray the life of modern man.
She said: The Wheel of Life is part of Buddhist tradition, but I created a wheel of life representing stages in a modern person's life. We have Father Christmas and how children are obsessed with him and presents. But then they grow up and it's not about that anymore. The Teddy bear is about children becoming attached to something small, addicted to it in a way, but when you grow up you can become addicted to something far worse.
"The crucifix covered in sweets is about how repulsive junk food has become, and how food has become a religion to people. There are other themes about the balance of people, how society perceives the appearance of women, and our obsession with money."
Olivia Webb created one of the more time-consuming pieces of art – a man made out of string, inspired by artist Antony Gormley's studies on the human form. Olivia said: "I began with the torso as the core and that has thick bamboo rods going through it. The string is hardened with glue and then each section is put together to make a series of boxes.I saw that people were like boxes in that they hold emotions within them and keep things boxed up. I also looked at buildings, and so the man represents a building full of people with boxed up emotions."
The artists would admit that they are still learning and developing their talents, and the majority plan to continue their art studies. One student, Shelley Buchanan, said: "I think what is good about the course here is that you can experiment and see where it goes. You're encouraged to find your own path in art and develop ideas."
As they continue on their chosen path, perhaps the rest of us can have a little more appreciation for contemporary art. Whilst the occasional piece of art may border on the ludicrous limit of pretension, for the most part, it takes a magician to marvel a modern masterpiece.