Jo Willis's Changing Style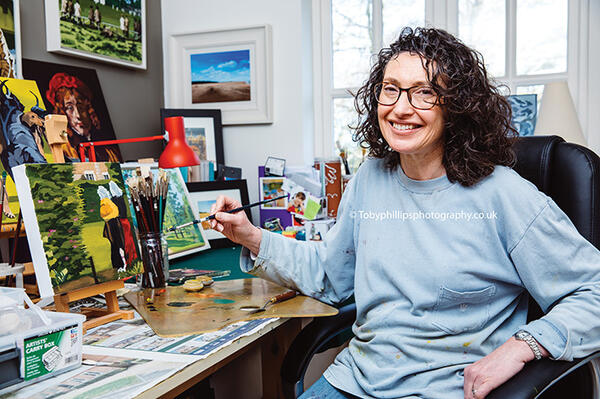 Published on 31st January 2018
My dad was a part-time artist, but art didn't interest me much when I was growing up. Perhaps I was playing the part of the rebellious teenager, refusing to study art as my father felt that I should. Whilst I was good at drawing, I did little aside from copying LP covers or sketching clothing when I studied the history of fashion. It wasn't until 2012, when I was 49-years-old, that I truly applied myself. I realised that if ever I was meant to be an artist, it was now or never.

The First Steps
I went to The Art Academy on Foundry Lane Industrial Estate in Horsham, run by Lydia Sanderson. Lydia gave me a photograph of a harbour scene and told me to copy it whilst she went to make a cup of tea. She came back, said 'Okay, you can draw!' I was handed some paint and I loved it!
The Art Academy is very sociable and flexible in terms of commitment. It suited me perfectly. Lydia provided the equipment, which was useful as I didn't know which medium I would like working with, be it acrylics, pastels, oils or water colours. It turned out that I took to oil paints. I went there for two years and my output was dominate by landscapes and floral scenes. Then I came to a crossroads. My work was beginning to stagnate. I wanted to improve but Lydia couldn't be expected to dedicate all her time to me as I was in a mixed group. She suggested that I seek the help of an oil painting specialist.

The Comfort Zone
Piers Ottey runs dedicated oil painting classes at The Mill Studio in Ford, near Arundel. He persuaded me to experiment with different subject matters and I quickly moved away from landscapes. As well as expanding my subject matter, I developed my technique. Piers showed me how by painting light and dark shades, you can create the face. I was genuinely amazed to see it happen.
One of his teaching methods is to ask you to select an image from a small pile of carefully selected postcards and produce a painting from it. The postcards will follow a similar theme and are chosen to challenge you as an artist. I'd never attempted anything like that and it pushed me to try new things. One of these challenges involved painting a figurative portrait, which was far out of my comfort zone. I also tried my hand at abstract and whilst I failed abysmally, the experience was liberating and exciting. Piers also encouraged me to interpret the work of famous artists, which gives you a greater understanding of style and techniques, in turn helping you improve. Every time, I learn something new.

Developing a Style
When I started out, I painted flowers, gardens and landscapes, but I didn't have a distinctive style. Now, I feel like my work has consistent characteristics. I use a limited colour palette to create bright, atmospheric paintings, with dramatic contrasts between light and shade. People are starting to identify my style, which is encouraging as it's taken several years to reach that stage.
You can certainly see the influence of Piers' work in my paintings, but the artist that has always inspired me is David Hockney. I went to see his exhibition at the Royal Academy of Arts in 2012 and it was just incredible. His use of colour is sensational and for an artist who loves strong, bright colours, it was like nothing I had seen before.

Every Picture tells a story…
My recent work is based on interpretations of black-and-white photographs. Using old photos presents me with the opportunity to use whatever colours I like, within a limited colour palette. You need to be careful when working from photos as some are copyright protected. However, there is a wealth of valid resource material out there. A neighbour in Mannings Heath has a vast collection of historic images of Horsham.
Some depict places such as Horsham Cricket Ground, which I have painted in the past. I also painted a cricketing scene to raise funds for a new pavilion at Nuthurst Cricket Club. Limited edition prints have raised several thousand pounds, thanks to the generosity of players, supporters and the occasional visiting team. My rural scenes, particularly cattle market pictures, have proved popular.
A farming family in Berkshire let me use several albums of photographs of their farm, which provided me with lots of inspiration. Paintings of this type have been well received in Horsham, as they tell a story. People are always fascinated to know the details behind them.

Artists Working Together
I am a member of Horsham Artists Open Studios (HAOS). As well as exhibiting at the group's annual art fair, I participate in the summer art trail. It's nice to see people coming back year after year to see new work by the artists involved. Previously, I exhibited with Warnham artist Lesley Taylor, but in 2017 I opened-up my own home, sharing the space with sculptor Claire Morris. I'm trying to promote my work further afield too.
I applied to an Open exhibition hosted by the Society of Women Artists (SWA) at the Mall Galleries in London and was delighted when two of my paintings were accepted. One of my cattle market paintings was sold. This year, I'll be exhibiting at the Surrey Contemporary Art Fair at Sandown, along with fellow HAOS members Alison Ingram, Angela Brittain and Sue Collins.
Before becoming an artist, I worked in the City, running a business development team. My role focused on relationship building and required me to host presentations. Consequently, I'm not worried when it comes to promoting my work. Some artists can be anxious about that aspect, but I enjoy talking about the things I'm enthusiastic about.

It's a Business
Art is a full-time job for me and I run it like a business, not a hobby. I find that gives me the drive to get up and work, as opposed to picking up a paintbrush only when I fancy it. Every Monday, Wednesday and Friday, I paint from 9am – 5pm. I have read that many successful artists worked this way.
Francis Bacon would cancel a commission if someone was late for a sitting. I don't find this approach takes away any of the passion of being an artist. Whatever you do, it's vital to paint from the soul and I feel that I always do that.
You can view more of Jo's work at www.artfromjow.com
For information on Horsham Artists Open Studios www.visithorshamartistsopenstudios.co.uk

INTERVIEW: BEN MORRIS
PICTURES: TOBY PHILLIPS/JO WILLIS