Jamie Ampleford: The Perfect Portrait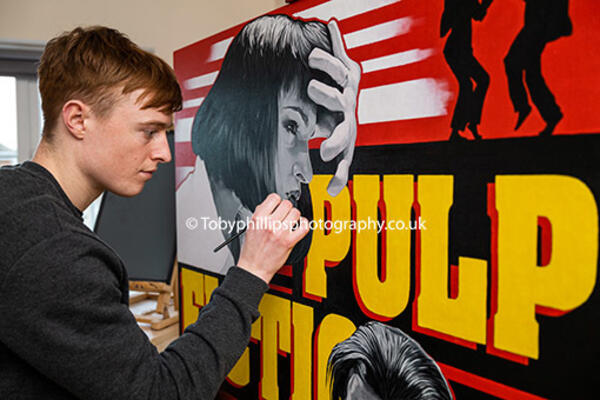 Published: 1st March 2020
Jamie Ampleford resisted the pressure to explore more contemporary forms whilst studying Fine Art. Instead, he paints and draws his own way, with a focus on achieving a perfect likeness in his portraits. Now, with a growing portfolio of work in an impressive array of materials, from graphite pencils to charcoal to acrylics, the Ashington artist is preparing to exhibit for the first time. Here, Jamie describes the journey in his own words…

FOOTBALL HEROES
When I was young, I would draw caricatures of my favourite footballers, like Thierry Henry and Ronaldinho. Even then, the challenge of achieving a good likeness was the most important thing to me. Some people argue that it's about capturing the character of a subject, but likeness is the key for me.
Football and art have always been my two passions. I played for Ashington Cougars until joining Brighton and Hove Albion when I was 12. I was with the club's Academy for four years until I was released. I was gutted and was considering my options when a friend suggested a football scholarship in America. So, after Sixth Form at Steyning Grammar School, I went to Prescott College near Phoenix, Arizona.
In the morning, I attended lectures and classes, whilst the afternoon was dedicated to training, with matches played two or three times a week. It was intense, as we were aiming for the National play-offs. In terms of my art development, the experience was very interesting. The course taught me about the relationship between colours, which I hadn't been aware of. I also learnt many technical elements that inform what I create today.
I came home and then spent four years studying art at Reading University. It could be frustrating, as they tended to focus on contemporary art. We would study artists who might have exhibited a urinal at a gallery and I struggled to see anything amazing in that. They would try to turn you into a different artist, but I didn't want that. I like it when you look at a piece of art and appreciate the skill and talent behind it. Dumbing down to please others didn't interest me.

DRAWING LEGENDS
Most of my improvement has come simply through experience of drawing and painting and I love working with different materials. I use acrylics, ball point pens and even charcoal. However, working with graphite pencils is something I've done throughout my life and still enjoy. It's easy to grab a sheet of paper and do it, without the need for a big set-up.
With portrait paintings, I still aim to achieve a good likeness, but they can be more impressionistic. With pencils, you can go into greaterdetail and I'm always exploring to find new ways to do that. Looking back at past work, I can see a big development and improvement in my skill levels, which motivates me to do more.
Much of my output is focused on legends of music and film. Even a small drawing can take 20 hours, so I listen to a lot of music while working. There isn't a genre that I love above all others, so I'll often be listening to an artist and think about drawing them, be it David Bowie, Bob Marley or Prince. I love gangster and crime films too, so I painted scenes or characters from Goodfellas, Pulp Fiction, Peaky Blinders and I'm currently working on The Godfather. However, the picture that took me the longest was a small scene of Carnaby Street in London.
Occasionally, I incorporate words too. I recently painted The Joker and that included writing. Often, I play around with the composition on Adobe Photoshop to give me an idea of how it will look and whether words enhance or detract from the work. When I'm unsure, I ask my parents!
Whilst painting The Joker, I filmed myself on my mobile phone. I entered a competition which required me submit the art with a photo and time-lapse video. It was my first attempt at using time-lapse technology and it wasn't the best quality, but people found it fascinating. I invested in better equipment and now record most of my projects. One of my most popular videos has been for the graphite sketch of the two burglars in Home Alone. I took a photo every 30 seconds during 20 hours of work and condensed it all down to a short video. Even I find it mesmerising.
This idea has helped me build a following on social media, where videos tend to attract more views than photos. I think time-lapse gives people an appreciation of just how long it takes to complete one of these pictures.
Whilst I love painting icons, many of the commissions I receive are pet portraits. Also, I was recently asked to paint a jumbo jet taking off from Gatwick Airport as a present for someone retiring from the aviation industry. I composed the image in Photoshop first before the final design was approved, so it's useful to have that technology available.
My aim is to build up a portfolio and make a career as an artist. I recently joined Horsham Artist Open Studios (HAOS) and will be involved in the group's Art Trail later this year, as well as the Steyning Art Trail. Before then, I'll be attending the Sussex Art Fair at Goodwood. That will be the first time my work has been exhibited publicly, as since finishing university, all my commissions have come through social media or from family and friends. It'll be interesting to gauge the reaction of the public, as seeing work up close is very different to seeing it on a computer screen.
All artists go through phases. At Sixth Form, I created a large abstract portrait inspired by graffiti art. That's something that I'll probably revisit, as art takes you down different routes.

For contact details and more examples of Jamie's work, visit: www.jamieampleford.co.uk