Steve Gubbins: Portrait of My Life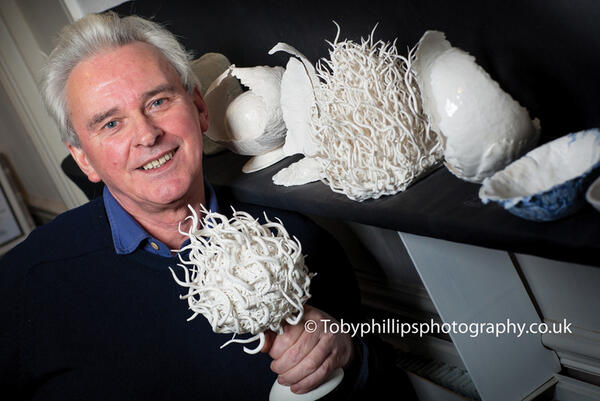 Steve Gubbins knows he is getting some strange looks. He is lying down on the rain-soaked ground, in the middle of the night in Piccadilly Circus, taking photographs of the pavement.
It's an unusual method, but one that does have interesting results. After a few touches with various software programmes, Steve's images of neon lights reflected off a wet pavement make striking viewing.
Steve is first and foremost a portrait photographer. He has enjoyed a successful career spanning thirty years, running a studio in the heart of Warnham village. But in recent years, the dawn of the digital age has seen demand for portrait photography wane. This has given Steve the opportunity to head into a more artistic direction. In an artistic sense, he has become best known for his close-up images of pavement reflections and yew tree roots, but Steve is also developing his skills as a ceramic artist. But he's come a long way...
Steve said: "I had an Instamatic camera and I didn't like the pictures I was getting. A friend of mine, who was a member of a camera club, said 'you want to get yourself a Nikon'. So I shot up to Capital Cameras in Crawley and I bought one, not knowing what I was buying. I went to France, took three rolls of film and had them processed.
"The pictures were not brilliant, but I fell in love with photography. It hit me right between the eyes.
"I've always been a frustrated artist as I could not draw or paint, but with photography I found my niche and it took over my life. I joined the camera club, and won the novice prize in my first year. The next year I won the intermediate prize and in my third year I won the advanced prize. I took ten thousand shots in my first year of photography, so it cost me a fortune. I used to get up at dawn each day and head out. When you start out, you take photos of everything. I was lying in wet grass taking pictures of mushrooms, climbing trees to get a better viewpoint and all sorts. But I ended up taking pictures of people.
"People turn up and they are nervous, especially women as they all think that they do not photograph well, and I have to make them like me, trust me and relax for me in ten minutes. That is what people pay me for, as not a lot of people can do that.
"It comes from life experience. I can't teach students when to take a picture or how to get people into the right mood to take a photo. Every photographer has their own way of doing this and you have to find your own way."
Now Steve is finding his own way with his art. The dazzling array of colours featured in many of his photography artwork is actually the roots of yew trees. Steve inverts the colours to create the effect, which works best on canvas. Most of the original images were taken at Kingley Vale National Nature Reserve near Chichester. Steve has returned to the site several times and always finds a fresh blend of patterns and colours. He once needed rescuing by a passer-by after managing to become stuck up in a tree.
The ceramics began when Steve started attending an evening class and enjoyed the fresh challenge. Some of his ceramic pieces are on display in an exhibition of his artwork now on at Horsham Museum and Art Gallery.
"I've always fancied the idea of sculpture and ceramics but put it on the backburner. Then I woke up one morning and thought 'if I don't do something about it now I'll wake up dead one morning and be really cross about it!'
"I wouldn't say I'm particularly good at making ceramic pieces and I don't know if it will go anywhere, but you have to try these things.
"My favourite piece so far is called 'In God's Hands'. A friend of mine lost her husband, tragically, and it left her alone with a very young child. I was thinking about the poor child, so I made a sphere, representing the little girl, and the next level represents the mother looking after her and the wings around it represent the father's spirit looking over them."
Steve has also recently started experimenting with photography inspired by pre-Raphaelite paintings. It's an exhaustive method, but the results are rewarding and it could be an approach that Steve adopts again in the
future.
He said: "It's a style inspired obviously by Lady of Shalott by John Waterhouse. I liked the style, as it's quite romantic and I thought 'how could I shoot that?' So I set about creating my own version of Lady of Shalott. The model was shot in a studio, and I photographed the boat on a visit to friends out in Lithuania, as there are a lot of those flat boats still out there. I had to remember the angle of the picture as that's so important when piecing different images together.
"You would have thought that I would have taken many shots from different angles, but stupid Gubbins, I only took the one shot! Luckily it was just about right. The background too is from several different lakes and gardens. The front part is from a client's house near Ashurst, another section was taken at Sedgwick Park and the rest is from a lake in Rusper. I borrowed a lantern from a friend and painted in the stone steps and some of the boat's decorations, and had to piece it all together.
"It was a huge effort and this is my first try at it, but I'm very pleased with it. I don't know what will come of it, as this is just for my own enjoyment and love of photography."
On Steve's website, there is also a small mention of Steve's art nude photography. It is not an area of work he likes to advertise, but it is work he is proud of. He said: "I love the beauty of the female form. I get as excited about the female form as I do with a rusty old boat or anything else that interests me and I'll put as much passion into getting the shot as always.
"Some equate nakedness with sex, but it's not the case. This is not page three or glamour shots, but some cannot differentiate – they class anything with a naked female as the same thing. People are so judgmental and ignorant. If I spoke to an artist they would understand, but the general public perception would be different.
"Where I go from now, I don't know. The perceived value of portrait photography has dropped through the floor because of easily downloadable software. Photography is so accessible now, and some people think 'I can do almost as well as Steve Gubbins so why pay him thousands when I can do it myself?
"They can't do it as well, nowhere near, and they will print it out on cheap paper and the image will disappear within a few months. But a lot of people don't want to spend the money. They love the pictures, cry through the slideshow and it comes to the price. They think 'the paper costs this much, the frame costs that much, the ink costs a little bit too, so why does it cost this for the photographs?'
"They can't understand that they are paying for all the work that goes into creating the most beautiful photos they will ever have."
For more visit www.stevegubbins.co.uk