Fighting Cancer through art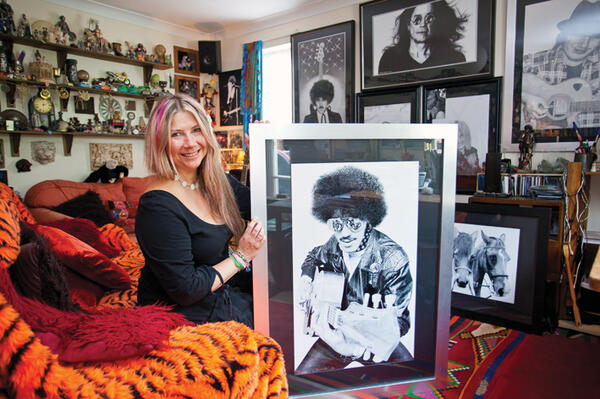 Lindsay Wright had drawn just one of Phil Lynott's eyes when she was told she had cancer.She always starts with the eyes - if the eyes go wrong that's it for the entire drawing. But at that point, it was doubtful that Lindsay's drawing of the Thin Lizzy frontman would ever be touched by a graphite pencil again.
That was only back in 2009, but today there's a print of the completed drawing, the most personally significant of all of Lindsay's work, on the wall of her home in Horsham. Lindsay recalls: "I drew one eye and was then diagnosed with cancer. I thought 'that's it, I'm not going to be able to draw, I'm not going to be able to do anything'.
"But in between the chemotherapy there were brief periods when some strength returned, and I finished it. That always reminds me of the different stages of cancer - radiotherapy, surgery, chemotherapy. It means a lot to me because it carried me through. I could have given up, but I thought 'No, finish it'. I would talk to the image as I was drawing it because I needed to get my head away from the cancer."
Lindsay's husband, Taz, drove the drawing (called The Sun Goes Down) all the way over to Ireland for a Phil Lynott convention. The picture sold, and led to Lindsay setting up a new website called www.bigrockface.com, with pencil images of rock icons such as Ozzy Osbourne. Lindsay said: "I'm not actually a huge Thin Lizzy fan. The reason Phil Lynott has come into it in such a big way is that three years ago I became involved in a commemorative exhibition in Ireland based on Phil Lynott. I drew my first image of Phil, exhibited the drawing and it sold.
"I became good friends with Phil's mother Philomena, and I've been out there every year since. I've got three out in Dublin for a huge Phil Lynott exhibition on now. I was looking to start drawing other huge rock icons, hence the Big Rock Face name, and obviously Ozzy is a huge icon so I chose him. I'd love to draw Iggy Pop as there's so much going on in his face. There's so much going on in the faces of older people - lines, character - real depth."
Lindsay owes much of her artistic flair to a "hippy upbringing". Her parents would allow her to draw on the walls of her bedroom at home, and the passion grew from there. However, this free spirited artist had little time for conforming to the instructions of tutors at Art College. Lindsay said: "Art is inherent in the family, as I have art on both sides. I grew up with my mum and there was a pencil drawing of a dog on the wall. It was only when I was an adult my mum told me that my great-great grandmother drew it and I realised that is where my talent came from.
"I had hippy parents and they allowed me to draw on the walls. In my bedroom I started to draw caricatures on the walls and people started saying I could draw. I did study art at college but found it was too restrictive. My style is photo realism and a lot of tutors try to move you away from that, but that's what I enjoy. I don't draw to prove anything; it's just what I like to do."
Lindsay has drawn in colour before, but prefers to work with graphite pencil. In the past she has drawn andscapes but doesn't find it exciting, so instead focuses on portraits. She recently drew three horses for a commission, as well as a picture of an up-and-coming Irish artist called Doey. The drawing will be used as the cover image for his forthcoming second album. Taz has been drawn, and Lindsay is also drawing a self-portrait in between other projects. Michael Stipe, Iggy pop, David Bowie, and Linsday's son Ben are all on the 'future projects' list.
But the problem Lindsay has is finding the time. Each drawing takes a total of about 110 hours, and as Lindsay has to contend with regular hospital visits for treatments, as well as her work teaching fine art privately, it typically takes three months to complete each picture. Lindsay said:" A lot depends on the day. According to the day and your mood, you draw differently.
"I try to do one whole section in the same day, and this is what I tell my students too. If you're doing a sky, don't do half of it and then go back to it, because even the way you move your pencil will change daily depending on how you are feeling."
There's also a major project coming up for Lindsay at The Tanners Arms in Horsham. The pub has a growing reputation as a live music venue (more on that later) and Lindsay will soon be helping to create a huge mural on the wall. She said: "It'll be instruments rather than people, but we might do a rock icon on the men's and women's toilets, so that could be Hendrix and Blondie."
There is a tendency to view Lindsay as a rock portrait artist, but there are other strings to Lindsay's bow. She has spent ten years as the artist for Macmillan Cancer Support, designing their greetings cards, and admits she's "happy to draw anything". "Portraiture is my love, so if I get to do that then I'm happy", she said. "But I don't want to be totally known as a rock artist."
There remains the threat of illness hanging over Lindsay's head though, but art works as an escape from the realities of cancer. Lindsay said: "I've been on medication for 18 months, with three years to go, but it never really ends. Once you've had it you're never really out of the woods. You've just got to wait and hope it doesn't come back. You hope the worst is over, but you don't know – you live on a knife edge.
"You go through scares – every little thing that happens you get checked out. A year after my first diagnosis I had a bone cancer scare, and had to undergo an MRI scan, so I went through the whole emotional rollercoaster again. It's very scary, and it's changed my outlook. I have terrible dives where I lose it psychologically, and it overwhelms you for about a week, but then you climb back up again.
"I'm also very good at putting on a brave face, even if I'm having a bad day I tend to still appear jolly. People always think I'm happy, jolly Linds with the flower in her hair, but a friend of mine (got cancer) about a year after me, and often we sit together and just bawl our eyes out as it is scary. But the work helps me to keep going. The Sun Goes Down is my cancer picture. It will always have a place on my wall."