Sonia Morris: Channelling Emotions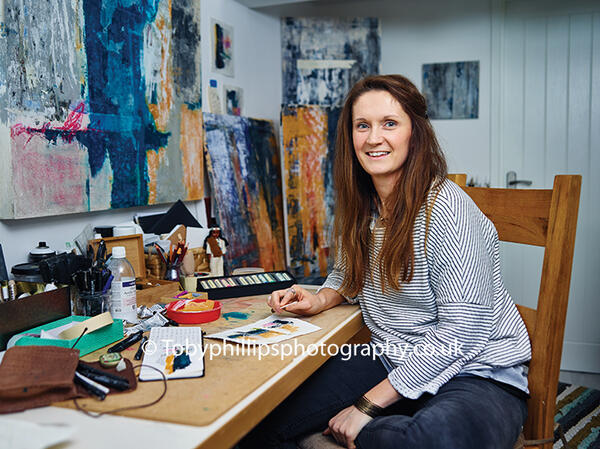 For Sonia Morris, becoming an artist has been a long and occasionally turbulent journey. Her fascinating work, inspired by rustic buildings and structures, has recently come to the attention of local galleries. Here, the Broadbridge Heath artist describes how an emotional intensity underpins each one of her mixed media canvases…

Positive Influences
I grew up on a farm in Shipley and loved drawing from a young age. There was a barn owl that used to fly around the farm and I would draw that, as well as household objects. I created collages too using buttons, material and ripped up paper.
My passion for art developed at the Weald School. One of the teachers, Terry Griffin, was a ceramics specialist. She had been a close friend of my mum, who I lost to cancer when I was ten. Terry took me under her wing to a degree and was a hugely positive influence in my life. I loved making slab pottery and that was inspired by Terry's own ceramics.
When I applied for college, she even helped me put a portfolio together and drove me to the interview at Northbrook College in Horsham. Unfortunately, I didn't settle there. I went in knowing what I wanted to do and wasn't prepared to learn anything else first.

'You'll Make Millions!"
I spent ten years working at Mann's of Cranleigh and throughout that time I maintained an interest in art. I'll always be grateful to Richard Womack, the owner, as he paid for me to attend UCA Farnham for two days a week, where I gained a diploma in Art and Design.
I didn't have access to a kiln at home, so I stopped making ceramics. Instead, I created abstracts on canvas, inspired by Spanish painter Antoni Tàpies, who was famed for his rough, densely-worked surfaces.
My partner, Dean, plays guitar in several folk groups and function bands and sometimes he'd come home in the early hours to find painting equipment scattered across the house. One night, he came in and woke me up and asked if I had painted the piece on the table. He said: "That's it! You're going to make us millions!" But I struggled to replicate whatever it was that made that painting work. I would spend hours on each canvas and then hide them away in the garage. I felt that my art was either too contrived or lacked depth and technique. It was frustrating, but for a few years my work stagnated.
I married Dean and we had two children, which made painting difficult but he kept encouraging me. In the past, people told me that painting was fine, but it didn't pay the bills. But Dean has made a living from his passion as a guitar teacher and he believed I could do the same. Then suddenly, I created a string of four paintings that achieved the look I was after.

Sense of Structure
With my work, there is a strong sense of structure and architecture. I'm fascinated by old street buildings, particularly their fading colours and the remnants of old posters peeling away. I try to recreate that look of degradation in my work using multiple layers and materials.
I work mainly with pastels and paper that I can strip back or build on if required. I do tend to like certain colours, although my earlier work was much darker, with monotone shades. Perhaps I'm happier than I used to be!

Channeling Emotions
There is an emotional side to my work. I have this idea of my mum being in one place and me being in another and there's a structure or divide between us. That may sound awful, but it has come about because of positive changes in my life. My thoughts about my mum have changed since my own children were born. I always thought about it from my own perspective.
I was the poor little girl who lost her mum to cancer, which is terrible for any child. But I never thought about how my mum felt. My daughter is six-years-old, nearly at the age I was when my mum first became ill. Now, I think about how terrible it must have been for my mum, knowing she was leaving her family behind and there was nothing that she could do about it.
Those thoughts do inform my work, particularly my sketchbooks, which are full of scribbled note, thoughts and ideas.Some may think it strange that I would share these thoughts, as they are very personal. But I like to think that it just might helpsomebody else going through something similar, as it's good to be open about such issues. I remember being taken to a therapist after my mum passed away and it was the last thing I needed. If I had a different outlet, like a regular art session with somebody like Terry, it would have been a more beneficial to express and control my feelings.
Confidence Boost
I saw that the artist-run Chalk Gallery in Lewes had an opening, so I applied. They needed four pieces of work submitted, so I sent in the only four pieces I was happy with and was thrilled when they invited me for an interview. I was surprised when they offered me the chance to join them, as I didn't really consider myself to be an artist.
had sold a few pieces before, including one canvas that I disliked so much that I asked the customer if they were joking about buying it. The painting was resting against bikes in the shed for two years and I was worried it would be full of holes, but it was fine and the customer was thrilled with it.
To have been approved by other artists was a huge confidence boost for me. The wonderful thing about the Chalk Gallery is that you must replace your work every six weeks, which pushes you to improve as an artist. Also, because it is a co-operative involving 21 other people, there's a great support network. Thanks to the contacts I've made there, I'm also exhibiting at Pelham House in Lewes, The Laughing Dog Gallery in Brighton and Lewes Artwave.
Certain Appeal
For several years, I made small illustrations of people and families. I would combine pen and inks with pastels and water colours to create bespoke greetings cards and portraits. It started when a friend asked for one and that led to another and the cycle continued.
But that aspect of my work is on hold as I have been focused on creating the large canvases. That is what I currently enjoy doing the most.I can't always tell how a picture is going to come out, as they tend to take on a life of their own when the layers pile up.
But it would be boring if I knew exactly what the finished piece was going to look like every time. I'm aware that my work is not going to appeal to everyone, but that is the fascinating thing about abstract art. It may only entice or captivate a person with a certain perspective or frame of mind. The most important thing for me is to produce something I'm happy with.

INTERVIEW: BEN MORRIS
PICTURES: TOBY PHILLIPS / SONIA MORRIS
Sonia's main website is at https://www.soniamorrisart.com
Visit Chalk Gallery at 4 North Street, Lewes or at https://chalkgallerylewes.co.uk/Sonia Morris' illustrative designs can be found at https://www.etsy.com/