The Captivating Portraits of Jeremy Bridle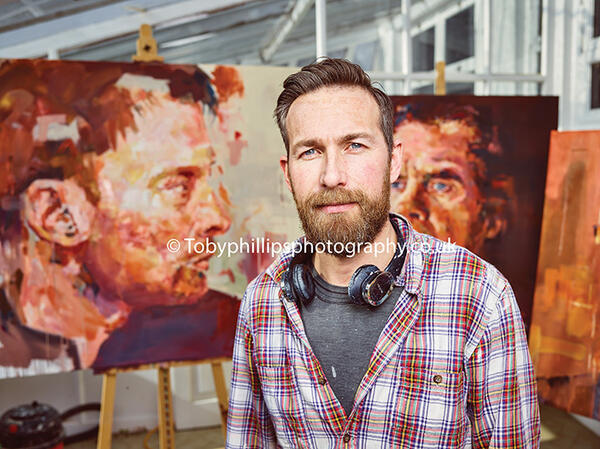 Walking into Jeremy Bridle's studio, I am faced with three large abstract paintings. There is something familiar about the faces, and upon closer inspection it is clear that they are musicians Thom Yorke (Radiohead), Nick Cave and Morrissey.
I know this because I too listen to music that ensures I'm never given control of the iPod at birthday parties. Until it's time for people to go home...
Jeremy said: "I often like to paint people who I am influenced by or admire, but that is not always the case. The woman in one of my paintings is simply based on a screenshot I took from the television. I saw an actress crying and there was something in her emotion that I found interesting and moving.
"That is what I am looking for – character and emotion."
LOOKING FOR CHARACTER
Jeremy's first portraits were of his children, and he has now gone on to produce more than a dozen large canvas paintings.
The Horsham artist finds most of his reference material on the internet, but that can be more difficult than it sounds. It's really hard to find interesting pictures of people online," he said. "Most pictures are just a little bit too nice.
"At one time I was actually struggling to find anything to inspire me, so I took some photos of a friend of mine. He had been out cycling and there was sweat dripping down his face, which was perfect as it was real. So I took lots of pictures from different angles and produced a painting that I was really pleased with."
I SEE A DARKNESS
Despite the familiarity of the portrait subjects, Jeremy's paintings are abstract. He uses bold strokes of colour and texture to bring life to his work, yet maintains distinctive facial features.
Jeremy said: "I have tried seascapes and landscapes, but I always go back to faces. The human face is so complex, and always provide a challenge for an artist.
I try and get the eyes and the mouth right initially, which requires some finer detail work with the brush. From there, it is all about layers. I tend to start off with light colours before gradually introducing darker shades.
"As you can see, the Thom Yorke painting is still very light, although he is already recognisable. I will gradually introduce darker tones, much like the Nick Cave painting. Sometimes it feels like you are getting nowhere. Then all of a sudden something will take shape and that leads the whole piece forward and gives you direction.
"That moment for me is the joy of abstract painting."
ARTISTIC INFLUENCE
Jeremy has only recently taken up art. However, he does have vast experience with a paintbrush, having run his own painting and decorating business for nearly 30 years.
Jeremy said: "I always enjoyed drawing when I was at Tanbridge House School, but it was not something I considered studying.
"I was destined to do manual labour rather than art, so I went to work for a painter and decorator. When he retired, I took it over, and have been running Paragon Painting and Decorating since 1986."
Following a marital separation, Jeremy enrolled on an A' level art course at Collyer's. But finding it took up too much of his time, he left and instead attended an evening art class at Farlington School, run by Rosalyn Mina. He has not looked back since.
"Rosalyn has been very influential to my work and has become a friend too," said Jeremy. "She is always encouraging and her approach yields results, as the artistic output from Farlington girls is just incredible."
DISTINCTIVE STYLE
Having been introduced to new artists with different styles at Farlington, Jeremy has carved out his own distinctive style. But so far, he has not chased commercial success, selling just a handful of paintings.
One was based on the cover of Mind Bomb, an album by alternative rock group The The. However, Jeremy doubts that the buyer knows what the painting was inspired by. Now Jeremy is hoping that his first solo exhibition, at The Capitol Art Gallery, will bring some success.
"I exhibited with other artists at Farlington and had good feedback, which has given me encouragement to do my own exhibition. "It is all about confidence and until an artist does something like this, we don't have much in the way of constructive criticism. I would really like to hear some."
Jeremy hopes to be able to continue building up his portfolio of portraits, as well as painting the occasional seascape.
"Again, my seascapes are just my impression of the sea and maybe a little more abstract than my portraits. In time, I can see my work becoming more abstract and introspective.
"I can see a progression with each piece, as I keep building up the layers and gradually my work is evolving."
Jeremy Bridle is now exhibiting his work at The Capitol Art Gallery. The paintings will be displayed until 24 April. For more details visit www.jeremybridle.co.uk