Teeling Stories Through Paintings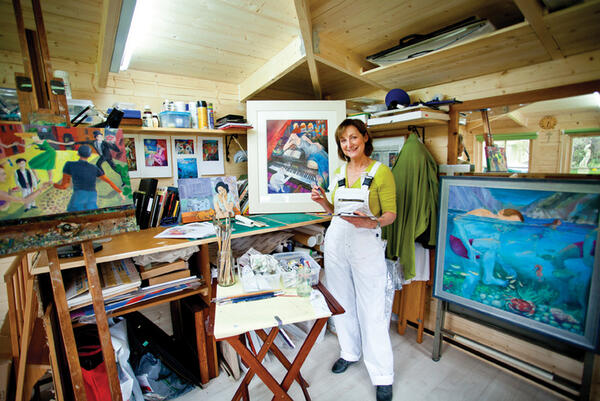 It's hard to know where Angela Brittain finds the time to paint, as the Horsham artist seems to spend much of her time people watching.
But it is the observations she makes in every day scenarios - couples at the airport terminal, a child's love for all things sweet, a holiday maker nervously stepping out to sea - that inspire Angela's work. Paintings which tell a story are hardly a rarity, but you'll find few who capture emotion and feelings with such simplicity and present it for all to see with such vibrant colours.
How better to sum up female insecurities than Angela's painting 'I look in the mirror and see that it's me'?
Angela admits that she always has a story in mind when faced with a blank canvas.
"There is always a narrative", she said. "Partings and Greetings was based on watching people come and go at airports in the departure lounge and noticing that some people are happy, some people are sad, but the wonderful thing about it is that it's real emotion. So much of life is manufactured emotion and this is real and raw. He is envious as she's going away, where as she is happy because she is embracing going somewhere new.
"Then there is 'I look in the mirror and see that it's me'. All women hate shop windows as you walk past and you look three pounds heavier than you thought you were. I painted 'A Moving Experience 'after we moved. It was very difficult to leave the family home we'd lived in for so many years. Doing a painting of it actually helped me to get over that thought of leaving somewhere. It's about the feelings as you leave and someone else comes in, and that transition."
Angela regularly travels to her second home near Pescara on the south coast of Italy, where she also teaches art classes. It was an Italian festival that inspired her most recent painting, 'Save One for Me'.
Angela said: "I'm a great people watcher and I see their emotions. This particular painting is about the differences in being adult and being a child. The adults are celebrating - the Italians celebrate everything from the first wine to the last olive oil - and here they're celebrating these tarts. The little boy is looking and thinking 'Oh no, there are five tarts but there are six people' and suddenly this lady comes on with another tart. It's about being a child and longing for things that for grown ups are really not important."
If you're an artist of talent but not time, it may give you some comfort to know that it is only recently that Angela devoted herself to art. Having studied at Epsom School of Art, Angela spent twenty years working in London as a graphics designer and illustrator. A ten year spell in marketing followed.
"It was a sensible job with sensible money", said Angela. "But somewhere along the line I was losing my soul so when we (moved to Horsham) it was time to get back to doing what I love doing, but to do it with my own brief."
Moving away from representational paintings and armed with a neatly arranged image portfolio of work by her favourite artists - including the likes of Sir Stanley Spencer, Giovanni Meranghi, Angelo Maggi and Richard Sorrell - Angela developed her own style.
My early style is very different - it's very representational but it was the sort of breeding ground for where I subsequently went. "I've gone on a journey really, but I felt that when I started to paint full time I needed to find my own voice, because a lot of people can do representational painting. You look at any artist and they all start their journey by being representational and then finding their place from there.
"I think that a lot of artists become a one trick pony but at the moment I'm going in all sorts of areas. It's still all about the enjoyment is gives me. Absolutely. I can lose myself in art - I put my music on loudly and off I go and then the day is gone and my poor husband is saying 'where's my supper?'."
For now, these colourful depictions of characters and emotions are what Angela enjoys painting. But many artists will sympathise with her need to balance her own creative and artistic ideals with the need to make money. Whilst there's been a prolific output from Angela's studio in the past two years and her work has many admirers, selling work is difficult, and if the sales dry up Angela may have to make a tricky moral decision.
She said: "I don't know where my art will go, we'll wait and see. To some extent I'd like to sell more work than I do and I know at the moment people buy landscapes and boat paintings. It's whether or not you are willing to sell your soul a bit, which at the moment, fortunately I'm not. But how depressing will it get if in five years time I'm not selling enough work? Do you sell your soul and start banging out seascapes? I hope not. I thoroughly love my work at the moment. Some people love painting boats of course, so I don't want to knock what they do - it's just not me!"
She added: "For me, art is more developed in England than in Italy. You lift any stone in England and there is an artist under it. It's very much something that people gravitate to as they get older, which is lovely. I've been very cheered by moving down to Horsham and this area as to how much talent there is down here. A lot of it isn't necessarily grouped and recognised.
"I'm very realistic about my work, because probably 85% of people walk straight past it, it's not their thing, they like landscapes or whatever, but then I'll get the 10-15% who are really interested. That's just the way it is."
For more on Angela's work visit https://www.angelabrittain.co.uk/