Horsham Artist Angela Brittain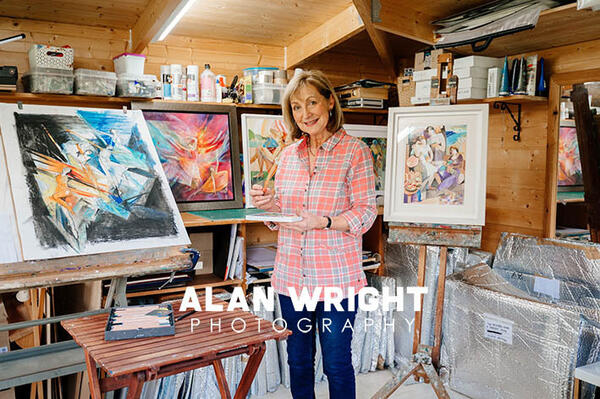 There is something about the art of Angela Brittain that looks immediately familiar. Yet while the influence of great artists is apparent, distinctive tones and a sense of movement make Angela's work instantly recognisable.
Angela featured in the very first edition of AAH back in 2011 and a decade later, the Horsham artist continues to captivate with her unique style.
"I should have been born in the 1930s," she says. "Most of the artists that I admire and have inspired me were prominent at that time. However, my love of art began with Paul Gauguin. The composition of his work draws you in and when you see it, you can imagine what he was thinking at the time. I'm a fan of Stanley Spencer and David Hockney too, as they have a similar graphic style with an incredible expression of colour, which is what excites me as an artist."

A key component of Angela's abstract expressionism is her stylised figures, which are carefully considered and created with vector lines. "Vector lines help move your eye from one area to another and create focal points," she says. "The lines are obvious, but that's how I like it, as it creates the shapes of people and the space between them."

"I like working with related colours too, usually introducing an accent colour alongside them to offer a contrast and something that screams out at you. Because of the composition and the forms my figures take, much of my output may seem similar. But I do like to try new things. One recent painting, The Yellow Chair, was very different as it didn't have the same movement and had much bolder tones. People wouldn't necessarily think it was one of mine. I like the freedom of not being pigeonholed."

Art With Context
Lockdown has given Angela the opportunity to be more creative with her ideas. However, it's not been a great time from a commercial perspective. "My work doesn't sell well online," she says. "People need to understand what I'm trying to say in a painting. When it's presented as an online image without the context, it can't project the story behind the painting."
An internet image also gives little clue as to the preparation behind each painting. Angela will spend weeks meticulously planning a piece before committing to the final work. This process includes sketches and experimenting with various colours. She then uses an old-fashioned, wind-up machine to enlarge sketches while keeping everything in proportion.
Angela says, "My latest painting expresses the joy of dance, so it's important to capture freedom and movement. I start with sketches to capture the right dimensions, then think about colours. Once I've tried two or three different colourways, I decide whether to do the final piece with oils, acrylics or watercolours. I feel like a real artist when I'm working with oils though!"
Italian Adventures
Angela is now an Associate of The Society of Women's Artists and contributes to its annual exhibition. Her work has also been exhibited at The Russell Gallery in London, while four paintings have been bought for a new gallery in Wisconsin. She continues to support local art groups too, exhibiting at The Sussex Art Fair and with the Association of Sussex Artists (ASA).
Angela is also a member of Horsham Artists and welcomes visitors to her studio in July, as part of the group's annual Art Trail.With a second home in Abruzzo, Angela has also organised painting holidays to Italy, leading small groups of local painters to meet Italian artists to enjoy painting, culture and cuisine. This passion for helping others improve their artistic skills led to art workshops too.
Angela continues to paint daily and ideas can come from anywhere. She says, "It may be something I think, see, read or hear. One recent painting was inspired by Horsham Park. People were reading and enjoying picnics as cyclists rode by and I wanted to capture the ways we share the space. Commissions are welcome too and I'm always interested in a challenge, especially larger paintings. I still love what I do and am as passionate as ever. I step inside the studio and I'm in a little world of my own!"

Angela will be involved in the Horsham Art Trail on 3 - 4 & 10 - 11 July 2021 and exhibits at the Ashgate Gallery in Farnham, Surrey, from 12 June - 24 July 2021.
(Published June 2021: Words by Ben Morris/AAH)