Danny Fuller's Devilfish Collectibles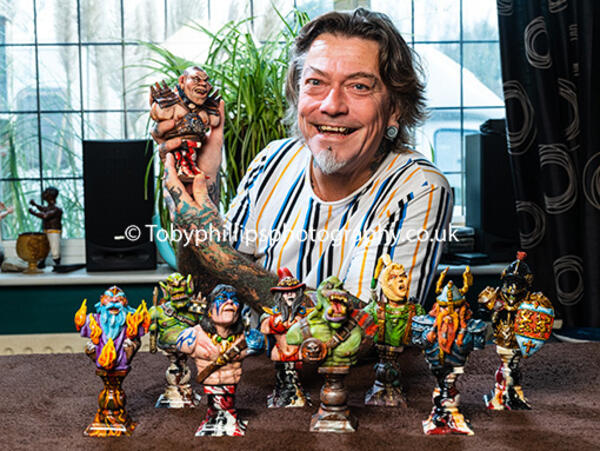 Published on 1st January 2021
When Danny Fuller last appeared in the pages of AAH in 2012, it was in recognition of his skills as a tattoo artist. He has since turned his hand to model making, with a new range of figures inspired by his interest in the realms of fantasy. Danny describes his journey in the own words...

TATTOO LEGACY
Many people know me from my time at Red Dragon Tattoo & Body Piercing Studio in East Street, Horsham, where I left six years ago. I became a tattooist at the age of 20 and retired at 55. After 35 years in the profession, tattoo art didn't give me the thrill it once did. Everyone seems to want the same designs!
I was the first person to establish a tattoo academy, teaching people how to become a tattoo artist. People visited from France, Italy, Germany and all over the world. One man visited from Madagascar with a servant! The academy was very successful but when others offered a similar service, demand started to wane.
I have other interests and hobbies that I wanted to spend time on. I love to travel and explore in my Camper, and have developed my painting skills. There's a lot of variety in my art work, from religious imagery to character portraits. My recent paintings focus on Napoleonic battle scenes. If I've made or created something, then it's been a worthwhile day as far as I'm concerned, whether I get paid or not!
Another passion is model making. I've collected and painted small Games Workshop fantasy figures since I was a boy and have long had the idea of creating my own, on a bigger scale. The idea is that you can work on them without needing a magnifying glass! The first lockdown gave me the opportunity to try. Three months is a long time and I wanted to get something positive out of it, besides drinking homebrew and watching Netflix. I set myself a goal of creating ten figures, mainly for my own benefit. If others liked them, that would be a bonus!

USUAL SUSPECTS
The characters are the usual fantasy icons. There's an orc, goblin, elf, dwarf, knight, ogre, barbarian, male wizard and female wizard. I plan to do some special characters too, including an executioner and vampire.
Most collections that are out there are based on films or television shows, be it DC Comics, Marvel, Lord of the Rings or Game of Thrones. There are very few original figures of this size available, so I hope there's a market. It's been fun making them; with a model of Elvis or Batman, you need to create a perfect likeness. But with a goblin or orc, there's no limit as to what you can do!
The same goes for painting the models. They come with very limited instructions. All you need to do is put the head and accessories on and then paint. Each model comes with a colour picture of a painted model, but I love seeing what other people come up with, as there are no rules. If you want green skin, no problem! I gave a few models to friends of mine and it was great to see the variety in what they created.
Each model has interchangeable heads. Having two heads is one of my unique selling points and there's scope to add more heads in future. They are solid and robust pieces, with some weighing half a kilogram. They are bigger than most models too, at about 11 inches. That gives me the room to add more detail and accessories including clothing, armour and weapons. The models have a plinth too, so they can all be displayed.
It takes many hours to create each model. They are made with a Polymer sculpture clay, which is a great material to shape. Defining the facial quirks and wrinkles is where each figure gets its characteristics. Certainly, my experience as a tattoo artist comes in handy in that part of the process. Adding textures in the outfits is fun too. I try on real items of clothing at home to help me get everything right! Often, it can look like a mess, but suddenly everything will come together!
BOARD GAMES
From the outset, I had the idea of the figures being part of a board game. The game concept is still in the development stage, but the idea is that you have bands of adventurers that move around a board, with each one having different powers.
I went to a board game club night at The Moon in Storrington and was amazed by the range of great games being played. There were games with zombies, fantasy characters and even toy cars. The idea of coming up with one of my own is exciting.
As well as the fantasy figures, I've made a model of a tattoo parlour. There's a famous painting by Norman Rockwell called 'Tattoo Artist'. I love it, for obvious reasons. It depicts a tattooist adding another woman's name to a long list on the sailor's arm. I made a three-dimensional model inspired by it. Shaping the figures, furniture, tattoo machine and other details took me months, but when I posted photos of the finished piece on Facebook, I had about 500 likes. My first customer was a tattoo studio in Australia!
I have another idea for a model, inspired by a picture of God and the Devil playing chess. The idea is to re-imagine the scene as a game of poker, with chips piled up on the table. I'm pleased to have a small business that keeps me busy and isn't expensive to run. Even if nothing much comes of it, it's kept me occupied. Having something creative to do after you retire is important. Some people work in an office during their entire career and when they retire, don't have a hobby. Having something creative to do beats watching TV, that's for sure. Some people see paintings and say, "I could never do that!" But it's just about giving it a go and keeping trying again until you improve.
Visit Danny's website at: www.devilfishcollectibles.co.uk
Email: contact@devilfishcollectibles.co.uk
www.facebook.com/devilfishcollectibles
WORDS: BEN MORRIS
PHOTOS: TOBY PHILLIPS