Ceramics Good Enough for Leonardo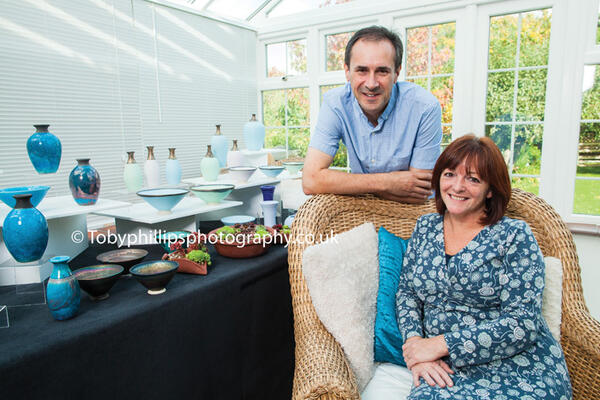 Turquoise is, apparently, a very trendy colour at the moment. One fashion magazine recently declared that it is now "okay to use turquoise", to the great relief of Aston Villa football club, parakeets and tropical island beach resorts.
It's also timely for Keith and Debra Menear, as the turquoise Raku ware they produce from their home-based studio in Storrington has found many new admirers. It even attracted the attention of the organisers of the Leonardo exhibition at the National Gallery in London.
Raku ware is not all that Menear Ceramics is known for. Since forming five years ago after Keith was made redundant, the husband and wife team have created terracotta pots, porcelain decoration, stoneware bowls and
alpine planters. However, it's been an unusual path into pottery for the couple, and Keith in particular.
"I had done adult education courses in pottery in Welling Garden City after University," said Debra. When we moved to Horsham in 1986 I found an evening class at Forest School. So I went there and dragged Keith
along with me. Somebody at work knew that I was interested in pottery and told me of someone who had a wheel
and a kiln that they wanted to get rid of, so we picked them up and got into it that way."
But for many years it remained a hobby. Debra worked for Royal and Sun Alliance and Keith was at Novartis. Debra left work to have children and was able to spend more time doing pottery. But five years ago, when Keith was made redundant, the Menear family had a difficult decision to make. Keith said: "We had to decide if I was to go back and do what I was doing before - I'm a chemist by trade – or do we do something a bit more life changing.
"We had faith, perhaps naively, that we could sell these things that we were making. Up until the point when I made a commitment to do this pretty much full-time, we had not sold anything. It was a leap of faith. But it was something that we felt we had to do. "We did a show at Lancing and started to take a stall at various craft fairs just to get a feel for where the market was. There was a lot of good feedback. We used to make just brown pots, because I used to like them, but you have to realise that people like different things.
"We started off with brown bowls and realised that they were not commercial. We had a few items on the stall that we had made incidentally and people had picked up on them. That was the Raku ware, which we learnt from potter Ben Barker.
"Raku is a technique where you take the pots out of the kiln when they are still red hot and you put them into sawdust, and they catch fire. It's the interaction between the flames and smoke that gives this copper, turquoise pattern on the surface so each piece has its own unique pattern. People tapped into that and liked that."
Raku originated in Japan in the 16th Century. It is said that the fired tea bowl first came into being when the Japanese tea master Sen Rikyu asked the tile maker Chojiro to make him a tea bowl for a tea ceremony. With these tea bowls, Chojiro subsequently became the first generation Raku ware master. Up until Rikyu, a tea bowl was always Karamono (Chinese things) or Kouraimono (Korean things). So Rikyu's Raku tea bowl was the first one ever made especially for the tea ceremony.
"It's a slow method, "said Keith. "You have to pluck out each individual pot whilst they are red hot. It's not a method that can be used to manufacture large numbers so it lost favour. Now it is being resurrected. It's such a dynamic way of generating interesting surfaces and lots of studio potters have adopted it."
"We had the Raku ware on our website and the National Gallery was looking for a range of ceramics to match the colour palette for the Leonardo exhibition. So they contacted us and asked if we could take them some samples, which we did.
"They selected a couple of designs and sizes they were interested in so for the duration of the exhibition we supplied items for the Gallery shop. They were selling from £25-£50, which was a price range they were
happy with. It was good to get exposure as obviously there was a lot of publicity for the exhibition and all of the queues were adjacent to the shop and we were in a nice, prominent position."
The raku ware has also featured in an exhibition at Horsham Museum and Art Gallery, along with alpine planters made by Debra. The Menears have also displayed at Green Tree Gallery at Borde Hill Gardens, The Forge gallery in Walberton, Oxmarket Gallery in Chichester and The Cooper Gallery in Barnsley.
But since starting the business, they have both excelled in different skills and continue to diversify. "Keith is far better on the wheel than I am," admits Debra. "Most of my work is hand-built and Keith's work is done on the wheel. We've tried to keep the work separate, so that I don't make the same pots as he does. So I say 'hands off terracotta pots' as that's my area. So although we are a company we have our different areas of expertise.
"The business was initially ceramics and plants, as I had an interest in growing plants. I always found that the ones available at the garden centres were plain and a bit dull and I thought I could make them better myself. I didn't want to do round terracotta pots – I wanted to do something quirky and different and more decorative. Because of the pots, we can sell at plant fairs as well as ceramic and craft fairs.
"With the Raku ware we've been fortunate that turquoise is a big colour in home furnishing at the moment, which has helped us I think. There is an element of doing what we want to do but there is a commercial side to it as what you make needs to sell. I've just started working in porcelain and the Christmas decorations are selling very well. I want to get more into porcelain andmaybe get into the wedding market."
"We do a stoneware range in pastel colours as well, "adds Keith. "We sell in three colours – eggshell blue, lime green and a pink. We tried to develop a colour range of soft matt glazes that we make ourselves. Because of my background as a chemist I like to experiment with glazes. We have some new prototypes and every year I try to develop at least one new glaze. There are always different techniques we consider. We've taken some of the techniques that glass blowers used in the early 1920s to create an iridescent surface on glass and applied it to ceramics.
"They used to make glass vessels and fume it in an atmosphere of tin chloride at about 600 degrees. The tin chloride would evaporate and form clouds of tin vapour and that would sit on the surface and give this 'oil on water' affect. It's a known technique but we've used a different glaze and developed our own range. That iridescent effect is something we'll be exploring further. Some people really like it but others think it's a bit too much!"
After five years, it is still difficult to generate business. Debra has noticed that there are fewer people treating themselves at the moment, and many artists have a similar story to tell. But with Keith still bringing in an additional income though consultancy work, the Menears have no regrets about going down the art route.
"I think we've done the right thing," said Keith. "We started the business at a bad time – just before the world's banks imploded! But if you always wait for the right time you won't end up doing anything."
For more details visit the website at www.menearceramics.com