Alison Milner-Gulland: A diverse Collection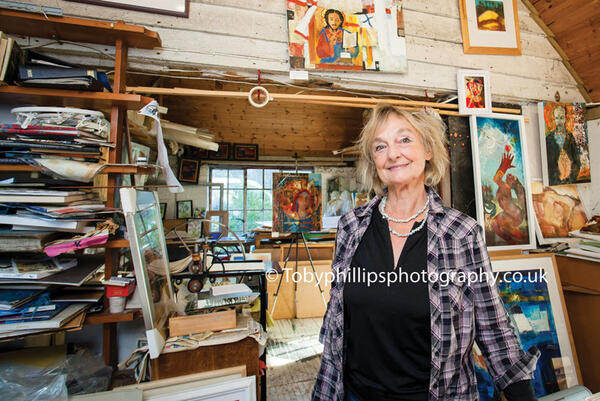 It's difficult to define the work of Alison Milner-Gulland. We are talking about an artist who uses lava from an
Icelandic volcano to create a ceramic fruit bowl, and an old brick mould to frame work at a forthcoming exhibition.
One piece is constructed using small wood blocks taken from a skip in Partridge Green. Once, Alison was told by a friend that she could take her pick of items from a shop he owned which was closing down. She walked out with only small test plates.
On another occasion, having thrown an old door that was blown off a shed on to a bonfire, Alison had a brainwave and retrieved it to use as a canvas for a painting featuring London and Syria rioting, and an angel. It's what makes Alison one of the area's most intriguing artists.
Alison works out of a studio on a quaint family farm in Washington where even the animals contribute to the art – Alison uses a goose quill to draw out the images in her ceramics. It's an idyllic setting and one that Alison utilises. Chanctonbury Ring (and its devilish stories) features in several paintings, as does the sand quarry at Rock Common.
She said: "I have a farmer friend with an airstrip on his land and finally I agreed to go up in a micro-light. We went above Chanctonbury Ring, and we could go even higher than normal as I'm so light. What I see dictates what I do. I have a whole load of sketch books from travelling and when I come back something appears. I make a mess on a piece of paper and then work into it, but in the back of my mind I have an idea. The mess sets me off. I never have a plan!"
Alison studied art at Birmingham College of Art and Craft and then developed printmaking skills at Brighton and Northbrook. Having left education, Alison taught at a school near Andover teaching many boys that were classed as 'beyond parental control'.
She recalls: "Some of the pupils were difficult. I was assistant matron, as well as an art teacher and anything else I was asked to do, and on my first night they said 'one of the boys has just thrown a master out of the third storey window, you're on big boy's bed duty'.But it was a very rewarding job. I then went to a Convent in Ascot, and I have to say the boys were easier to work with."
Alison then taught at Cumnor House in Danehill before taking on a freelance assignment, illustrating French and Russian educational books. Throughout that time she has enjoyed travelling and painting, but it is only in recent years that Alison has dipped into pottery. Already, there is much that catches the eye. I don't know about ceramics but I do know about drawing so I draw on to a piece of clay and put it together," said Alison.
I thought I would start painting on clay for a bit of fun about four years ago. I buy most of the clay but I have taken some from the side of the barn on the farm. Everything is fired at 1,200 degrees but the clay from the barn goes black at that temperature so I have to paint it afterwards. There are all sorts of things I use for inspiration. I was sitting at a restaurant in Brighton and the waiter came along with a punk hairstyle, so I drew him on a napkin
underneath the table and ended up putting him on ceramic!
"I'll be displaying at the Annual Open Exhibition of the Society of Graphic Fine Art in October, and I'll be submitting a ceramic piece. It'll be the first time they haven't had anything that wasn't on paper so they're in for a bit of a shock!"
As well as being a member of the Society of Graphic Fine Art, Alison is involved with the Southern Ceramics Group and Sussex Watercolour Society. She has also exhibited at Workhouse Gallery in Chelsea, Mall Galleries in London, Barn Galleries in Henley-on-Thames and the Royal Institute of Painters in Watercolours.
The range of Alison's work is quite extraordinary. There are oil and watercolour paintings, collages and prints. In some images she uses the raw pigments that the Russian Icon painters used, and Russia is one of the countries to have most influenced Alison's work.
"I've been to Russia a lot," said Alison. (My husband) Robin was a Professor at the University of Sussex, and he translated work by Yevgeny Yevtushenko so we travelled there often. One of my paintings is based on a door that I saw in the Russian city of Astrakhan and the notice above it translates as 'this way to the old woman'. The piece of paper has an extract from Dostoyevsky's Crime and Punishment which translates to mean that men are able to adapt to any situation."
"I went out to Syria at the beginning of the troubles. I do lots of scribbles. I drew these two little boys in Hama, and now you wonder if they are still there? Are they all right? Some of these things are nearer home. I saw a boy begging in Oxford and I asked if I could draw him. He agreed and I paid him for sitting and I added newspaper and magazine cuttings about the homeless to the background. He hasn't seen the portrait as I didn't do it on the spot.
"I've also been to Iran, and everywhere you go you see things. I don't paint to sell – I do it because I want to say 'look, I've seen this, look at it'. It either sells or it doesn't. Some will see what I see and if they don't, well tough!"