Hannah Stewart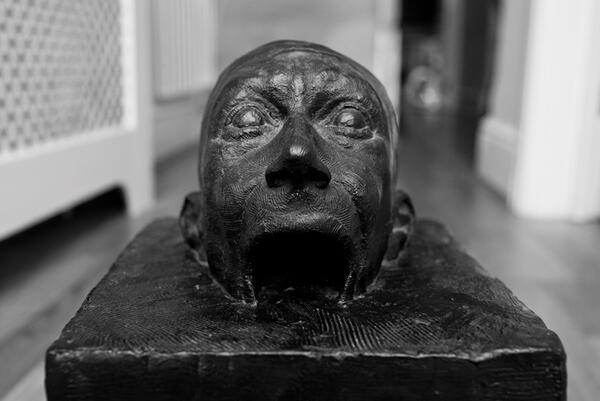 You probably know more about Horsham sculptor Hannah Stewart than you think you do. That'll almost certainly be the case if you have ever taken your children to Horsham Park to play in the maze, which features as its centrepiece the St Leonard's Forest dragon.
Meanwhile, Southwater residents will know that a statue of an Iguanodon sits in the centre of Lintot Square.
Hannah Stewart is responsible for making them both. At Hannah's Horsham home, you'll also find artwork based on lizards and snakes, but her work is not restricted to reptiles, dinosaurs and mythical monsters.
In fact, Hannah's most striking work is based on human emotion, inspired by the likes of her long time hero, Messerschmidt. Works in her 'Head Series' attract a wide range of interpretation. Works such as Happy Days, Inevitable and Screaming Head combine expressive human faces with geometric shapes and are every bit as intriguing as Hannah's larger, commissioned works on public display.
Hannah said: "I like doing different expressions. Take Happy Days. It's meant to be a very peaceful image. I like to combine animated heads with geometric forms to create an emotional whole. Hopefully the dynamic formed between the head and the geometric element highlights the emotion, which is open to different interpretation. With Inevitable, some people see the person as going down, while some see him coming up. A few have responded to it humorously, relating the piece to how they feel at work!
"People have said that Screaming Head looks African, but it's actually based on my head. That's often the case, simply as I'm around to be a model! I also have a Rapunzel sculpture on the wall. It's playing around and combining the animate and the inanimate, taking out what is not necessary and leaving just the essential
elements."
Hannah goes through a time-consuming routine for each of her sculptures. Firstly, she models in clay, and that clay model is eventually cast into bronze using the 'lost wax' method. A mould is made of the original model, with a rigid outer mould and a soft inner mould which has the exact negative of the original model. Molten wax is then poured into the mould, swished around until there is a thin even coating about 3mm thick. The wax is then burnt out and the bronze poured in to the empty casting mould.
Much of the casting process is carried out by Bronze Age Sculpture Casting Foundry in London. This method of creating bronze sculptures is one of the reasons why the art form is difficult to teach, and Hannah recalls being frustrated by the lack of opportunities.
Hannah said: "I've always liked making things and taken a keen interest in sculpture. When I was young I was always making things with paper mache and as I moved on to Secondary School and Sixth Form I was frustrated as there wasn't many opportunities to do three dimensional work."
Hannah now works on her art in between being a mother to two young children. A recent commission for Mr Toys Flying Wok in Worthing saw Hannah created a five foot high sculpture of Mr Toy with his wok, with the added complication of noodles! It is one of the artist's biggest sculptures to date, although still not quite as big as the three metre dinosaur in Southwater.
Hannah said: "That was the largest sculpture I've ever done and I'm very proud of it. Southwater had grown very big without naturally developing a heart, and Lintot Square was about creating that heart. The sculpture helps inform people a little bit about their history. Iguanodons used to walk all around this area 135 million years ago, and the sculpture helps celebrate the brick making industry which helped make Southwater prosperous, as well as dinosaurs."
As well as sculptures, Hannah likes to draw, and her sketches of the Southwater Iguanodon were recently up for auction at Toovey's in Washington. But it's the sculptures that continue to get people talking, and Hannah hopes that she can soon exhibit in the Horsham area. In the last few years I've been concentrating on commissions and raising the children but there will be exhibitions soon", she said.
For more examples of Hannah's work, visit her website at www.hannahstewartsculpture.co.uk
For commissions and other enquiries call Hannah on 07946 433563 or email hannah@hannahstewartsculpture.co.uk