Nigel Emery's Nifty Artistic Flair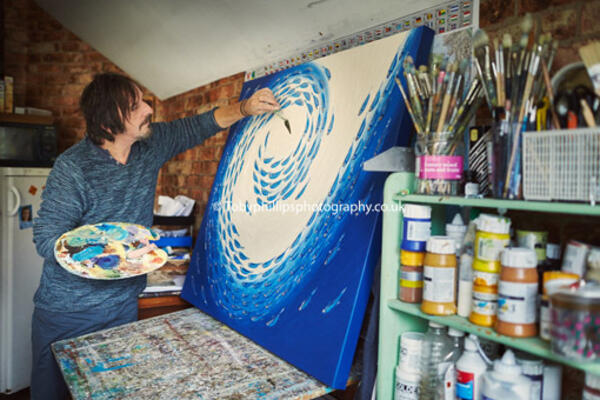 When I first walked into the Nifty Gallery in Storrington High Street, I was struck by the vast variety of art displayed. First to grab my attention was the abstract paintings of fields of cows or sheep, as well as the bright colours in pictures of geometric houses.
Then I saw some beautiful landscapes, inspired by the coastal towns and Sussex countryside, including the wonderfully thick textures in a painting of the Seven Sisters. This artwork was in total contrast to several playful, almost childishly-retro paintings of food and drink. With further exploration, we came across several botanically-inspired paintings of passerines but with bold, brash backdrops, and hypnotising canvases depicting a swirling shoal of fish.
I wondered which artists were exhibiting, and whether or not any were from the Horsham District and possibly up for a feature in AAH, when I was approached by the manager. With his 'goatie' beard and continental casualness, he couldn't have looked more French. But he's not. He's called Nigel. More remarkably, all of the work on display at Nifty Gallery came from his own brush.
When I expressed surprise at this revelation, Nigel Emery responded in a way that suggests my reaction was typical of new customers.
He said: "Someone once said of me, 'Nigel Emery doesn't really know what he is as an artist.' "I thought about that comment for a long time, analysing what they meant. In the end, I came to the conclusion that I'm a different
person every day, as we all are. "Sometimes, I wake up and feel happy, and other days I wake up and feel tired. Every day, I have thousands of ideas, like we all do.
"The only difference between me and a lot of other artists is that I physically try and put those different ideas on to a canvas. Life is a rich tapestry of many things and I want to explore as many as I can. I don't want to be limited to solely painting abstract seascapes.
"People are surprised that all the work is by one person, but I still think there is a consistency in the colour, light and life of the work."
CITY STICKERS
Whilst there are numerous artistic styles evident in Nigel's body of work, from impressionism to pop art, his career as an artist took off thanks primarily to a basic concept of mixed media collage.
His bright, colourful depictions of cities - including New York, Havana, London and Brighton – are created through a combination of photos, meticulously stuck in place with geographical accuracy, as well as overlays of paint.
It was an idea that Nigel explored whilst at his first gallery on Brighton seafront, and one he has revisited recently whilst based in the South Downs village of Storrington.
"Back in the early 1990's, I worked at a patisserie in Hove, but waking up at 3:30am didn't really suit me," said Nigel. In those days, the baking industry was in decline as hot bread shops were opening in supermarkets, and it was difficult to find work. I needed a change anyway, so I decided to stop working and take up full time painting.
"One day, I had a moment of inspiration. I sat down, cut up some photographs and assembled them in a collage form to create a picture. I sat back and thought 'that is exactly what I hoped to achieve.'
I didn't realise at the time, but that afternoon's work would lead to a successful period for me in collage paintings.
"I started travelling all round the world, collecting rubbish off the floor, flyers, business cards, anything that caught my eye. Then I would come back and paint a series of paintings of that area, be it New York, London or India.
"After a few years, in 1995 I opened a gallery on Brighton seafront called Flotsam & Jetsam. I was one of five children and that is what my mother used to call us! This was in the days before Brighton council invested in
refurbishing the seafront, so it was typically dropout hippie types opening up studios in tiny units that were cheap to run. They were great days!"
For the best part of a decade, Nigel created his mixed media collages. But he then decided to develop his painting skills. Recently, 20 years after shelving his collage range, Nigel has decided to go back to his roots and make some more. "I love the naivety in them," he said. "We all have a child in us, which we never really lose, and I loved going back to this old idea.
"I went up to London and took about 1,000 photographs, but when I started assembling them into a picture, I found that I didn't have enough! We ended up going back, hopping on sightseeing buses and Thames cruises and taking about 3,000 photos, then presenting them in a very naive way.
"Everything is there on the work, and every picture is in the right location, which is difficult to do. When you go to London, you don't really build up a sense of where famous landmarks are in relation to others, so thank heavens for Google Earth!"
RURAL ABSTRACTS
Whilst the collage work may bookend Nigel's artistic journey, the body of work in between is fascinating for its sheer variety. Moving from Brighton to Storrington has also had an influence, with the South Downs featuring heavily in a number of wonderfully colourful abstract paintings.
Nigel has been running Nifty Gallery in Storrington for seven years, having chosen the village purely on the basis that it was within half an hour's drive of Brighton and happened to have the right size unit available for the right price at the right time.
He said: "When we first turned up in the village, people I know said 'What are you doing?' But Storrington has changed, with some nice cafes and interesting shops, and not just old men's shoe shops. Since moving to the countryside, I have done a lot of geometric cows and sheep. I used to create a lot of square houses incorporating the sea, but when I came to the countryside, I saw that a field of cows can also appear to be quite square. So the animals and the fields became abstract shapes and works just as well.
"Another theme I visit regularly is my spiral fish paintings, which I have been doing for about 15 years. A lot of
people really relate to that watery world and the piece is very restful. Over the years, I've improved my
technique with this particular painting. It gives off a pearlescent scene, so they are slightly sculptural as it does change as you walk around it. The idea hasn't changed much, but oddly I've never fallen out of love with the spiralling fish.
"I do tend to see things in abstract quite clearly. I struggle more with figurative work as I have to pay more attention to what I'm doing, but with abstract it doesn't need to be too serious. You can paint for the joy of it.
"I believe that, if somebody is showing real enthusiasm for what they are doing, then it can never be seen as selling out. If people are showing enthusiasm for the art you are producing and are willing to pay for it, then that does wonders for your enthusiasm."
CHANGING TIMES
As well as exhibiting in the south of England – including The Jeremy Sanders Gallery in Eton, 101 Gallery in Devon, St Raphael Gallery in Piccadilly and Clear and Sound in Brighton – Nigel has successfully exhibited in Kuala Lumpur, Malaysia.
Nigel is now well settled in Storrington, living above the shop with colourful paintings of Havana and Manhattan decorating his living room. But it may be that his future lies in sunnier climes.
Nigel said: "It's important to remember that the purpose of a painting it to enhance a living space. That is what people are looking for; something up that they can react with every day in their home. That has not changed, but the way people buy art has changed.
"When I first started out, there was no digital technology. Now, the internet has changed how we shop, as you can be in a field in the middle of nowhere and look at my gallery and buy art. So we see a lot of people coming into the Gallery, looking but not buying anything. Then they will usually go home, have a think and buy it online!
"It means we don't sell much here, but I couldn't have the internet sales without having the gallery space. I've always needed somewhere my work can be accessed by the public."
"Storrington has been good for me, but there comes a point when things have to change. I have thought about setting up a studio in the Mediterranean, as every now and again, we all need re-potting and then you can grow."
You can visit Nigel's website, and view some of his fascinating art, on his website at www.nigelemery.com
or visit the shop at 48 High Street, Storrington, RH20 4DU.