CLAIRE PHILLIPS: THE STORY-TELLER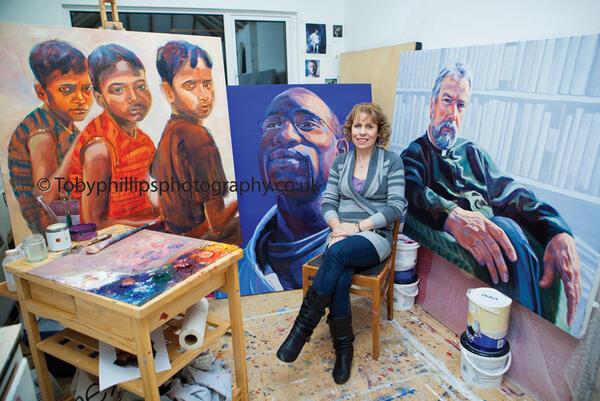 Every picture tells a story, goes the old saying. When it comes to art, the stories in some pictures are very much open to an individual's metaphoric interpretation. But that is not the case with the work of Claire Phillips.
Claire uses her talents for art to highlight the plight of people across the world, painting subjects who have extraordinary stories to tell.
To a certain degree, the paintings serve a similar purpose as a book or news article, telling a human story that would otherwise remain unknown to the world. The Partridge Green artist has recently started work on a series of about a dozen paintings for an exhibition in the summer of 2013. Her subjects are children working as slaves in India.
Claire said: "I went to India last November with my husband to work with a charity called Bachpan Bachao Andolan (BBA) which rescues children from slave labour conditions. We stayed in children's homes and heard these stories from children aged just ten or eleven who are working fourteen hour days, being fed only rice and earning no money.
"Their parents are told that they will be given an education and will have a better life. Parents think they are doing the best thing for their children but then they never see or hear from them again."
Claire is not afraid to tackle the big subjects. Perhaps her best known series of paintings are the 'Death Row' images. Claire went to America and visited people on death row who have long-maintained their innocence. In some cases, there is overwhelming evidence to support their claims and yet they remain in jail.
She said: "At the time I was just painting people who I thought were interesting - interesting characters or interesting visually. I was a supporter of Reprieve, which provides legal representation for people on death row who they feel are innocent or didn't get a proper trial. I painted Clive Stafford-Smith OBE, who is the legal director of Reprieve, and he just really interested me. He is a posh, public schoolboy who could have taken his
fantastic brain and made lots of money as a commercial lawyer. But he chose, aged 17, to go to America.
"He thought he'd be a journalist and report on death row, but realised that they really needed lawyers. So he trained as a lawyer in America and dedicated his life to helping these vulnerable, mainly black men with no money, get fair trials and get the justice they deserved.
"One day, Clive brought Ryan Morley over to the UK. He had just been released from prison having been proven innocent with a DNA test. I spoke to his mother who told me how desperate she was, how she had no education, no money and no one would believe that her son was innocent. Reprieve came in like angels and saved them. It took five years but they did get him out.
"I spoke to Clive and he told me to use whatever talents I have to raise money and awareness for the cause. I didn't have any more money to give and I couldn't be a lawyer so I thought I could tell some stories through my art."
Images from the death row series are included in an exhibition at Horsham Museum entitled 'The Revealing World of Claire Phillips: a Retrospective.' The exhibition includes portraits of Sir Charles Wheeler, the celebrated BBC journalist, and his son-in law Boris Johnson. Horsham Museum has bought the image of the late Charles Wheeler, who lived in Warnham.
Claire said: "I met Charles at Reprieve, where he was patron. He just had the perfect face to paint, full of character. I asked him and he was very happy about it and asked me up to his house. He was going to open one of my exhibitions but died shortly before it opened.
"Boris is again someone with real visual character. I got in touch with him and he said he would sit, and so I went up to the House of Commons. I took lots of photos and talked to him, trying to get an understanding of who he really is. I must have had 100 photos and I kept going through them but none of them shouted 'Boris' at me. Then I spotted the one that I used with the shoes with the holes in and the crumpled look and it seemed to encapsulate who he was.
"I was sat talking to him at his desk and he was just fiddling about. He was kicking a football around his office, and he just swung round and put his feet up on the radiator and I was snapping away. The advantage of painting someone really famous is that when you exhibit them, other people know that it looks like that person. If I'm looking for commissions, if they see a portrait of your grandad, they might say they like that style but they don't know if it really looks like him."
Claire's artistic talent came from her father, a part-time amateur artist who encouraged his daughter to paint as a child. After having children, Claire started an evening class in Horsham with local artist John Thompson and developed her skills. John encouraged Claire to go on and join Northbrook College, and Claire graduated with first class honours in fine art painting in 2004.
Claire has an unusual and very thorough style of working. Not only does she spend a lot of time researching, interviewing and photographing her subjects, Claire also draws out each image in full in pencil, before committing the image to canvas. It means that she is normally limited to about 12 paintings a year.
"I get to know the faces, and when it works as a drawing I order the canvas," said Claire. "I lay the paint on thin and build it up. I use a lot of paint but I will often paint something, decide it doesn't look right and scrape the whole thing off and start again. You can do that with oil."
Her portfolio is nearly all portraits, although there is a painting of a horse in the current museum exhibition. But, at least until we see the images of child slaves in India, Claire will be best known for the incredible death row paintings.
The paintings can be viewed on Claire's website at https://www.clairephillips.com/