Lucy Ames: A Versatile Artist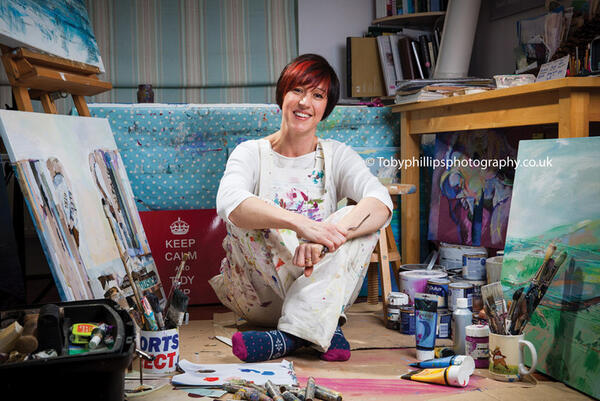 In the art world, a touch of insanity can do wonders for one's legacy. You could argue that some of the most famous artists of alltime owe as much to their eccentric character as to artistic inspiration.
Do Warhol's paintings sell for millions because they're a perfect interpretation of Campbell's tomato soup, or are we buying into the glorified celebrity-laden, Bohemian culture he encapsulates?
Would Vincent Van Goth have become so renowned if he hadn't chopped off his ear or battled poverty and depression in a French asylum? Perhaps both men are like a thick cream that has taken a long time to rise to the top. But without a shadow of a doubt, authenticity is a key word in the art world.
For some, art is sacrosanct, and the very idea of relating money to art is simply unthinkable. For these people, anyone painting for commercial reasons could not possibly attain a sufficient degree of satisfaction or self-fulfilment from their work.
Which is complete nonsense...
Lucy Ames has loved painting since she was at school, and has been running her own home-based art business for five years.
The mum-of-two is happy to admit that she paints things that are selling well and, rather than seeking approval from the purists, is more concerned with helping to provide a living for her family whilst very much fulfilling her own creative needs.
"It doesn't worry me that I'm creating art for commercial reasons," she said. "One of the things I enjoy most is talking to clients about what they want and working to that brief. I talk to them and design something, and I try to make it really personal to each person. I enjoy painting for other people as much as I enjoy painting for myself, so it never really feels like work. For me, it's the best job in the world."
With her two children at school, Lucy has plenty of time to focus on art, although she says that her most productive time is late at night when she can occasionally get so carried away that she works into the early
hours.
The subject of Lucy's paintings has changed too, even if the style has not altered dramatically. Lucy likes to work in a mess, usually painting on the floor rather than on an easel, and that freedom is expressed in the thickly textured paintings inspired by the likes of Leon Kossoff and Frank Auerbach.
But the focus has switched from watercolours, which were particularly popular in the 1980's, on to big floral images, then seascapes and city scenes. In one of Lucy's favourite pictures, high rise buildings in London have been painted over cuttings from the Financial Times newspaper.
More recently, there has been a move towards more abstract images of people and after attending classes tutored by Piers Ottey at Mill Studios in Ford, Lucy has also tried her hand at life drawing and collage.
She said: "I think my unique selling point is that I'm versatile and don't have a signature style. That used to worry me and I thought I needed a style so people could say 'oh, that's definitely Art by Lucy Ames'. But now I'm spinning it around, and my selling point is that one day I might paint a flower and the next day it might be a collage of Battersea power station.
"I think art is driven by interior fashions. There has been a comeback in floral wallpaper and bedding and the floral paintings just fit in well, so that is what people are looking for at the moment."
Lucy may now be doing what she always wanted to do, but it's taken a while to reach that point. She showed artistic potential at school, but her parents talked her out of trying to make a living as an artist. Instead, she studied business studies at University. It served Lucy well, although she admits she would personally have chosen a degree in Fine Art.
She said: "I became a business analyst, which was all about numbers and had no creative element at all, but I made a good career of it. I worked in the electricity industry and then at The Body Shop in Littlehampton.
"I reached the stage when I could afford to go part-time and did a Foundation course at Northbrook College in Horsham. It was brilliant fun, as I learned new techniques with textiles, sketching, painting, life drawing and even photography. I had the opportunity to experiment and the freedom to express myself.
"But I still had no idea as to how I could make a living at it, so I went back to being a business analyst. It wasn't until fifteen years later, when I was made redundant, that I was in a position to try it full time."
Lucy had been selling paintings to friends and family for over a decade and sales had steadily increased. Having established Art by Lucy Ames as a business at her home in Ashington, Lucy made a great start. Lucy's first exhibition was in the foyer of her previous workplace at The Body Shop and she sold 14 paintings and received eleven commissions.
"In a way, it was a false dawn," said Lucy. "I thought I would concentrate on corporate head offices. I negotiated to go to RSA in Horsham and Allianz in Guildford, and I just sat there day after day with nobody talking to me and nobody buying anything.
"That was a shock. I set off on a high, thinking it was going to be easy, but I realised that it was down to who you know. So I started networking and attending Sussex Women in Business and Mumpreneur (mums that run
their own businesses) clubs and that has really helped me to make good contacts.
"Now, I'm mainly selling through word of mouth, through people I have met and through networking. I also take part in Open Studio events with both Horsham and Worthing art groups. I'll be involved in the Horsham event this year as they are doing something different, with a weekend at Sedgwick House and a second weekend in the artists' own home.
"But local art can be difficult to sell, even when you collectively join forces. People tend to buy people rather than the art."
Next up for Lucy is a pop-up gallery in Swan Walk, next to Ann Summers, where her work will be exhibited along with art by Lesley Taylor, Steve Gubbins, Janine Creaye and Kezia Noel-Paton. The Gallery will be open for
five days from Wednesday 6th to Sunday 10th March and will feature sculptures, paintings, abstract photography and ceramics. Her art will also be appearing at La Source in East Street for a period beginning on 29th March.
Maybe some of Lucy's paintings will sell, maybe they won't, but Lucy can still go home to her two biggest fans."My children are proud that their mum is an artist. It's something that they can relate to, whereas as if you say you're a project manager it's not so interesting to them. They've always been really supportive.
"When we do the Open Studios or hold exhibitions I can hear them saying 'my mum did that' and that's nice for me to hear."
For more of Lucy's paintings visit www.artbylucyames.com