Botanical Artist Jill Coombs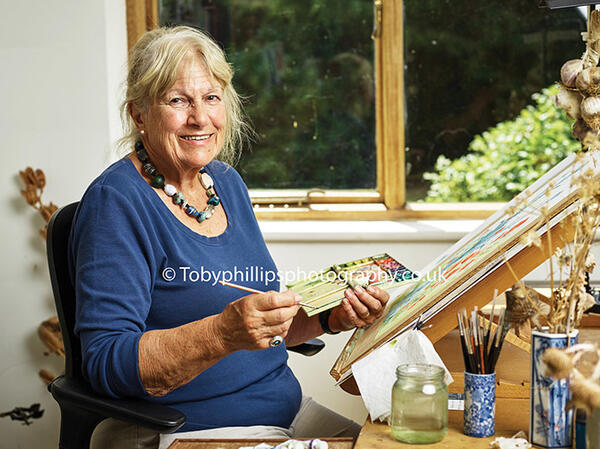 Published: 31st July 2018
My journey started...with studying ceramics and textiles at Art College. It was there that I first came across botanical illustration, in a book at the library. The idea of being a botanical artist appealed to me, but it took a long time to happen.I worked for an industrial design company and later, after I married and had children, became a teacher at Hazelwick School, Three Bridges. One day, flicking through a brochure for field study centres, I came across a course in botanical illustration. It leapt off the page.
Things took off...when I attended the course, at Flatford Mill. The tutor was Mary Grierson, artist-in-residence at Kew and one of the leading botanical artists in the world at that time. I loved the course, and met people who became friends for life. I was hooked! Mary was very encouraging about my work and suggested I should show my work at the Royal Horticultural Society's botanical art exhibition. At my first year of exhibiting, I won a silver gilt medal and followed that with gold the following year. Thanks to my success there, I applied for a position at Kew Gardens. I was awarded three golds for subsequent RHS exhibits and was the society's Orchid Artist for 1981, which meant I painted all the prize-winning orchids.

At Kew Gardens...the herbarium is filled, from floor to ceiling, with pressed plants from every corner of the world. My first job there was working on the flora of Iraq. It was a country I hadn't visited, but they had every plant I needed. Everything in the herbarium racks was brown, dry and unpromising, so I drew them all in black-and-white. We would boil the flowers for just a few seconds and they would soften up and miraculously expand to make them reasonably life-like. I completed 21 illustrations on the flora of Iraq and later worked on plants from East Africa and Egypt. I considered it a great privilege to work at Kew for over four years.
The origins of botanical art...go back a long way, as it's a very scientific art form. Joseph Dalton Hooker drew the specimens tha Charles Darwin collected on HMS Beagle and wealthy English estate owners would send people all over the world to collect plants and seeds and they would draw them in flower. Even since the dawn of photography, botanical illustrators are needed, as a photo cannot capture all the elements of a plant. A photo can capture the wrong colour, and a botanical illustration will include a dissection of seeds drawn from under a microscope. My work will often incorporate three different pictures on one sheet.
Botanical art is essentially...an intense form of copying! If you are drawing for a scientific publication and it's not right, they will tell you to do it again. A botanist must be able to identify a plant from your drawing, so the colours and details need to be accurate and everything must be measured carefully. It is a terrific discipline for an artist to spend so much time simply gauging scale!I love painting all plants, but I've often returned to irises, as I love its delicacy and colour. The poppy is another favourite as it has wonderful texture and seems to dance across the paper.

I drew illustrations...for a book of plant portraits, written by gardener Beth Chatto. The book included about 80 images, all produced from live specimens. I visited her house in Essex several times and found it most enjoyable. During my 30 years as an artist, I've painted orchids for Country Life, drawn for commemorative plates depicting Queen Victoria's favourite flowers, and illustrated a cookery book. I was also member of Chelsea Physic Garden's florilegium society, which was approached to produce drawings for Prince Charles' Highgrove estate. There was about 70 illustrators from all over the world involved in the project, so I felt honoured to be amongst them.

I still teach...although only occasionally now. Earlier this year, I held a course at the Sussex Wildlife Trust's site at Woods Mill, Henfield.Recently, I've been painting plants in their natural habitat, often depicting wild poppies, thistles and the long grass in my garden. This is something of a departure for me. They're not botanical in style, but I'm finding that old habits die hard! I still want everything to be correct in terms of colour and scale! People tell me I should paint more loosely and be more abstract, but I can't help but include details. I'm still involved with a florilegium group at Nymans Gardens. We're currently recording Chilean plants as that's a focus of the head gardener. Over the years, I've been involved in solo and group exhibitions and I continue to be an active member of the Association of Sussex Artists (ASA) which hosts its annual exhibition at the Drill Hall, Denne Road, Horsham, in August.


Jill Coombs will be exhibiting two pieces at the Association of Sussex Artists' exhibition in Horsham on 17 - 25 August 2018.