Art gives me a Headache!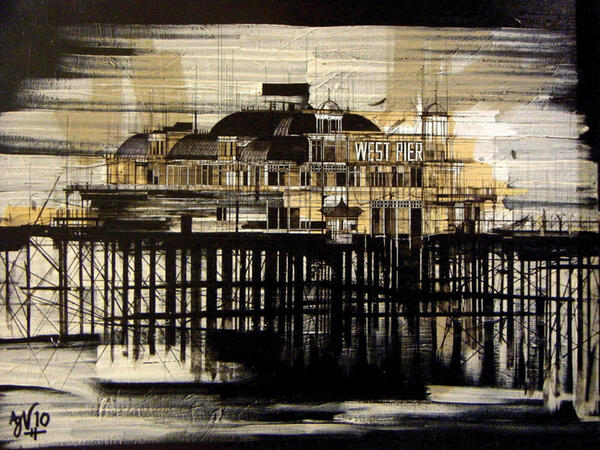 Poor Andrew Vince. He only wants to do one thing with his life, and that's paint. He happens to be very good at it too. Vernon Holt, the manager of Horsham Gallery in New Street, which sadly closed several months ago, considered Andrew to be among the district's brightest artistic talents.
But Andrew has a problem. The style he has developed, which sees him adopting graphic designing techniques to create perfect detail and symmetry in his work, has two costly side effects.
The first is that it is an enormously time consuming way of creating art. One small piece on canvas, depicting Tokyo, took him 48 hours to paint, and that was without counting the time spent waiting for paint to dry. And Andrew's second problem is that the intense graphical techniques he employs give him crushing headaches!
Andrew said: "I like drawing buildings. I think it's the fact they don't move! "I like sitting at a desk to paint and buildings lend themselves to that. I use a ruler for doing the lines - it's a very graphical technique. But I'm fed up with giving myself a headache measuring out. With something like this painting (of Tokyo) it takes so much time. For one of the signs to look right you have to get the gaps in between each letter correct. I got fed up of measuring it all out. I was getting really bad headaches! I liked the end result but the headaches were too much to bear."
So instead, Andrew has started to adapt his style. He now employs his time hour-sapping methods to smaller objects on a larger landscape image.He also incorporates animals rather than buildings into his paintings, normally creating a background first in a thick painted, abstract style, then drawing out the animals. He still adopts his linear patterns and geometric markings, but rarely across a full image as he has done previously.
Not only does it save money on Paracetamol, but it could also help Andrew make a few sales. "I'm lending myself to a more abstract style at the moment", said Andrew. "I've started to use elements of the graphics style, as you can see with the seagulls in my images, with the lines and geometric shapes. But now I like putting them on top of a textured background. Sea scapes seem to sell a lot. I've painted eight sea scapes with birds and they sell very well."
Andrew was raised in Birmingham, taking a foundation course in Art and Design and then studied jewellery and
Silversmithing at University. He then moved to West Sussex, and started painting in Brighton, developing his style in striking images of the Royal Pavilion and West Pier.
His talent was picked up by The Horsham Gallery, and several of his paintings were displayed there in 2010.
Andrew also has several pieces displayed in the cafe at Beales Department store in Horsham, where he works, and this has led to a couple of commissions. But in terms of sales, like many other talented artists, making money has been a major problem. This has led to Andrew moving away from his architectural paintings and more
towards painting wildlife and sea scapes.
Purists may accuse Andrew of 'selling out' by veering away from what many may deem to be the source of his best work - the paintings of buildings which give Andrew headaches (both literally and financial). But Andrew insists that it is not all about money, and that he has a huge passion for painting animals, especially birds.
"I don't want it to sound like I'm doing it for money, because I'm not," said Andrew. "I don't sell that many paintings compared to a lot of other artists. "Something like the Tokyo painting wouldn't get much money if I sold it but I know how much effort I put into it. You get more money for larger canvasses and I need to make a living. I did this (a sea scape image) and the whole background with a few seagulls took me about an hour and a half where as the Tokyo painting took a week and yet would sell for a fraction of the price. People pay per square inch rather than time apwnt painting.
"I don't feel like I'm selling out. I want to make a living from selling art and I think you have to sell out a bit to make a bit of money."
Andrew eventually hopes that he can make a living out of painting. He said: "I do have a passion for painting wildlife and sea scapes, but I'm hoping that I can make money from these and start doing the time consuming pieces and not worry about money. It's not that I don't like working for Beales, as I enjoy doing it and have good fun putting together the window displays. But ultimately, it isn't the job that I set out to be in - I want to earn a living from painting.
"And if I have to paint pictures that are not necessarily what I want to paint but that sell, in order to make a start in being a full time artist, then that's what I'll do."
For more examples of Andrew's work visit https://www.gallery204.co.uk/pages/andrew-vince/5604 or to contact Andrew email the AAH editor Ben Morris at editor@aahorsham.co.uk