Lindsay's Pearson's Venetian Inspiration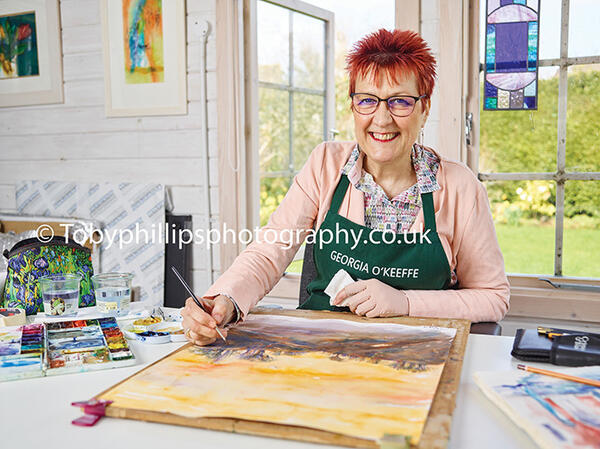 Published on 1st May 2018
It started with sewing...
I used to draw a lot as a child, but my true passion was needlework. This continued into adulthood. I would tailor my own clothes, regularly travelling into London to buy fabrics from Liberty or John Lewis, so that everything I created was quirky and unique.I considered pursuing a career in needlework, but opportunities were few and far between.
Instead, I decided to take a teacher training course.I wanted to teach in nursery and primary education, using my creative side to encourage children to learn through play and develop their potential individually. Initially, I worked in Ealing in West London, where there are high levels of deprivation, and loved the job as it was challenging. I spent my working life in education, teaching in London before becoming a head teacher, firstly in London and then in East Grinstead, after moving to Sussex.
I always championed the Arts. There needs to be a balance between academic and personal development, as children need sport, art, music and other interests if they're to truly flourish. Later in my career, I worked for the primary management advisory team in West Sussex, supporting head teachers and governors. My career was everything and took up all my energy and time. While I would occasionally dabble in needlework, I wasn't painting at all.

Therapeutic Art...
Then, I had a life changing experience. My husband was diagnosed with cancer. He was poorly for two years and when he passed away, my friends, family and neighbours in Horsham were very supportive. There was a great sisterhood within a group of friends at a dance class at Glynde Place Studios, which helped me a great deal.
My dance partner was a good friend too. She asked if I'd be interested in learning to use watercolours, so I gave it a try.So, for just one day a week, we attended a course at Northbrook College in Worthing. We had a marvellous tutor who was very encouraging and taught us the basic principles of using watercolours. We were given a solid grounding in various art forms, but for me the course acted like a kind of therapy. It presented me with a chance to focus on something other than work and my passion for art grew.
Some of us would also go on art trips, normally travelling with a tutor or professional painter. It was on one of these trips that I visited Venice in 2008.


Venetian Inspiration
At Northbrook, I experimented with painting shoes, often adding wings to them. These ideas were inspired by illustrators such as Cicely Mary Barker and Arthur Rackham, who were famed for mythical, fantasy drawings. Combining this with a love of needlework, I started making craft products of my ideas, selling them at markets and fairs, which increased my confidence. But as I stood by the grand canal, amazed by the beautiful scene before me.
Venice became my muse.We worked in a 'pen and wash' style, which I love because it involves drawing and adding colours to capture the scene. The tutor, Brian Ryder, gave me the confidence to interpret the scene in my own way and I felt more comfortable working in a group environment, rather than in isolation.Venice complements watercolours perfectly, as it's a city built on water. The reflection of the light across the water and the colours and texture of the architecture suit watercolours. The paint flows on the paper easily and gives sinuous movement. People can relate that to their own experience and feelings for Venice.
I go on holiday to other places and always find something that captures me. There have been times when I've been sat at a cafe painting and the waiter has brought me a glass of water for my brushes!Oxford is another favourite, as it too has stunning architecture. But I keep returning to Venice!I'm fortunate in that Venetian paintings are popular, as people who have an affinity for the city often want a memento.

Colour Spectrum...
I tend not to paint a literal scene. Rather than attempt to interpret every door, window, pinnacle or brick, I gain an impression of how I feel about a place and transmit that emotion on to paper. I prefer to capture the corner of a building or a singular feature, especially in Venice, which has too big a vista to capture fully.
It's important for me that my scenes are identifiable. However, I will give each one painting my own slant, with bold, vibrant colours. There are favourite tones that I regularly return to. You'll see a lot of turquoise, ultramarine and purple in my work, and I'm going through an indigo and orange stage currently! Where possible, I work 'in situ' as you get a true sense of the light and atmosphere, which cannot be captured by a photograph.
However, I take many photos too, so that when I return home, I can marry up photographs with images from my sketchbook, where I've truly captured the moment.Working in a sketchbook allows you to be expressive and be immersed in the moment. The work is free-flowing and offers a better representation.


Changing Style
Through art-focused holidays, I've made many new friends and met fantastic artists.One trip was in the company of Ken Howard, an incredible artist who is well-known for his Venetian paintings. He has been a great influence on me. He is a magician in my eyes and has been incredibly supportive of me and other artists.
Along with a friend of mine, who had previously been taught by him, I attended Ken's exhibition at The Royal Academy and met him there. He said that we could use his Venice studio the next time we visited the city. He was true to his word, which was a great experience for us.I love to seek inspiration from professional artists. Jackie Devereux has been another brilliant tutor.
Every time I attend her courses, she gives me a new direction! She has encouraged me to experiment with semi-abstract techniques and using other materials with watercolours to create different effects for buildings and architecture. As a result, I've become more experimental, which is unusual with watercolours, as it's viewed as quite a traditional format. As an artist, you're always learning.
'Colourfull' Future
I've been involved with Chalk Gallery in Lewes for over two years and it's been a turning point for me. It was an honour to have been accepted into the gallery and has helped me grow as a person and an artist. I'm also involved in Horsham Artists Open Studios (HAOS) which is a fantastic group of artists living and working in the Horsham District. It has grown exponentially over the years.
I was involved at the beginning, a decade ago, when there was just a handful of artists.Now, we have two major annual events, with June's Art Trail and then an Art Fair at Parkside later in the year.Being involved in art groups and attending courses has given me opportunities in the art world that I would never have had, if I'd continued working by myself. They've also helped push me in new directions and just last week, I launched a series of paintings at an exhibition, entitled Colourfull.They are semi-abstract and a little more experimental.
A couple of paintings have sold already. I'm always proud when this happens, as it shows that someone else identifies with your art. A painting is part of your soul, as you put so much into it. So, it's an honour when someone wants it for themselves.
To see more of Lindsey's work visit www.justlindsey.co.uk
Read more about HAOS at www.horshamartistsopenstudios.co.uk

WORDS: BEN MORRIS
PICTURES: TOBY PHILLIPS/LINDSEY PEARSON