Art Academy in Horsham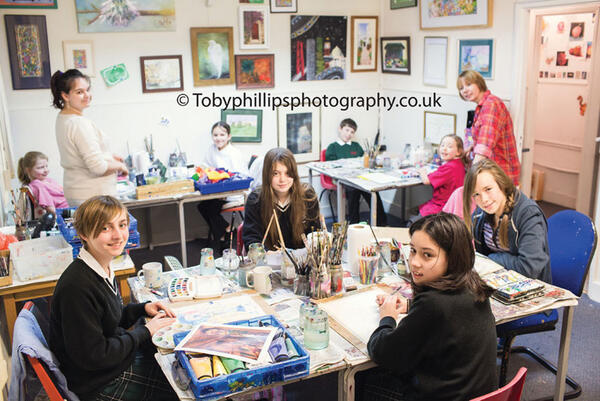 As I scanned the walls of the Art Academy in Horsham, I found myself humming the catchy synthesizer theme tune of the TV show Hartbeat.
To many of you, that won't mean a great deal. It's not the programme where Nick Berry solved lawnmower thefts in 1960s Yorkshire, but the art programme hosted by Tony Hart, shown on BBC television from 1984 to 1993.
One of the most popular segments of the show was the 'gallery' in which pictures drawn by young viewers flashed up on the screen. Some pictures would be fabulous, some were not, but it didn't matter as it encouraged
children of all abilities to submit their art.
The walls of the Art Academy have the same colourful collection of pictures, created by students of all ages. It is not a place where there is a right way and a wrong way to paint, but a place where artists are encouraged to enjoy art and develop their own ideas and methods.
The Art Academy has been a fixture at the Mulberry Trading Estate in Foundry Lane, Horsham, for about eight years. The business was started by Lydia Sanderson, who had for a decade run a successful academy in Epsom before moving here.
Lydia said: "I had a good degree in Art, so a friend asked me if I would teach her child how to draw. That went well, and after a while others wanted to come along and learn too. Then I became a Master of Arts in Art, Craft and Design Education, started teaching more children and it all just snowballed I suppose. I was painting and selling artwork at that time, but I wanted to teach far more than I wanted to be an artist.
"I started off in my house, then moved into my garage, and when I outgrew that I rented a studio at the local school. When I moved to Horsham, I had to start all over again to a degree, but it was a fantastic feeling as I knew what would work and what wouldn't.
"I think that every individual can enjoy and benefit from art if it is taught to them in a way that excites them. So I like to help people find their own style. Some find that very hard as they are not spoon-fed here and they have to identify what they are interested in, their preferred media, and although they do receive support, they lead their own develop in their own way. That way, they will enjoy as well as learn about art."
The Art Academy teaches people from the age of five to 87, with classes held on Mondays, Tuesdays,
Wednesdays, Fridays and Saturdays. As well as numerous draws of paints, brushes, acrylics, craft materials,
pastels and crayons, the Academy has an enormous reference library for artwork and inspiration. About 150 people use the Art Academy, with some visiting every week, whilst others are more casual with their attendance. But there is always a vibrant, sociable atmosphere during classes.
Lydia said: "The social aspect is important, because the intention is for classes to be educational and
therapeutic. The classes vary wildly, but there is always a very warm, family feel here. The teenage class can be very vibrant, as they put their music on, often work on huge pieces of art, and there is an electric atmosphere.
"But the atmosphere in the adult classes can vary. Some play 1960s rock music and laugh all evening, whilst other groups will play classic music and it's all very relaxed. But classes are always warm and caring, and people who come here often become good friends.
"People use the Academy in a number of different ways, so it means different things to different people. Some come straight from school and use the classes to consolidate academic work, whilst for others school work is the last thing on their mind. Some like to do their own thing and enjoy the surroundings, whilst others want to be taught step by step. That's what I mean by teaching the individual."
Hannah Coles, 13, has been visiting the Art Academy for a few years and hopes to gain a scholarship to Brighton College. She said: "I normally draw wild animals when I'm at the Academy. I prefer to draw animals as they don't have to be perfect. I love dragons in particular, as they are from my imagination. There are no expectations so it can be what I want it to be.
"I have to submit my portfolio soon, so coming here helps me get things done. If I was doing this at school I'd have only made half the amount of progress."
Millais pupil Anna Bodrenkova is another young artist who hopes to pursue a creative career. She said: "I've been coming to Art Academy since I was about eight years old as I always liked art. I normally look through the library here or print a picture from the computer, and then start drawing it.
"I only have one art lesson at school each week, so coming here really helps me, as I'd like to go to college and study art. In the future I'd love to work on cartoons or animated movies."
Lydia is careful how she nurtures the more naturally gifted artists, and tries to ensure that they always stay in control of achieving their goals. She said: "There is a girl here, who I have taught since she was nine, who is going on to study Computer Graphics. She brings in her laptop and helps others who are interested in things like games design to develop their skills.
"If we have a teenager that is proficient in a certain area and a child that is interested I will try and nurture that interest, but they must always be in charge of their own development."
With the art classes going well, Lydia has decided that the time is right to expand the creative process and has welcomed a musician to the Academy. Experienced guitarist Phil Jones now teaches in a small room, which was until recently a store room for Lydia's art supplies. Phil was teaching Lydia how to play the classical guitar, and is now using the room free of charge in exchange for lessons.
Phil said: "I have been here for about four months now and we were able to fit out the room just before Christmas. The students really love it here; there is a really creative atmosphere, and the art and guitar complement each other well. Lydia wants to develop an arts centre here, and this is part of the process."
Lydia added: "Phil has been fantastic and it's really added something to the atmosphere here, as people can enjoy the art class and then have a guitar lesson. We've also started some make-up and beauty classes with Candy Brown on a Sunday and we're hoping to add a creative writing class too. Gradually, we're introducing more arts here and we hope we can be a centre for creativity here in Horsham."
For more on the Academy, including a full timetable of classes, visit
www.theartacademy.biz