Art Academy in Horsham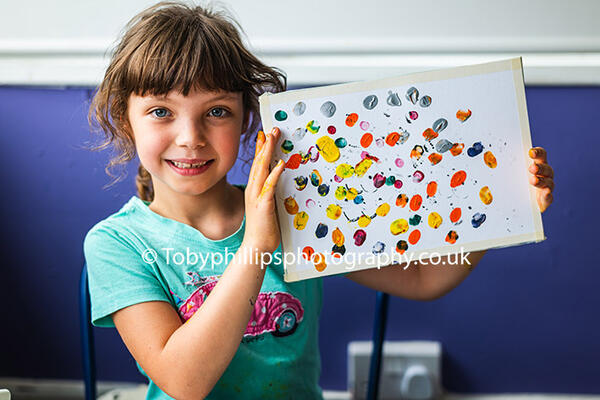 Published 1st October 2020
During lockdown, there was a surge in popularity in leisure pursuits, from running and cycling to kayaking and paddleboarding. There was a creative boom too, with many learning a new instrument, writing a book or picking up a paintbrush.
For Lorna Beard, owner of The Art Academy, this gives cause for optimism as her business rebuilds in the wake of Covid. Lorna had only recently taken over the reins when she was forced to close because of lockdown. Classes are now back underway and Lorna reveals that the lockdown has inspired some to experience the social interaction and vibrant creative hub of the Academy for the first time...
WIN-WIN SCENARIO
Lorna studied Art at college only to end upworking in finance for ten years. It was only after being made redundant that she turned her full attention back to art."I knew I had to improve my skills in certain areas if I wanted to make a living as an artist, so went along to The Art Academy," said Lorna.
"With more experience, I gradually improved and started picking up more commissions.""I would work during the day and paint at evenings and weekends, often assisting Art Academy founder Lydia Sanderson with teaching. As well as developing my own artistic style, I became familiar with those visiting the Academy regularly."
"Wehn Lydia left to pursue other interests, she was delighted to have found someone who could grow the art school she created. My idea was to run the business parallel to my own work, so I could continue to experiment with abstract and impressionist art, as well as landscapes and portraits. To be a good artist, it's important to paint as often as possible. Here, I can do that and as I improve, I can help others do likewise. It feels like a win-win scenario."
ENCOURAGING SIGNS
As it offered an educational service, The Art Academy was allowed to re-open on 1 August, running classes for children during the summer. With many families forsaking holidays, the classes proved popular.
Since September, adult classes have been running too, although numbers have been significantly reduced because of social distancing guidelines. It has been children who have adjusted to change the best, proving surprisingly efficient in maintaining a safe distance and using hand sanitiser regularly. However, artists of all ages have been pleased to see the Academy open again.
"During lockdown, creativity shot up across the country," says Lorna. "People needed to do something to escape the madness and art was one thing they turned to. When we re-opened, we had a flurry of bookings as people needed some normality. We received new enquiries too, which is encouraging. We're usually able to seat four or five around a table, but now we're limited to two unless we have siblings in, so can only accommodate six or seven people each class."
"Hopefully, we can operate normally next year and more people who have discovered a love of art - or rediscovered a lost love - can join us. Art can be almost like therapy, especially after the last few months, which have been a terrible time for so many. For those who have had to manage home schooling or have seen their employment circumstances change, or even just grown tired of the four walls around them, we offer an escape."
INSPIRING OTHERS
Social elements of the group can also help advance an artist by providing direction and inspiration from teachers and others. Lorna said: "Being exposed to other artists, all with their own creative ideas, really gets the juices flowing. The friendly atmosphere is important too, as it allows people to be a part of something."
"For children, art has been gradually side-lined from the school curriculum and parents want them to have more creative outlets. They love coming here as there's no pressure. We don't have tests or exams, yet they are learning without knowing it."
"Even for artists with more experience, working around others - as well as a teacher who can offer guidance - can be hugely beneficial. Lydia was great at helping people identify their artistic style and encouraging them rather than trying to mould them into something else. I have a similar approach. You are free to find your own interests and creative methods at the Academy. And I am here to impart my knowledge as a working artist whenever it's required."

INSPIRING OTHERS
Lorna has ambitious ideas for the future too. As well as continuing to offer classes, The Art Academy may diversify with specialist workshops for specific schools of art, possibly including life-drawing classes for adults.
Lorna said: "I'm also considering applying for an alcohol license. It would only be for occasional events, perhaps a 'Picasso and Prosecco Evening'. There is a growing market for experience-style events and they attract a new audience."
"It may be some time before people are ready to go to a busy club or a crowded pub, yet they might come somewhere like here to have a glass of Prosecco and try painting. I can't promise they'll create a masterpiece! But it's about offering something new that allows people to experience and enjoy art."

FURTHER DETAILS: Unit 8, Mulberry Trading Estate, Foundry Lane, Horsham, RH13 5PX
Tel: (01403) 754727
Email: enquiries@theartacademy.biz