Paul Fearn: Abstract Look at Wildlife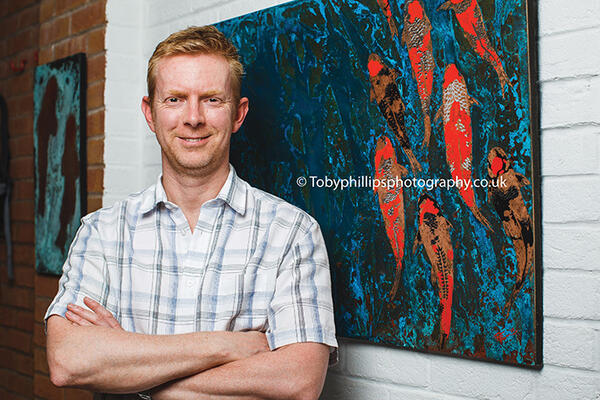 Published on 2nd May 2018
Paul On Wildlife Art...
'Wildlife art has traditionally been two things: colonial and technical. Colonial in the sense that it'll typically depict a zebra under a tree or a herd of elephants with a backdrop of Mount Kilimanjaro. In terms of technical depiction, art was used to record the flora and fauna discovered by explorers and scientists. We would shoot birds of paradise and an artist would take precise measurements to accurately recreate its size and colour.Wildlife art has taken a long time to move away from those two aspects.
Contemporary art has come on leaps and bounds, but if you visit a wildlife exhibition, you will see that the transition away from traditional art is only just beginning.I started out with very traditional pencil drawings of wildlife. At one exhibition, someone came in and muttered 'there's nothing contemporary here' and left within seconds. That was an eye-opener for me, as I realised that it doesn't matter how many hours you spend creating a realistic pencil portrait if it's not what people want. I decided to create something different that would appeal to a contemporary wildlife art market.'

On Creating Art...
'I believe I'm the only artist creating work of this kind, with this level of control.I combine chemicals with metal to create an unusual and unique pattern. The wildlife depicted is almost incidental to the finish.I love the textures that are created when metal reacts with chemicals. To a degree, I can control certain elements, particularly colours, by using specific oxides. The effect my artistic process creates does tend to require a focal image that fills the sheet of metal, so my art may feature Koi carp or a flocks of birds, as oppose to a single animal.
Alternatively, I may create an image of one animal in an abstract form. One of my paintings, entitled Mud and Wrinkles, featured part of an elephant's face which was only recognisable from a distance.
My pieces vary in terms of how long they take to complete. Smaller pieces might not require much time at all. However, for the larger creations with several chemical processes, there can be anywhere up to 60 hours of work behind it, carried out over the course of two to three months.There is always a consideration of commercial elements in my mind, but I believe most successful artists paint what they enjoy doing. I firmly believe that there is a customer out there for every painting, as was all have different tastes in art.'

On Dirty Metals...
'Before I even think about working on the metal, I will draw different compositions and whittle them down to a favourite, which will dictate the colours and metal I use.Primarily, I use dirty metals like copper and brass, as they react very well with oxides to form rustic effects. Before I add chemicals, the metal sheets need sanding and lathing, as they tend to come out of the factory shiny and greasy, whereas I need the acids to bite into the metal to create patterns and textures.I use a mixture of chemicals and leave them to form for anywhere from a few minutes to several days.
Verdigris is the effect created when a copper roof or structure, like the Statue of Liberty, is weathered by the elements over a long period of time. I recreate atmospheric oxidation by applying acetic acids to copper sheets.Techniques I've developed through trial and error enable me to manipulate the colours I create, as well as the patterns to a lesser extent. You might think that the colour created would influence the animal I choose to depict on each piece, but it's not the case. I utilise a wide range of oxides to create different colours, as once you look past the idea that an elephant must be grey, you can paint it any colour you like.'

On the Day Job...
'Painting is a full-time occupation for me. I studied up to A' level and from there I'm self-taught. After studying languages at university, I worked for the Home Office for 12 years before realising I hated working under fluorescent lights!I took redundancy and that allowed me to pursue art, which I've loved since I was young.Wildlife has always interested me and has long been the focus of my artistic output.
My wife and I are both keen divers and have visited some of the world's best tropical diving sites. The more we have travelled, the most interest we have taken in conservation.The world is starting to wake up to issues like coral bleaching and plastic pollution. As a wildlife enthusiast and artist, I want to help if I can. For the last four years, I have been a finalist in the international David Shepherd Wildlife Artist of the Year competition. David passed away last year, which was a huge loss, as he has done incredible work for wildlife conservation, raising millions for vital projects. He has been an inspiration to me since I was young. The competition donates 50% of any artwork sold to the David Shepherd Foundation, so to have reached the final and raised money for David's foundation was a proud moment for me.
Before moving to Southwater, I exhibited around Kingston Upon Thames. My work has also been featured at The Dark Water Gallery in Brighton and the Joie De Vivre pop-up gallery in Esher. I have also joined the Horsham Artists Open Studios (HAOS) group who are wonderfully organised! I'll be exhibiting in the HAOS Art Trail in June and again at the HAOS Art Fair in October.'

WORDS: BEN MORRIS
PICTURES: TOBY PHILLIPS

Paul Fearn will be having a solo exhibition at the BN5 Pop-up gallery in Henfield from July – September this year and in The Capitol's art gallery in January 2019. www.paulfearnwildlifeartist.com
Paul will also be exhibiting at Farlington School during the HAOS Art Trail on 9-10 and 16-17 June. www.horshamartistsopenstudios.co.uk