PAUL BADEN: CARVING OUT CONTOURS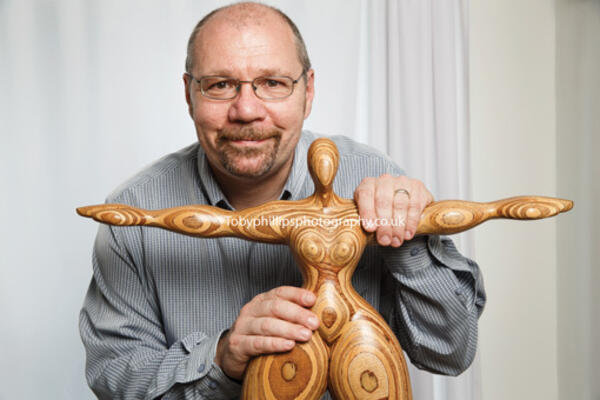 There was a time when work gave Paul Baden all of the artistic kicks he needed. As a cartographic draughtsman, Paul was fascinated by conveying the story behind the specialised maps he created.
The complex surveys were produced by hand by skilled individuals, but in recent years the industry has moved towards digital technology. Whilst this may be a more efficient way for businesses to operate, it has taken much of the creative joy from the process.
As Paul states, it just "wasn't sexy anymore!"
To satisfy his artistic desires, Paul turned his hand to crafting miniature bear models, before gradually developing his skills and creating striking carved wooden figures. The miniature bears helped bring in a little extra money, as Paul would create figures based on people's jobs or occupations. Having created everything from a chiropractor to a SCUBA diver, Paul briefly flirted with ceramics.
However, the unpredictability of the firing process was not to Paul's liking, so he considered other creative outlets. Then, one day, an idea came thanks to a little bit of DIY.
"It started as I was doing a simple job around the house and was left with a piece of plywood," said Paul. I thought 'I could do something with that.' Plywood works in a similar way to cartography in that it can produce various contours and I loved the effect it produced.
"Working with plywood is very different to working with natural wood because it's engineered from thin layers of plies. People typically see it as an industrial material that you might build your house with, but I try to show that it has another face.
"The grain effect it gives can vary as each layer has its own temperament. Plywood seems like a very uniform material, but actually the more ways you try and do things with it, the more unexpected things you find within.
"So the different way you carve ply produces different effects. Now my work often involves interweaving pieces to produce even more patterns.
"I suppose was on an artistic journey for a while and you try a few things to find what works for you, and when you find one that does, you stick with it. I think it is a very understandable journey that I've gone on - from drawing maps to carving in plywood."
Having found a material that suits his ideas, Paul decided to study figurative art. He said: "I was working from life figures, producing work to about a third scale, and understanding how joints are put together.
"We all know what a body looks like, so when you see one that isn't quite right it jars at you. Making it right is very difficult, because you don't actually think about how the shoulder attaches to the body or how the wrist works, and the shapes of parts of the body.
"It's really only once you understand those that you can begin to play around with abstracting them and creating your own stylised figures."
Initially, Paul's sculptures were small. He would use off-cuts from building projects and create a miniature model before committing to a larger creation. Having made a few pieces, he collaborated with a few artistic friends and held an exhibition in a pub, where he sold three pieces and received positive feedback, giving him the confidence to continue and create bigger sculptures.
Paul has also branched out (my puns are never intended) with his wood carvings, creating wall decorations that have a more obvious association with his map-making occupation. They make for contemporary and dynamic talking pieces.
Whilst most are abstract and rely on the patterns of various forms of plywood for dramatic effect (Paul works with different plies for a variety of shades and colours) one popular decoration features the River Thames in an EastEnders inspired perspective. Whilst the wall decorations are an occasional diversion, the one theme that Paul constantly returns to is the body...
"I do play around with the proportion of the body, and part of the reason for that is because plywood's effects work better with bigger shapes. So my figures are more curvaceous than a standard model. With a slimmer model you would end up with very few contours, so I use big shapes to celebrate the material.
"I also like to play around with perspective, so some of the figures, such as the warrior pose, offer a child's perspective, in that they have huge legs leading to a small torso. I don't work continuously on any one piece, as that can lead to an imbalance and all you end up with is firewood rather than a beautiful sculpture.
"So I'll only work for an hour each day on one piece, with several projects on at any one time. As a result, it normally takes a month to finish each one."
Paul only moved to Horsham last year, but he quickly established himself in the local art community by following the Horsham Open Studios trail in 2014. This year, he was one of over 40 people opening their doors to the public in the re-named Horsham Artist, Creators and Makers Art Trail.
He said: "We were looking at many towns in the Sussex and Surrey area, and someone suggested Horsham. We came to the town and really liked the feel of it, so we moved here. I went to the Open Studio trail last year just to have a look at the artistic community and gradually I became involved.
"I exhibited my work with other artists in a pop-up shop in Swan Walk, was on the market stall last month, and now am taking part in the Open Studio trail." It is difficult when moving to a new area, but hopefully these events have helped.
"I also have some exhibitions coming up. I'll be at Roffey Park in October and at the Menier Gallery in London, so we'll see what happens."
For more about Paul's work visit www.paulbaden.co.uk
WORDS: Ben Morris
PICTURES: Toby Phillips
PUBLISHED: 2 July 2015