DANNY FULLER: THE RED DRAGON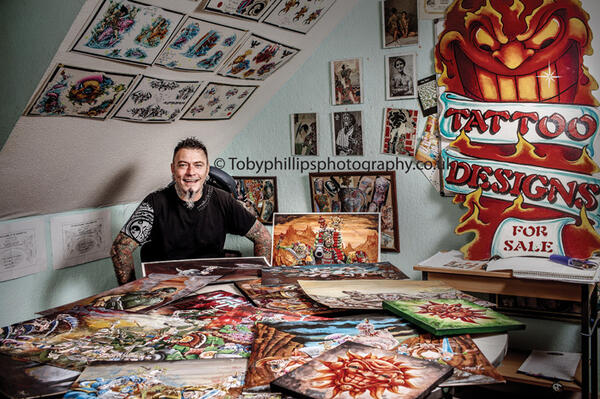 When Danny Fuller was a teenager, he performed his first tattoo on his own arm. It has long since been covered up by fresh tattoos, but it began a passion that has lasted a lifetime.
Now in his fifties, Danny is among the best known tattoo artists in the south of England. He has founded the world's first professional tattoo academy, established three studios in Horsham, Brighton and Horley, published a book on tattoos and won several major awards for his designs.
Fourteen years since he opened the Red Dragon Tattoo and Body Piercing studio in East Street, Horsham, Danny is in semi-retirement, helping out his team when it gets busy or a specific design needs his expertise.
So does he sit at home, reading The Telegraph and enjoying his golf? No, instead Danny likes to paint zombies, heavily armed robot soldiers, green goblins in battle, and skeletons holding spears decorated with severed heads!
It's only a few years since he started painting with oils, but the art is very much a progression of the designs he has been drawing since he started creating tattoos over thirty years ago. "It started with a home-made tattoo that I did myself back in 1980," remembers Danny. "Not many people had tattoos then but people had started doing some designs at school with basic needles and India ink. I was only 13 or 14, but still, I couldn't just do a cross or something simple – I wanted a castle with a bat, so had a go.
"A few years later, I was working at a factory when a friend of mine told me he was getting a tattoo, and said I should get my own one covered up. We went to a place in Fulham and I was blown away by all of the designs they had. I sat down all day and waited and in the end the tattoo artist only had time to do me something small, so I had a swallow drawn on my other arm. It took five minutes and cost £6.50.
"I went back a week later and he covered up my own design with a horse's head which has now been there for about 30 years. That was it – I loved it. I wasn't a rocker or a punk or anything like that, I've always just liked the designs, but I guess I was rebelling as my parents were ultra conservative and very anti-tattoo!"
After that experience, Danny set about becoming a tattoo artist. He saved up £200 from a part-time job at the Jet garage at Pease Pottage and, in response to an advert in Motorcycle News, drove up to Bradford to buy his first kit. It came with no instructions, but gradually Danny taught himself the job, and opened his first studio in Crawley.
Danny said: "Back in those days there were not the designs that you see these days – it was very basic, with bulldogs and swallows, things like that. I opened up on a Saturday and earned myself £100 on the first day, which was great. I only had a few pages of Flash tattoos (the most common form of tattoo designs) but the next time I opened the studio there were people waiting so I thought I had better take it seriously!
"The regulation was not like it is now. You realised there was a risk of cross infection, but we didn't have to change needles every time. It was mainly down to the artist. Back when I started, you were basically using mum's sewing kit, but now everything is so advanced, and all comes in individual, sterilised packets."
After three years in Crawley, Danny looked to Brighton, where his brother Steve had established his own studio. After a brief period when Danny first ran a tattoo studio in Horsham in the mid-1980s – near to where Ladies That Do is now - the brothers were working together.
"It was very different in Brighton in those days. It was only us and a guy on the pier that did tattoos, and now there are about 25 studios. In the eighties it was still a bit underground. You didn't get many girls coming in and most of the customers were regulars, but really it was just nice to be paid for what was really a hobby for me.
"This lasted until 1989, when I opened my own studio, The Blue Dragon, and was in Brighton for over a decade. I moved back to Horsham in 1998 and have been here ever since. We continued to run the Blue Dragon in Brighton and I also ran the Black Dragon in Horley for a while – we were going for world domination! But eventually I let the other two go to concentrate on the one."
As the years have gone by Danny has seen the designs of the tattoos became more adventurous, exciting and exotic, whilst other elements of the trade such as body piercing have grown enormously in terms of popularity.
"Now it's just like painting – some of the tattoos that people can do are unbelievable," said Danny. "You still have your basic 'flash' tattoos – people look through a catalogue of designs, choose one and you put on the transfer and that will be it.
"But nowadays, we hardly need these catalogues as most people bring in their own designs as drawings, or on their mobile phones or images they've found on the Internet. At the moment the trend is for more patterns than pictures. The era of the Indian head, eagles, skulls and panthers has gone, and things such as stars and gothic designs are popular. Some of the designs are so intricate that I swear they're only testing to see if we can do it!
"In the last couple of years, quotes have been popular. It has moved on from Chinese words and symbols. Generally I think something less specific is best so for me quotes are not always a great idea."
Celebrities such as David Beckham have also helped changed the general perception of tattoos in the UK, where many people with tattoos have often been treated unfairly by a society that remains fascinated by the tattoos of tribes such as Maoris in New Zealand and the Hausa people of Nigeria. Great Britain even takes its name from tattooing, with Britons translating as 'people of the designs'.
Danny said: "I think the general perception of tattoos has changed. It used to be the same sort of people that had tattoos – you could spot them a mile away! But now it's anybody and everybody, and these days more than half of our customers are women. I think women with tattoos used to be frowned upon, and people with tattoos found it difficult to get a job. They were treated like lower class citizens. But very few people regret their tattoos, as it's something personal to them that cannot be lost or stolen."
With such a demand for tattoos, Danny has founded the Tattoo Academy, which now attracts people from all over the world to Red Dragon in Horsham. He said: "We were the first studio in the world to offer tattoo training. It's always been very difficult to learn and there were many people who don't like the idea of us giving out the secrets of the trade so willingly. It's a bit like the Magic Circle in that respect.
"But I believe in it, so I thought about what I would like to have known when I started out – so not just designs but hygiene, regulation and things like that, and set up the Tattoo Academy. We've had people come in from everywhere – I've had eight or nine people set up in Malta! The Academy has been running for nine years, and it's been very successful with many students going on to set up their own studios."
Then there's the art. One of his earliest paintings was used by a rock band called Virus for an album cover, and since then Danny has expanded on his fantasy themes. There's even a self-portrait, which depicts Danny punching a green-skinned monster with one hand, and holding a sword in the other. You can even make out Danny's distinctive 'fangs'.
"Again I'm completely self-taught, and painting is a nice way to challenge myself," said Danny. "The paintings are purely for pleasure – not many people have seen these. It's a passion and I'm enjoying it more and more and getting better. Most of my work is inspired by Games Workshop figures, as well as computer games and comics. I love the detail of the figures – there is so much character in them. I have thousands of these figures, so I'll pick one out and use them as a model.
"I just like the weird and the wacky, and it's good for me as there are not so many rules. When your drawing representational art, you have to make sure the dimensions are right and one hand is not too fat or anything. Fine art is so difficult. With these paintings it doesn't really matter!"
On the tattoo side, this artist may be winding down, but his legacy will live on. Not only are there now many tattoo artists working that have been mentored by Danny, his son Charlie has run his own studio in Brighton for three years, whilst step-son Tom works with him at Red Dragon.
"There is a family legacy. Charlie started when he was 16 and I couldn't be prouder. There are no jobs around for young people and he's now 19, has been doing that for three years, and has a good start in business. It's nice to have your own business and be a self-made person."
For more information visit www.reddragontattoos.co.uk