CERAMIC SPIRIT IN HORSHAM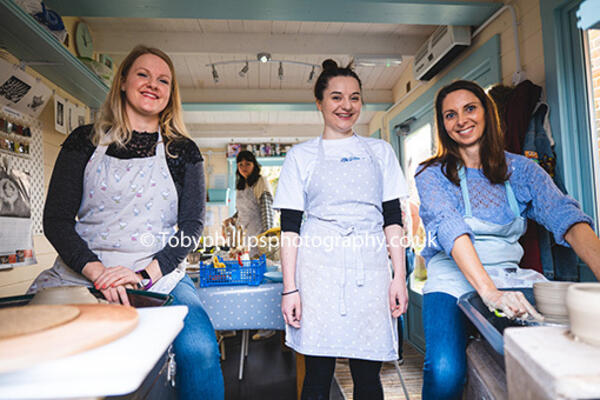 Published on 1st September 2020
There is great satisfaction in creating an object from clay with your bare hands. It's fun and therapeutic - even if the final piece doesn't always come out exactly as you imagined! However, very few places cater for the teaching of this essential skill and novices buying their own pottery wheel will often find that the art of 'throwing' is hard to master without expert guidance. It is this knowledge that Julie Murphy provides through her business, Ceramic Spirit, based at her Horsham home.
"There are several places where you can pick up a plain plate or bowl that's already been fired, then sit down and paint before glazing it," says Julie. "But there wasn't anywhere local that people could go to and learn about pottery, with the opportunity to create their own work from start to finish. As I was already using the studio for my own work, I decided to launch Ceramic Spirit."

BOUNCING IDEAS
Julie has previously worked as an art technician at schools in south-east London, where she lived previously. The experience of teaching young people pottery was something she enjoyed, so she continues to offer classes for home-schooled children and after-school classes. For adult groups, it brings social benefits by bringing people with a shared passion together.
"I'm flexible with my approach, so people don't necessarily start together and all maintain a similar rate of progress," says Julie. "Everyone has other commitments so the group evolves. It means there's different levels of experience around the table and we all bounce ideas around."
"Typically, I teach newcomers the slab roll technique first. This involves a flat piece of clay, sometimes imprinted with a decoration such as lace. It is then rolled in to a vase or other vessel. It's a simple yet effective method. Then after a while, people might try sculpture or learn how to 'throw' pottery onthe wheel. That's far more difficult than it looks!"
"Soon enough, everyone finds what it is that they enjoy most of all and start coming up with their own ideas. Often, they find photos on Pinterest and that gives them inspiration. I'm here to make sure that they get the basics right, like rolling out air bubbles to preventsplitting in the kiln."
"In the main, those in the group work independently and at their own pace. We have a colour board for earthenware and stoneware pottery, so the painting and glazing elements cause us plenty of discussion, which contributes to a great atmosphere."

KEEP THE SPARK
When not running classes, Julie takes the opportunity to focus on her own work. Having the business removes much of the commercial pressure of art, allowing Julie to be inventive with diverse with her output. The objects and sculpture she creates are so wide ranging that Julie doesn't have a distinctive style of her own. Not that she's worried...
"When pottery is your sole income, you can fall into the trap of making the same thing over and again, as you know it sells and you need to earn a living. Many people I met while studying for my degree in Ceramics are working for commercial reasons now. When you do that, the spark disappears. I didn't want to fall into that trap as I want to maintain my enjoyment."
"So, I use a wide selection of colours and effects, working on projects of all shapes and sizes. I tend to juggle several projects at any given time, be it a hare sculpture or a commissioned vase."

THROW BACK
People join the group for a variety of reasons. Young people are often brought along by parents as pottery has been largely neglected by schools lacking space for turning wheels or the finances for kilns. Some of the adults attending have otherinterests in creative arts, whilst others have been inspired by programmes like The Great British Throw Down.
Joanna Gill, a screen printing and textiles enthusiast, received vouchers for Christmas, after requesting "something creative." Laura Cottingham wanted a hobby that allowed her to be more creative. "I work in a stressful environment at a London theatre, commuting and working long hours," says Laura. "I need something to calm me down and this is ideal."
Whether making bowls, vases, cups or saucers, the class is full of praise for Julie's teaching. "The atmosphere here is always relaxed," says Helen Simmans. "There's a lot of talk about mindfulness these days and this caters for that perfectly!"

DEALING WITH LOCKDOWN
In March, sensing a lockdown was imminent, Julie provided clay and tools so that people could finish projects at home. Julie said: "Knowing some of my students were on the vulnerable list and would have to self-isolate, I knew that being able to continue with ceramics would benefit their mental health immensely. So, I started a WhatsApp group and set challenges! A few people have been able to buy a potter's wheel, so I've been setting throwing tasks to improve their skills. I've also had more time for my own work, and finished the hare sculpture. I asked people to suggest a name for him for one pound, with proceeds going to the NHS."
Since restrictions have been relaxed, Julie has opened the studio for one-to-one lessons, with social distancing measures.
To book a class:
Tel: (01403) 563297 or email: info@ceramicspirit.co.uk or visit www.ceramicspirit.co.uk