IRMA WESTERDIJK: TWEE TIME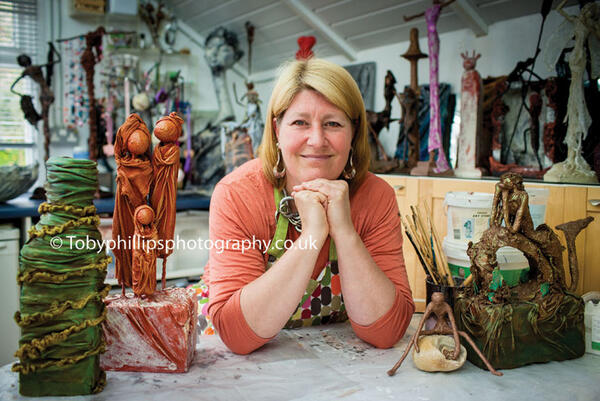 The way Irma Westerdijk creates her unusual sculptures is a little like the experiments you used to see on Blue Peter or Art Attack.
You take some electrical cable, shape them into a figurine, wrap kitchen foil all around it, add pieces of linen or cotton, create some fabric hardener and apply all over. Allow some drying time, then paint your model whatever colour you like! It'll look lovely by the pond in your grandma's garden!
Throw in an old egg tray and an empty washing up bowl and she could make a great Tracy Island…
Some people find her creations a little too twee, but Irma makes no attempt to dress up her art as anything other than fun and relatively simple pieces that can add a little colour and vibrancy to a home or garden.
Whilst many pieces adopt the wire figure technique, others are born out of Irma's fascination for recycling. Three large glass spherical light covers, which were being thrown in a skip in the car park of a local DIY store, are ready to be recycled, whilst other materials used in finished pieces include chicken wire, wood planes and pegs.
Irma said: "I love to recycle. I have made a huge bowl which was once a glass lampshade. I have recycled planes and antique iron shoe lasts which I picked up at auction, and used them as seats for the figures. People give me things all the time. There is a root of a Rhododendron on what is one of my first big pieces. My daughter was scouting years ago and when I dropped her off at a campsite in Colgate I saw the root.
"I thought 'That has really interesting shapes' so she said 'Okay, we'll take it home at the end of camp. Of course, they have campfires there, and the root was thrown onto a fire! My daughter shouted 'No, my mum wanted that!' and kicked it off the fire. We took it home, cleaned it as there was a lot of dirt on it, not to mention some burnt bits, and now it has three figures on top of it.
"Another piece is made out of an old CD rack which was too small for our music collection, so I covered it with fabric. I then made little men and placed them on the sides, climbing up to the goddess figure at the top. That was really my first big piece. I had a few smaller pieces before but that was the first big creation I put together after my lessons.
"I am inspired by lots of different shapes. My husband installs kitchens, bathrooms and things like that, and he often brings me things to use in my studio. He came back recently with a nice curved piece of polystyrene and I dressed it up and made a sculpture."
Irma was interested in art from a young age and considered attending an Art Academy in Holland, but was put off by the thought of six years of studying. She also wondered if such extensive studies would really make her a
better artist. Instead, Irma embraced knitting and crochet, and would make clothing for friends and colleagues. But her current creations came about after she was inspired by the work of a Dutch artist called Jossy De Roode.
Jossy travels all over the world teaching
people how to use Paverpol, a brand of waterproof hardener popular for textile and decorative artists. Irma saw that Jossy was in Britain to teach her techniques and thought it would be a fun skill to learn. Irma said: "Seven years ago, I read about this hardener in a magazine, and a friend of mine went to Holland and picked some up. She brought it back and so I had a little play around with it.
"I went on the internet and found that Jossy was holding teaching programmes. I went along to one and really enjoyed it. She taught us technical things such as how to create a strong sculpture and what were the best wires to use. I then took two instructor courses and after a while Jossy said 'Now you are a master!'
"Sometimes I come up against a problem and Jossy is always there with advice. But I now also host Paverpol lessons and I love the teaching aspect of it. The wonderful thing is that it is all so simple. At the start of each day, everybody in the group has a wooden base and they all go home with their own sculpture. All of the creations are of a similar shape but have completely different designs. It's always interesting to see the various shapes and colours people create out of such simple materials.
"I would like to teach more and give more workshops. I host a workshop as part of a community project at Brighton Road Baptist Church called 'Make' where I can teach 20 people if there is the demand. In the next workshop, people can bring in an old canvas or an old vase and we will add fabric to it and they can take them home to paint them.
"There is nothing special about the techniques. It is not a big secret, it's just really good fun."
As well as the smaller figurines, Irma has created a number of large sculptures. Several have been made from a large piece of polystyrene. A recent piece she was commissioned to create was initially cut from a piece of polystyrene a metre wide. At the other end of the scale are small decorations, including Christmas baubles and jewellery, made from anything Irma is able to recycle, from seaside shells and stones to soft fabrics such as linen.
Whatever the size, she uses the hardener on all of her art, as it is waterproof and is easy to paint on with varnish. Her pieces can therefore be used as decorative pieces.
Some visitors to the Horsham Open Studios (an annual event in which members of the public can visit the studio of a number of local artists) have mistakenly believed that Irma's rear garden is her studio, as there is such an interesting mix of artwork in the garden including a chicken, a witch, a butterfly and a sunbather!
Irma will again be taking part in the Open Studios this year (for more details see Page 7) and she is looking forward to seeing the public reaction to her art. She said: "I think all artists look for the reaction as that is the point of making art. You hope that somebody likes it.
"My work does provoke different reactions. Some people love it. During the Open Studios there is a lady who comes by every year and says 'I like this and I like that' and she buys a couple of pieces and off she goes, which is lovely. Others think it is a little too twee. But fortunately, we all like different things."