John Thompson: A Naturally Happy Painter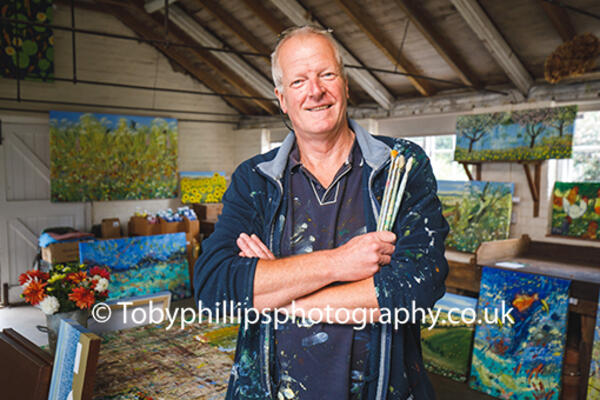 Published: 4th September 2018
I always wanted to be a painter, but when I was a student I was advised to become a commercial artist, as there was no money in painting.
I don't have any regrets about that, because I learned a great deal. But I was always working to somebody else's brief. I illustrated children's books, created drawings for the Natural History Museum and even designed posters for films including Tarka the Otter.
It wasn't until I was 26 that I bought an easel and paint brushes. I stood in front of a blank canvas and was terrified, as I didn't know where to begin. Gradually, I embarked on a journey of experimenting and finding my voice as an artist. I'm a ridiculous optimist and see the positive things in life. My paintings reflect that. They are a celebration of my love of the countryside and the natural world.
The transition from having many friends at Art college, bouncing ideas around and being quite gregarious, to working alone in a small flat as an illustrator, was difficult for me. I wanted to put myself into a situation where I could interact with people again. For that reason, I went into education. I taught art for many years but continued to paint, holding occasional exhibitions.
When I stopped full-time teaching, I decided that it was time to have a proper crack at being a painter. I exhibited in London galleries, but it's not easy to transport large piece of work to the City and the commission they charge is high. So, I approached gardens, painting at Leonardslee, Wakehurst Place and Borde Hill. Then, I came to Nymans and it suited me, which is why I've been here for nine years. I'm here from March to November, as it's too gloomy in winter for painting!
I arrive early in the morning, as the gardens are tranquil and have a mystery about them that inspires me. I tend to paint from life in the first instance. I'm fortunate in that I have a good visual memory and once I've drawn something, I can recreate it in my studio to a larger scale. The danger of working from a photograph is that you tend to slavishly copy and things die a little bit. By working from memory, it's not rigid. If I want a splash of red in the corner, I can add it. It's an expressive way of painting.
I complete between 150 to 200 paintings a year. It's a nice way of making a living and it's good for the gardens too. When my children were younger, we visited National Trust gardens and there wasn't usually much for children to do. Nymans had been looking at creating other points of interest and an artist-in residence was one of the ideas they came up with. My studio is open to the public and many visitors pop in for a chat. I occasionally invite children to help me with a painting and you can see their parents are terrified, fearing what they might do! I also help with other Nymans events, like painting little mittens for a Christmas trail based on The Snowman and the Snowdog.
VISUAL DELIGHTS
I work quickly and that gives my paintings life. I admire botanical artists, who spend ages working on tiny details, as it takes me three seconds to create an illusion of detail. I find that as soon as I start to illustrate, the work starts to die as that is not where my interest lies. As well as scenes from Nymans, I paint seascapes of Scotland or the Gower Peninsula in Wales. I have underwater images inspired by a trip to The Maldives and I painted a tiger after a visit to India. Everywhere I go is a visual delight!
During my winter months off, I explore other art styles. I've experimented on wacky portraits influenced by Caribbean art and have tried my hand at abstract too. I used to teach life drawing, but from a commercial perspective, figurative painting doesn't have mass appeal. Obviously, I need to sell my work.
I pay a daily rate to Nymans and price my work around that. As I'm not paying huge commission to galleries, I keep prices low, making art more affordable. Many people tell me: 'This is the first painting I've ever bought in my life!' That's lovely, because original art isn't often accessible. I'm just looking for a modest fee. If a painting takes me seven days, I'm going to price it at £700, plus £50 for the canvas. Everybody understands that format and they're happy with it.

ART WORKSHOPS
Whilst interacting with the public, people expressed an interest in art workshops. Over the years, they've become popular and I now run three every month. Many people enjoyed art at school, but then life gets in the way and they come back to it in later life, perhaps after retirement. I run a one-day workshop and it's hard work. Each workshop has a different theme, so in March it was seascapes, in April we visited Bluebell Woods and in May the focus was on meadow flowers. I have a blank canvas and so do my students, and gradually we work through ot one stage at a time. Two things happen: One is they walk away with a nice painting. Secondly, and more importantly, they understand the process. We analyse each step carefully and when you do that, painting becomes much easier.
We use different techniques during the workshops, even using our hands and fingers to apply paint. The style is sometimes very free and loose. If you closely inspect my output, all you'll see is blobs of paint. It's only when you take a step back that it all comes together. So, the workshops create a feel-good factor and encourage people to be creative. People ask if I run art therapy workshops, but really all the workshops are art therapy, because you think about nothing aside from the painting. It is like rebooting the brain!
I'm very lucky, as I still leap out of bed every morning and can't get to Nymans fast enough; I still sell paintings, so every year is a winner for me!
John is at Nymans until November before taking a break over the winter. To see more of John's work or to enquire about a workshop, visit https://johnthompson.theartistsweb.co.uk