QUILLING ARTIST REBEKAH JENKINS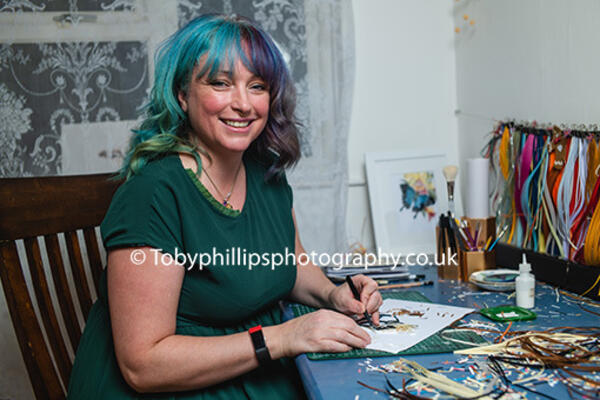 Published on 1st February 2020
Rebekah Jenkins describes a passion for quilling in her own words...

Quilling involves cutting, shaping and gluing strips of paper together to create art. It's been used for centuries to decorate books, make jewellery or to craft everyday items. You can buy paper and tools specifically for quilling, helping you to curl, twist, loop and manipulate paper. Unfortunately, I didn't know that when I first decided to try!

About 10 years ago, I went back to college, retraining as an illustrator. I was looking for ways to combine my passions for art, textiles and crafts when I came across an artist called Yulia Brodskaya. She had created an astonishing image of an old man surrounded by pigeons. I fell in love with the picture and was gobsmacked when I found out it was made entirely with paper. That inspired me to try quilling.
For my first attempt, I used normal paper. It was too thick and the finished piece was a disaster. I tried again with quilling paper and my skills gradually improved. My first serious effort was of a peacock feather. It was a mess, but I loved it!
I don't mind how laborious quilling is. Essentially you cut, shape and dip in glue, repeating the process thousands of times. Many people wouldn't have the patience for it, but quilling sings to me. I love the texture and movement. The three-dimensional aspects create differing effects depending on the light, so it captivates me. People are amazed when they see a piece up close, as they're much more complex than a photo can portray.
As it's so textural, quilling is good for highlighting hair and fur. I've cared for the elderly for most of my working life, so I like depicting beards and wrinkles in older people. However, the style doesn't lend itself to youth. That's why most of my output is animal pictures. I receive a lot of commissions for cats and dogs.
I have my first exhibition at The Capitol Art Gallery soon and have attempted to create an A-Z of animals. Some letters are tricky, but luckily there's Xantus's hummingbird and a Ulysses butterfly. There are a few still to be made, but the idea is that the exhibition represents wildlife of land, air and sea and pictures come in a range of sizes. Even a small one can take over ten hours to complete and I tend to revisit them after a couple of days, as you notice things that need tinkering.
I experiment with different textures and colour palettes, as the options are limitless. For my gorilla picture, I chose a black background and used white and grey strips to bring out the contours of the fur. The pink of a flamingo also works well on black, whilst some animals are given brighter colours to create something different.
The biggest piece I have made was for the St Catherine's Heart to HeART trail. I've supported the hospice several times, so I was looking on its website for fundraisers and stumbled across it. They wanted artists to put their mark on free-standing heart-shaped canvases. It was perfect! As each piece was being displayed outside, I hardened the paper with resin and made 'For the Love of Nature', with two swans as the focal image. At the time, I had taken a year off work to focus on my art and this project alone took up six weeks. I couldn't attend last October's auction, but it sold for £10,000. I hoped somebody might pay £500 if I was lucky, so I was over the moon to have raised so much for St Catherine's.
Just a few weeks ago, I was on Kirstie's Handmade Christmas, presented by Kirstie Allsopp on Channel 4. It's a show for crafters making things for Christmas and I was on an episode featuring paper crafts. They filmed me at home in Horsham last September, but I had to wear a festive jumper and put up decorations to keep up the pretence! I travelled to Devon for the main part of filming.
My craft piece for the show was a mouse on a candy cane, which I had to make in three hours. That didn't allow time for the extra touches of shadow and texture I would normally add, but it was still a great experience. I didn't win, but it's not an elimination show and all of us contestants became such a close-knit group that we didn't mind who won.
After the show, I had a flurry of enquiries and lots of new followers on social media. This year, in addition to the Capitol Art Gallery, I'll be exhibiting at Horsham Museum and Art Gallery in July. I have also been commissioned to create a landscape quilling image for the first time. Later this year, I'll start work on a series of wildlife pictures for a display at Warnham Nature Reserve.
Some people tell me that quilling is a craft, not an art. That used to bother me. I would get defensive and say, "It's paper art!" Eventually, I realised that it doesn't matter what people call it; just that I enjoy it.

For more details on Rebekah's work, visit her Facebook page (search Bekabeepaperartist) or Instagram (@rebekahjenkinspaperartist)