THE ART OF LIZE KRUGER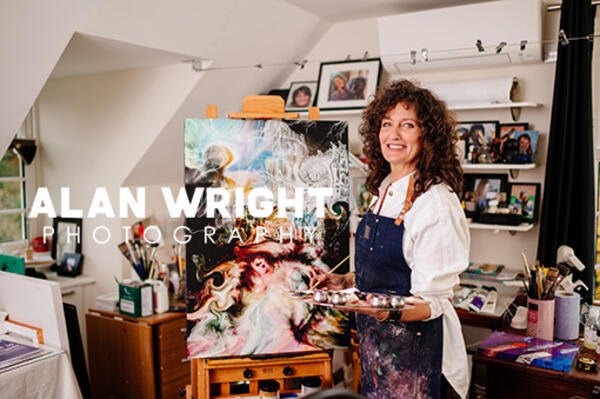 Published: 1st January 2022
Lize Kruger established herself as an artist in South Africa, before a family tragedy led to an extended sabbatical. Now living in Horsham, her astonishing, multi-layered, digitally enhanced art is in demand all over the world. Here, Lize describes her journey…

CREATIVE FAMILY...
My dad's family were particularly creative. One of my aunts – a fashion designer and painter – stayed with us and saw enough potential to buy me a drawing book and oil paints. That's how it started. I received my BA Fine Arts degree from North-West University in South Africa, where my work already leaned towards being conceptual and three-dimensional. The beauty of being a student is that you can afford to make "high art" without worrying about making money! When I started a family, art allowed me to work from home, so I taught classes as well as creating my own work, often on huge canvases, as houses tend to have big walls in South Africa.
Some of my work since has focused on children's rights and I find many adults identify with the work, as it mirrors their own life and experiences of childhood. I continue to tackle topics such as mental health, child abuse and the refugee crisis, to address and confront people's fears. It is too heavy for some, as these are subjects people don't like to talk about. However, I always try to find beauty, even in the most challenging aspects of life.
TRAGIC LOSS...
In 2008, my son took his own life. When something like that happens, you go for therapy and try everything under the sun to try and keep your sanity and to function. I still had to be there for my daughters, but no language can address the grief, as it's too big. I put my brushes down and spent ten years away from art.
Having moved to Horsham in 2014, I accepted a commission from the Lost Gardens of Heligan in Cornwall for 2018. On the day I started painting, I spotted a robin on the chair outside my studio. He sat there every day, watching me work. When I first visited the lost gardens a few months later, a robin followed me around and now I feel a special connection with this bird. I know it's strange, but it felt like my son was supporting me. The exhibition was entitled, 'Don't Come Here to Sleep or Slumber', which was etched into the garden wall in 1914. One of my paintings for the exhibition, The Lost Ones, pays homage to the nine men from the gardens who died in the Great War. Initially, I felt like an impostor, as who was I to be given this honour? But then I visited Ypres in Belgium and saw the graves of the fallen and it struck me how young so many of the soldiers were. Then I felt a connection, as my son was fighting his own personal war with depression, and he too lost his battle.
MULTI LAYERS...
I have developed a distinctive, three-dimensional style. The advancement of digital technology has presented new tools for expression. I combine modern methods with traditional painting to create multi-layered work. Adding layers to a painting digitally, using Procreate software to combine photography, textures, materials and even text and poetry, takes me on surprising journeys of discovery. The accidental elements that occur through the superimposing process often point me in a new direction and I love the challenge that presents, as it pushes me out of my comfort zone. When something isn't working, I can put the subject in a different environment and see if the piece speaks to me.

STARK CONTRAST
Perhaps the piece that attracts the most attention is Prime Victim. I was working from a photograph of a Syrian mother stepping out the ruins of an exploded building, cradling a baby. The background was too busy and the story was all there in the two figures.
Great masters like Caravaggio used darkness contrasted with bursts of light, and that effect inspired this work. After painting the figures, I superimposed lace over the top, then added spontaneous splashes of paint and a mesh effect too, like the fencing at refugee camps. When working with digital layers, there's a constant communication between me and the work. I was surprised by the impact of the lace, as it gave an elegance and delicacy to the mother and child, in contrast to the darkness.


HUMBLING CAREER
Since lockdown, I feel I have been creating the best work of my career. For 12 years, following our loss, I felt like an alien. It's been almost an out of body experience, in that you pretend to be okay, but you're wearing a metaphorical mask. In lockdown, everyone was wearing their own mask and I felt as if we were all on the same page.
There has been a positive response to my recent output. I received a Collector's Vision International Art Award and exhibited in the Florence Biennale, the We Contemporary Art Show in Vienna and was invited to participate in the Segnalati Exhibition in Budapest. Because of COVID, many galleries have moved online, so your exposure is immediately international. Not only does that help reduce my carbon footprint, as I'm no longer shipping paintings around the world, but the style of my work does lend itself to digital screens.
I now call myself an inter-disciplinary artist, because I combine many elements in a contemporary style. My current work often has a warped, haunted effect, with figures and elements manipulated and distorted. But I couldn't tell you which direction I'll head next or if people will like it. You're always evolving as an artist, but if you measure success solely by awards and accolades, you are going to be in for a lot of pain. It's a career that keeps you humble and as an artist, you can never say you've "arrived". There is no such thing!

INTERVIEW: BEN MORRIS
PHOTOS: ALAN WRIGHT (SUBMITTED ART PHOTOS BY LIZE KRUGER)
Further information: www.lizekrugerfineart.com