TRACIE CALLAGHAN: INSPIRED BY WILDLIFE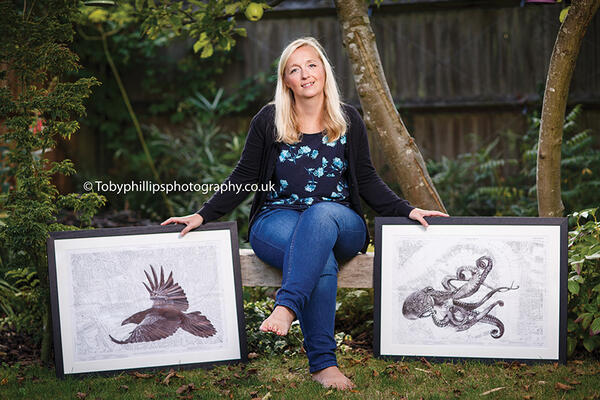 Published: 4th October 2016
We first stumbled upon Tracie Callaghan's work at a Southwater Art Club exhibition, where her pencil drawings of the natural world (including the rhino below) caught the eye.
So we felt a tinge of disappointment when, two years later, we caught up with Tracie and found her spreading heavy layers of red paint all over a large canvas.
Thankfully, Tracie has an intriguing idea that will transform the piece into something entirely different, with nature still at its heart.
Tracie said: "I was experimenting with composition as I wanted to create a heavily-textured background with a detailed focal point, so from a distance it would appear abstract yet with realistic elements to it. Then I came across a place in India where they have huge red walls, with rose-ringed parakeets nesting within them. The concept of having these beautifully detailed green birds on a heavily textured, bright red canvas really appealed to me."
Tracie has recently re-discovered her touch...
As you might expect, she excelled at art whilst at school and continued to impress at college, where tutors encouraged her to study Art at University. Fearful of heavy debts and worried that she would be pushed into artistic directions that didn't appeal, Tracie decided against it. Instead, she put the paintbrush aside and went to work!
That might have been the end of it, had it not been for a comment made at her grandma's funeral…
"I was talking to a family friend at the wake," recalls Tracie. '''She told me that my grandma always thought it a shame that I hadn't carried on drawing. That was just the kick up the backside I needed! I started drawing animals again, as I've always found nature inspiring, and was surprised at how quickly it all came back to me, considering I had barely drawn anything since college."
Train Doodles with quirky memes...
Tracie joined her local art club in Southwater and after exhibiting her work was invited to join the Association of Sussex Artists (ASA) which holds an excellent annual exhibition of hand-selected works in the Drill Hall, Horsham.
Gradually, her art has evolved, with abstract elements adding a new dimension to representational, nature-themed drawings, whilst thanks to 'train doodles' her pencils have – for the meantime at least - been ditched in preference of ballpoint pens.
Tracie said: "I have a two-hour commute twice a day, and I was thinking of ways to make good use of that time. I had received a commission for a painting of six cats and I didn't think I was particularly good at drawing cats, so decided to sketch some with a ballpoint pen during my journeys.
"This carried on and after drawing a few doodles in my little sketchpad, I started sketching different animals and adding funny captions too. Now I have a sketchbook full of 'train doodles' with captions inspired by internet memes.
"They've not attracted much attention on the train as commuters don't talk. However, they've been really great for my Instagram page!"
Do you find Octopus in Southwark?
Whilst continuing to experiment with ballpoint pens, Tracie was inspired by Scottish artist Scott Mackie, who draws animals or pop music icons directly on to various backgrounds including magazine covers, postcards, medical journals and maps.
Tracie adapted the idea to create several unique pieces, including a raven on a map of Peckham!
"There tends to be a relationship between the map and the animal," says Tracie. "My first piece depicted a raven on a map of Peckham, which relates to a friend's memories of growing up there. I also like the idea of the map representing a bird's eye view.
"My second drawing was of an octopus on a map of Southwark. I can't imagine there are too many octopus in the Docks, but there's still a maritime theme. I was also commissioned to draw a fly-fishing scene over a map of Aberdeenshire. This was nerve-wracking as of course it's personal to the individual, and I couldn't afford mistakes as the customer provided the map he wanted me to draw on. When you are working with authentic maps, there's little room for error!
"The ASA also held a postcard competition, so I painted birds directly on to vintage postcards, which produced a nice effect. Next, I'm hoping to source a nautical chart and perhaps draw a humpback whale.
"With all of these pictures, I'm still drawing representational wildlife, but I like to try new things and so long as I'm enjoying it, I'll keep going."
You can view more of Tracie's artwork, and also check out her impressive photography prints at lastlightcreations.com or https://www.instagram.com/lastlightcreate
REPORT: BEN MORRIS
PICTURES: TOBY PHILLIPS