Glass Artist Jane Cole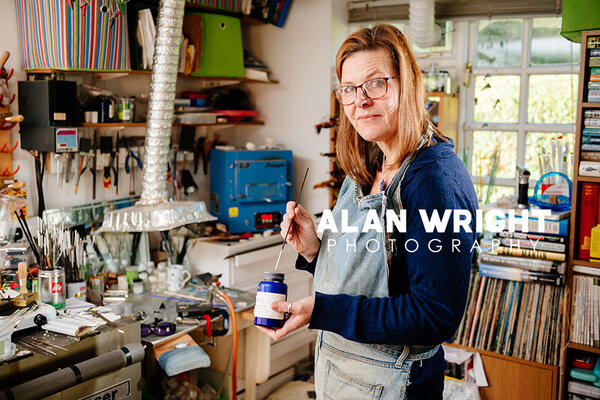 Published: 1st November 2021
Jane Cole is a glass artist who designs unique items at her home studio on the St Hugh's Charterhouse estate, near Cowfold.
Jane studied at West Surrey College of Art and Design, where she specialised in glass design. "Even at school, I knew I wanted to focus on three-dimensional objects rather than fine art or illustration," she said. "It was the alchemy element of working with glass that appealed, and the fact glass is inherently beautiful. Even in its original form it possesses rich and sparkling colours, so you almost can't go wrong!"

Expert Tuition...
After taking a break from art after the birth of her daughter, Kathryn, Jane developed her skills with tuition from Sarah Downton, a local artist renowned for contemporary glass work. With new confidence, Jane spent six months literally playing with fire, developing her own style while building up a stock of products. "When I started out as an artist after college, I created big items from fused glass, such as plates and bowls. Now, I prefer making smaller items of jewellery including pendants, bracelets, necklaces and earrings."
Meditative Process...
Jane starts each piece with coloured glass rods which are placed under a flame. At around 950 degrees, the glass is soft enough to bend and shape to its intended design. A range of tools are used to press, stretch or otherwise manipulate the glass to the required shape, before it is put in the kiln and cooled. "It's a delicate process," said Jane. "You need to be careful not to heat the glass too quickly, otherwise it will shatter, or overheat glass to the extent that it drips. Once heated, turned glass forms a natural sphere so it becomes quite an absorbing, meditative process."
A Tough Match...
The technique lends itself to the fusing of different coloured glass to create swirling blends or intricate patterns, as seen in Jane's range of products. As someone who enjoys her rural surroundings, much of her work is inspired by nature. "Some glass artists like to work in the Millefiori style, creating decorative patterns in the glass. But I don't try to be pictorial or represent things in an accurate way; I just take inspiration from nature, be it the colours of the sea or autumnal leaves, creating similar blends of colours. The finished piece doesn't always come out how I imagined. Sometimes when you're heating glass, you see a vibrant mesh of glowing orange, red and yellow, and think it'll turn out beautifully. Then it comes out of the kiln as a lifeless brown piece. What is true is that no two pieces come out the same. When I make earrings, I try to get them as close to matching as possible, but often need to make more than two!"

Good Combination...
Although Jane usually works with glass rods, she also reuses windows and stained-glass when it can be sourced. Crushed glass is also used to create additional effects and patterns in her work. Jane has developed techniques that allow her to use different metals too, for sculptural pieces for the home and garden. She said: "I learnt how to thread glass beads on to silver wire and keep them in place, which made me wonder which other materials I could use. I've since used copper, steel and zinc, allowing me to make a wider range of items from bottle stoppers to weatherproof sculptures. Metal and glass complement each other and make an eye-catching combination."
Public Endorsement...
Art is not a full-time occupation for Jane, as she works as a part-time carer for Cherish Care, based in Henfield, and volunteers with St John Ambulance one day a week as a vaccinator. However, she sells her glass art both online and at art fairs and shops. Her work was recently exhibited at Sussex Prairie Gardens and can also be found at The Village Hub in Storrington. Jane is a member of Horsham Artists too and will be exhibiting at the group's Christmas Art Market in November (see News Round-Up section). Jane said: "I don't really enjoy shows and exhibitions, as I'm not a great talker. But it's always nice when people say positive things about your work. When someone likes what you make, it's an endorsement. When they buy it, it's even more so!"
Further information: www.janecoleglass.co.uk

WORDS: BEN MORRIS
PHOTOS: ALAN WRIGHT