Janine Creaye: Carving out a reputation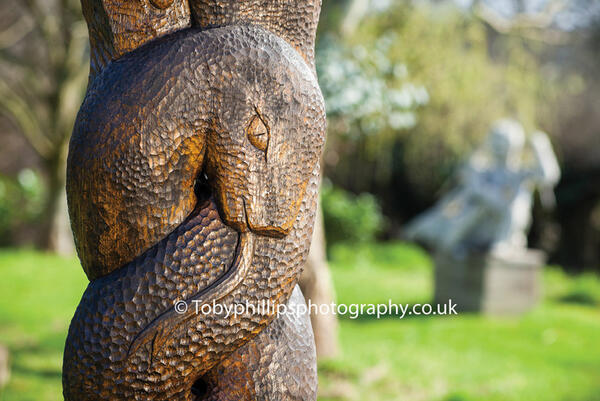 At Janine's home on the outskirts of Cowfold, you will find huge distorted heads carved from marble, a man with seven arms made from cement based around a wire mesh base and a fish made of stone. There are dozens of sketches and paintings too, with everything from portraits to pictures of point-to-point racing at Parham.
But although Janine may be skilled in many aspects of art, you are most likely to have come across her striking wood carvings, which grace many local country parks.
More than a dozen chisels are spread across a chair in Janine's studio in the back garden of her rural home, where a large piece of oak from the Balcombe Estate has been placed down across a worktop. The outline of a grasshopper is starting to take shape at one end, and soon this will be one of five pieces to be placed around Buchan Country Park.
You may have come across more of Janine's work, perhaps at various locations around Woods Mill in Henfield. Janine carved four colourful panels from green oak for a trail at the Sussex Wildlife Trust nature reserve. In the Walled Gardens at Tilgate Park there is a stone carved centrepiece called The Vessel that is also Janine's work, and in a copse area at the back of Horsham Park you'll find The Gateway.
The two large sculptures (which are four metres tall but about a metre is buried under the ground and secured by steel rods and concrete) were funded by lottery money and Horsham District Council. They have specific references to element of wildlife in the green spaces around the Horsham area. As with most of her carvings, oil pigments and spirit stains were used for the colour and they are treated with Danish oil.
Janine said: "The carvings are possibly my favourite form of art, but there's always the question of how long you can keep doing the big pieces for. I've been doing this a long time and if I carve for six or seven hours flat then it's not doing me any good in the long run.
"What I'm gradually trying to do is balance my time so I spend a few hours doing this and then some time doing smaller studies. The carving is intensive and it's tough on the limbs, but I could never be a painter full time as I need the physical aspect. I need to hit things a lot!"
Janine has been carving from wood and stone for 30 years, having trained in Fine Art Sculpture at the University of Northumbria and in Public Art at Chelsea School of Art. She is a professional member of the Royal British Society of Sculptors and has received Arts Council grants on four occasions. She has exhibited widely, including at New Ashgate Gallery in Farnham, Alpha house in Sherborne, Beaux Arts, Bath and Cadogan Contemporary in Knightsbridge, and McHardy Sculpture Company, London.
Janine also has extensive experience in working with schools and community groups to create public art. Whilst Janine acknowledges the influence of symbolism in her work (one piece captures the movement of a man preparing for martial arts by depicting him with seven arms) most of her work is simplified and stylised to make an immediate impact.
Janine said: "I'm really interested in different cultures. I've been to India about nine times and also been to countries such as Sri Lanka, Vietnam, and Cambodia. You see rock carvings at great temples such as Angkor Wat in Cambodia and Abu Simbel in Egypt, and of course these influences filter down into your own work.
"I am always fascinated by the similarities in styles that I come across, so when I make public art I try to make it universal. I want my sculptures to have some power and influence the mood of visitors, but not overwhelm it.
"I will often go out and speak to people, perhaps distribute some questionnaires to get a feel for what people would like to see. You want to provoke something, as there's no point giving back what people already know. But you don't want to provoke a reaction in a negative way.
"I move on quickly from my work, but I hope that they act as a guide and a talking point, especially when they are in public spaces. When this carving is finished, I hope people will come to it and think, well are there grasshoppers here? It is the same with the carvings at Woods Mill. Young people will look out for Nightingales because of the carving, so in that way the art enhances the experience."
Janine does like to switch between various art forms partly to maintain interest, but also to maintain a creative output. The cement casting, for instance, is a lot faster than stone carving and several pieces of art can be completed as a large sculpture is gradually completed.
But one theme that does run through much of Janine's work is heads, which take on various characteristics.
She said: "They are not portraits. Sometimes people ask me who they are supposed to be, even though the faces are so distorted. I'd quite like to put together an exhibition in the next couple of years just of heads. I've created heads out of wood, stone and cement and I enjoy painting heads or faces too. But there is still great variation in the work as I experiment with different styles and form.
"For example, with the cement I'm constructing outwards and with the wood and stone carvings I'm reducing inwards. Even when you've been doing this for 30 years, you're always developing and trying new things."
You can see Janine Creaye's work during Horsham Open Studios weekends on 16th-17th and 23rd-24th June. She will be one of many local artists opening up their studio, shop or gallery to the public.
Visit www.horshamartistsopenstudios.co.uk for further details, or pick up a booklet from May in Horsham Library, The Capitol and many retail outlets.You can also visit Janine's website at www.sculptureform.co.uk