HORSHAM CONTEMPORARY ART FAIR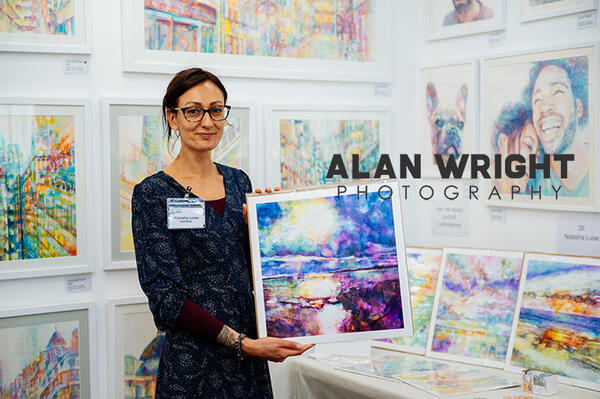 Published: 1st Novembeer 2023
Horsham Artists hosted a Contemporary Art Fair at Parkside on 14 – 15 October. The popular event saw 44 artists exhibiting a wide range of work including watercolours, oil portraits, glassware, jewellery, ceramics, textiles, sculptures and even upcycled items.
The group includes some of the finest artists in the Horsham District, such as wildlife painter Alison Ingram, contemporary artist Jo Willis and abstract landscape artists Mark Wilson and Emma Gillo. Others were exhibiting for the first time, offering something new to the art community, while guest artists and a series of workshops and demonstrations provided fascinating insights into the techniques used in a variety of artistic genres. Although we couldn't feature them all, AAH spoke to several artists to capture a flavour of the event…
Natasha Luise
Having studied art at university, I returned to painting during lockdown, like many others! Much of my work depicts cities that I have either visited or lived in. However, rather than featuring recognisable landmarks, I try to capture my emotional connection to each place by creating multiple layers.
I work with oils for my portraits, but the city scenes are best suited to watercolours, as they provide a translucent effect. I paint very wet, then use straight edges to add definition and create a degree of architectural influence. Colours are important to the work, and as a former graphic designer, I use CMYK colours, building up layers over a cyan base. I have painted cities such as London, Berlin and Tokyo, and each work has its own feeling. The Tokyo painting, for example, has many buildings layered over one another, with sharper colours to capture the feeling of claustrophobia.
This is the first time I have exhibited with Horsham Artists and it's been good to talk to people about my work. I have previously sold online, but you don't get much feedback as to how your work is perceived that way. It has been nice to hear people's thoughts and see how they respond to my art. www.natashaluise.co.uk
Pippa Honess
I'm one of four guest artists at the exhibition, and this is my first involvement with Horsham Artists, although I live in West Chiltington. I make sculptural, smoke-fired ceramic pieces inspired by my love of nature and the sea.
I use a white stoneware clay, firing it initially in an electric kiln to make it ceramic, before coating it and giving it a second smoke firing. I pack in sawdust and natural materials that I find in the garden, such as pine needles and twigs, and they influence the finished piece. What I love about this process is that you can't control it; the results are unpredictable. The effect can be incredible – or somewhat disappointing – but always unique! I find the contrast of the light and dark tones (a dramatic effect of the smoke-firing) draws people in. So, I make pieces of all shapes and sizes, so even those who don't have much money to spend can afford something.
My art is inspired by modernist and art deco architecture, as I like linear forms and find an element of comfort in smooth textures. However, they are sculptural and are not intended to be functional. Some people like the idea of using them as vases, but because of the smoke firing process, they do not hold water very well, without the addition of a waterproof solution. www.pippahonessceramics.com
Andre P. Westerdijk
I have an interest in old objects and an appreciation for how they are made. Over the years, I've collected many different things, buying quirky or interesting items from eBay, car boot sales and charity shops. My wifetold me that I was in danger of being a hoarder, so I decided to upcycle them, creating interesting, practical or functional items out of things that would otherwise end up in landfill.
I have a degree in industrial engineering and design, and utilise these skills to transform all manner of objects. I came across some vintage tennis racket presses, which are useless as nobody plays with wooden rackets these days, and turned them into interesting frames for mirrors or pictures. Thermos flasks from the 1970s look fantastic, with a classic design that people recognise. However, when they're broken internally, people chuck them out. I find that you can make lights out of them. I also make lights from other unusual objects, such as street lanterns and cassette tapes from Reader's Digest magazine. I also found 12 encyclopaedias from the 1930s that were being thrown out and use small piles of three or four to create interesting desk lights, with electrical devices contained in timber blocks within the books.
What I love about upcycling is that everything I try to make presents a new problem to overcome, so it's always a challenge. People are always intrigued if they take the time to look. Even the jewellery pieces are made using interesting pieces of ceramic from smashed dinner plates!
Anthony McIntosh
I studied Fine Art, but I'm best known as a ceramicist and glass artist. I'm one of four guest artists to have been invited to the Contemporary Art Fair. It's fantastic to see such as supportive artistic community in Horsham, as it's something we don't have in Eastbourne, where I'm based.
I love bold colours and a lot of my work features either fused glass or copper, which reacts with glass to create fascinating effects. What isn't so obvious is the narrative theme that runs through my work.
For this exhibition, several pieces are inspired by the life and work of Percy Bysshe Shelley, Horsham's most famous son. Shelley drowned in Italy aged 29, and there is an apocryphal story of his friend Edward Trelawney taking his heart from the fire during the cremation. That inspired one of my pieces, Cor Cordium, which translates as 'Heart of Hearts' and appears on Shelley's gravestone. Having recorded the sculptures of Surrey and Sussex while researching for a book, I was fortunate to see the Shelley Fountain when it was functioning in Horsham, so it has been great to further explore his poetry for inspiration.
Every piece I make has its own story and is designed to be a piece of art, rather than a functional piece of pottery. I wouldn't really mind if someone was to use one as a fruit bowl, but wouldn't want to see a trifle in one!
Steve Lympany
I enjoyed drawing and painting when I was young, but then embarked on a career in software development. It wasn't until I had a kidney transplant about 10 years ago that I started painting again, and this is my first exhibition with Horsham Artists.
Copying works by the Old Masters is something I love to do, as you learn an awful lot that way. I have tried to replicate Caravaggio's Sacrifice of Isaac, the original of which hangs in the Uffizi Gallery, Florence, and Self-Portrait by Rembrandt. Both artists are known for their earthy tones and stark contrast of light and dark, and that influence is evident in my original work too. Paintings of St Mary's Church in Horsham and a holiday cottage I have visited in Cornwall both feature that distinction of light and dark.
I work predominantly with oils, although I use charcoal for portraits and have built up quite a collection of pictures of my grandchildren over the years! I've drawn famous faces too, including John Malkovich. I hope that by joining the art group, I can attract a few commissions and sell some paintings too.
Maggie Knight
My work includes floral paintings, landscapes, seascapes and also wire sculptures inspired by my love of nature. Currently, I have a lot of floral images, as I exhibited at Borde Hill in the summer. Many people remark on the colours of my paintings, as I often adopt softer, muted tones. I use water soluble oils and mix from a base of just a handful of colours, which provides a degree of consistency to my output.
Although I only joined Horsham Artists this year, I have been painting for a lot time and my style is continually evolving. In recent years, I've tried to paint with more freedom, inspired by the great impressionist painters, and have incorporated collage into my work too. It is a balance, as I don't want to paint abstracts, as I like people to identify the flowers, whether they are hollyhocks, poppies or fuchsias. I don't want them to be botanical either, which involves more detail, as I enjoy painting with a looser, more expressive style.
Further information:
For details about joining Horsham Artists, future art events, and galleries featuring the work of its members, visit the website at www.horshamartists.org
INTERVIEWS: Ben Morris/ PHOTOS: Alan Wright